Taking a look at the content crisis plaguing Indian television
Nalin Mehta
&nbsp | &nbsp Delhi
08-June-2015
Vol 6&nbsp|&nbspIssue 23
Do Indian audiences only gravitate towards the television sets for their daily fix of tearjerker soaps? Is dumbed-down content the only thing that audiences want?
We all love to hate the Ekta Kapoor-pioneered dramas that dominate the small screen today, although TV honchos would swear that it's what women - the primary television viewer base - want to see. But then how would such a declaration explain the success of Satyamev Jayate.
So, are the people who run Indian TV channels really as strategically smart as they think they are in commissioning the kind of content they beam on air? Or are they getting it all wrong in a permanent guessing game for the viewer's attention?
This excerpt from Behind A Billion Screens: What Television Tells Us About Modern India by Nalin Mehta, published by Harper Collins, takes a look at the content crisis on Indian television and the reasons behind Satyamev Jayate becoming the most talked about show.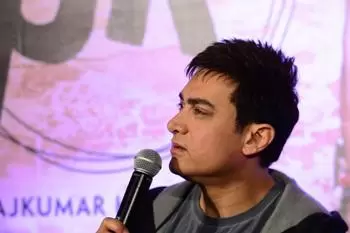 Advertisers were not informed about the contents of Satyamev Jayate, but were simply told, 'it's an Aamir Khan show: trust us' (Photo: IANS)
Star TV's expensive decision in 2012 to sign on the film star Aamir Khan for Satyamev Jayate, a rare television show that dared to look at serious social problems, was a gamble.
In a world where the scriptwriter Javed Akhtar was once told by a channel producer for whom he was writing an anthem to remove the words khet-khaliyan and kisaan (fields and farmers) from his lyrics because it would detract from the feel-goodness of their upwardly mobile viewers, here was a show breaking all the received certainties of the bubble that television managers get trapped in.
Blending an Oprah-style format with the do-good conscience of Rajni and the preachy didactic instincts of Hum Log, this was a commercial channel attempting to return public service broadcasting to prime time television while making it mainstream and saleable as well.
But how many advertisers would buy a show on female feticide, dowry burning, child sex abuse? There was a reason why Star kept the show's contents secret even from its advertisers till the very end: they were simply told, 'it's an Aamir Khan show: trust us.'
Star TV CEO Uday Shankar's grand gamble on Satyamev Jayate was built on a series of small gambles: the slot (Sunday mornings), the simulcast on rival networks (Doordarshan nationwide and competitor ETV in Andhra Pradesh) and all Star language channels, and the biggest of all on the content (the worst social problems that plague India).
Others have done this kind of programming before but to do it on this scale – with this level of financial might and with such ambition in the gilded world of big television where copycatting the latest hit idea is the safest career strategy – was a risk like no other.
And it threw up some surprises. By the time it finished Season 1, Satyamev Jayate had garnered over a billion digital impressions from 165 countries and over 5,400 cities. Some of these came from places as diverse as Djibouti, the Isle of Man, Cayman Islands, Seychelles, Sierra Leone and Papua New Guinea.
The Geneva-based World Information Tracking, which tracks TV shows online, reported that Satyamev Jayate was the most talked about show on social media worldwide in its debut month of May 2012. …
Its real success, however, lay in once again establishing a new moral standard in broadcasting, in trying to revive the conscience of television: one that gets destroyed on a weekly basis at the altar of the ratings. It is no accident that the 2014 version of Satyamev Jayate – with its 'Mumkin Hai' (It's Possible) branding – actively built on the surprise lessons of 2012.
It extended the original formula of do-good programming and audience chats to the next logical step: marrying it with a live audience, real-time analysis of social media conversations and a real news anchor to coordinate the show with Aamir Khan. …
WHY NEWS CEOS WANT TO RUN AWAY
When Uday Shankar conceived of the first Satyamev Jayate in 2006 it was meant to be a serious daily news show at 9 p.m. that would cut through the cheap ratings-grabbing trinity of cricket, cinema and crime. The idea was to bring to news the same kind of basic sensibility and seriousness that Aamir Khan's production eventually did to deep-seated social issues.
In Uday's recollection, the news show ultimately failed because his own editorial team was 'not convinced' about the prospects of doing anything serious. 'Every day they would come to me and say, "Boss, can we start the show with Shah Rukh Khan's new film or with India's Test match,"' he says. 'I would go home frustrated every day. I wanted to run away.'
He did succeed in running away from the self-imposed mental barriers of news to the larger world of entertainment television, but six years later when Aamir Khan signed up for what was to become another Satyamev Jayate, Shankar faced similar reluctance again, this time from his creative team at Star: 'My own team was not in favour. They all asked why? I went to my COO Sanjay Gupta, who is an enlightened guy, and said, "Look, if we don't do this as market leader, if I don't do this as a former journalist, this will never happen."' …
It's the kind of story that would make for a good management case study one day. But the deeper question is: why the same man managed to push through something like this at an entertainment company whose basic DNA was completely at odds with such ideas, and essentially failed to do so in a news company, where the intention to pursue socially meaningful content should have been a perfect natural fit? …
As Uday Shankar later reflected, the 'first attempt at SMJ (Satyamev Jayate) in 2006 failed because the economics of news channels including Star News at that time were so challenged that everything had to be justified in terms of economic benefits it brought in or not'. …
Even non-news channels, who can afford to spend more, spend much less than they should. Many major entertainment channels spent upwards of 65 per cent of their revenues on actually creating the content people watch them for – six times as much as news channels – but they still lag behind comparable global counterparts.
A global benchmarking study by a major entertainment network found that as a percentage of total costs, Indian channels spent by far the lowest on their actual content, when compared to their counterparts in similar countries worldwide.
Why is this so? Why is India so different from other markets? At a basic level, this is a question with three answers: the first is rooted in economics, the second is a direct consequence of policy, but the biggest reason, one at the heart of the problem, lies in what the gothic rock band Sisters of Mercy called 'the vision thing' in their polemical 1990s music album attacking the policies of President George H.W. Bush.
(Excerpted from 'Behind A Billion Screens: What Television Tells Us About Modern India' by Nalin Mehta, published by Harper Collins, Pp: 282; Price: Rs 699/Hardback.) - Women's Feature Service

Wish to share your story?
Trending Now: