Enabling healthy eating, restaurants are increasingly using organic products
Bhavana Akella
&nbsp | &nbsp New Delhi/Chennai
08-June-2015
Vol 6&nbsp|&nbspIssue 23
Hotels and restaurants in the country are going out of their way to use organic produce in the food they dish out to ensure healthier and more nutritious meals. These products are naturally grown and no chemical fertiliser or pesticide is used to aid their growth.
"The organic products have no preservatives or chemicals and also taste much better. This is the reason many hotels today prefer these despite being expensive," said Raminder Bakshi, a hotel consultant in Delhi who had also been a chef at some of the top hotels across the world.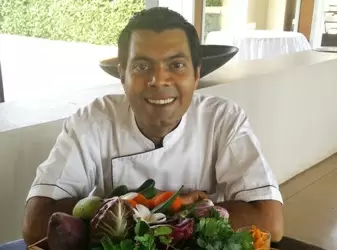 A growing tribe of Indians like Bharghav Naresh, a chef at a resort close to Jaipur, are swearing by organic food (Photo: IANS)
"There is an increasing awareness among Indians about organic food. They understand that pesticides which are used for plants could also be harmful to people," said Ayesha Grewal, the owner of the Altitude Store located in Delhi's Mehar Chand Market, which supplies fresh organic products to a few hotels in the city. Grewal's store sells about 500 products, ranging from vegetables, pickles and jams to cosmetics, all produced organically.
A former French Air Force officer, Roger Langbour, runs French Farms on a three-acre plot a few kilometres away from Delhi. He organically grows vegetables like lettuce, zucchini, broccoli, cauliflower and tomatoes and also rears poultry and pork organically.
Langbour, who has been supplying organic food items to some of the top hotels in the city for the past 20 years, said: "The demand from the hotels has been rising over the past decade, but is still restricted as organic products can be expensive."
Langbour also holds a sale of his organic produce every Thursday at the French embassy in the Chanakyapuri diplomatic area.
Bharghav Naresh, a chef at a resort close to Jaipur, grows the majority of the products he requires in his kitchen garden, spread over two acres within the resort.
"We grow almost all our vegetables, fruits and edible flowers that we use in our food, using organic compost and absolutely no chemicals," said Naresh, adding this enabled them to offer the freshest and the healthiest produce to their guests.
"We source organic products from across the country for our customers who request for organic stuff," said Srinivasan Venkatesan, a chef at ITC Grand Chola Chennai. Venkatesan said the dishes which are made entirely through organic produce were priced higher but were still affordable.
"Desserts made with organic mangoes have been this season's favourite among our customers," Venkatesan added.
"I would not mind spending a little extra money in order to be able to eat healthy at a restaurant," said Mahima Singh, a 22-year-old professional in Delhi, adding that she would prefer the organic way if she had an option while eating out. - IANS

Wish to share your story?
Trending Now: