"Chhabeel is a religious tradition that has been followed for hundreds of years"
Jaideep Sarin
&nbsp | &nbsp Chandigarh
08-June-2015
Vol 6&nbsp|&nbspIssue 23
Year after year in the peak of summer, a charitable activity provides a soothing relief all over Punjab. Hundreds of 'chhabeels' dot highways where people are offered sweetened water to quench their thirst in the scorching heat.
'Chhabeels' are counters put up along roads where water and milk are mixed with essence and sweetener and offered to thirsty people, motorists included. Hundreds of thousands benefit from the largesse.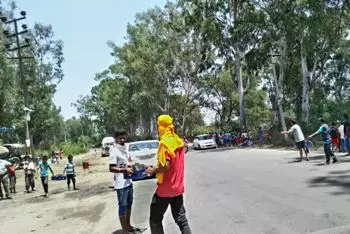 A Chhabeel put up along the Jalandhar-Chandigarh national highway (Photo: IANS)
The water is offered to all, irrespective of one's religion. The tradition has since spread to many other parts of northern India, Delhi included.
The 'chhabeels' are mostly put up around gurdwaras where young and old people can be seen enthusiastically requesting people to stop and partake the sweetened water-milk combo.
"Chhabeel is a religious tradition that has been followed for hundreds of years," said Tarsem Singh, a granthi (religious preacher) in Ropar town.
"In peak summers, the event coincides with the martyrdom day of Guru Arjan Dev (the fifth Sikh guru). The concept is to offer the sweetened drink to people who are moving in the scorching heat," he added.
At every 'chhabeel', a counter is put up where volunteers offer the sweetened drink in glasses to people.
"It gives a very nice feeling to offer sweetened water to people in this burning heat," said Chandan Singh, a private sector employee in his 30s.
"Motorists and others get a lot of relief after taking it. This is a very good tradition. Even the younger generation feels happy to help out in this activity," he added.
The martyrdom day of Arjan Dev is observed every June. The guru was tortured to death on the orders of Mughal emperor Jahangir in the early 17th century.
Ravi Singh, a resident of Amritsar, said when he drove from Amritsar to Chandigarh this week, he saw well over 100 'chhabeels' in the nearly 250 km journey.
"The volunteers were enthusiastic about offering the sweetened water. I had it at least six times during the journey," he recalled.
'Chhabeels' are organised on other days too, especially related to the Sikh religious calendar. The maximum number of 'chhabeels' are organised in the summer months of May and June. - IANS
Wish to share your story?
Trending Now: