'Competition in the industry allows singers to improve their talent and skills'
23-May-2015
Vol 6&nbsp|&nbspIssue 21
She's a livewire performer apart from being a versatile singer. Sunidhi Chauhan, who has lost oodles of weight lately and will soon be seen in her new avatar in forthcoming singing based reality show "The Voice India", says her fitter self helps her to "connect to the viewers in a better way".
"By losing weight, I've not done anything big. I was planning to lose a lot of weight as I did not like it. I just wanted to be more fit and healthy. I like glamorous outfits, so it was uncomfortable wearing them with too much weight," the 31-year-old, who will be seen as a coach in the TV show along with Mika Singh, Shaan and Himesh Reshammiya, said here.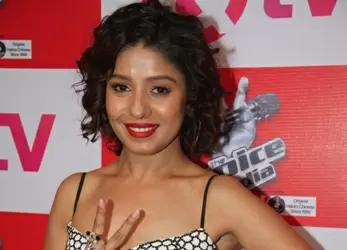 Sunidhi will be a coach for one of the teams in the singing based reality show 'The Voice India' (Photo: IANS)
"Looking good only makes you feel good and with that you get to perform better. Though it's not that I felt bad when I was bulky... I just feel more light and comfortable now. With this avatar, I'm able to connect with viewers in a better way," she added.
Asked whether she is planning to make her big screen debut with her lean avatar, Sunidhi said: "Losing weight was not intentional. Neither was it for 'The Voice India'. It's just that one day I decided that I need to go to gym and eat a healthy diet. So, I just followed it and within one year, I managed to shed a lot of weight.
"As far as acting is concerned, I was offered few roles, but I was not ready at that time. Also, I was asked to portray the life of a singer on screen, but I never wanted to do such type of roles because I'm already a singer. I have the acting bug in my genes because of my father. I want to do roles of normal people."
"The Voice India" will see the coaches supporting their respective teams to the finale through three phases - Blinds, Battles and Live. The Indian edition of the internationally acclaimed TV show "The Voice" will start from June 6.
"I'll try my best to give support to the new talent in 'The Voice India'. I'm not a composer, but now I'm planning to step into the field. I'm thankful to be a part of this show as it only talks about voice. We (coaches) know each other very well. We have worked together for 19 years," the "Piku" hitmaker said.
Has competition in the music industry increased due to the increase in demand for new singers?
Sunidhi, known for songs like "Aaja nachle", "Ainvayi ainvayi" and "Dilliwali girlfriend", said: "Competition in the industry allows singers to improve their talent and skills. Competition has always been a part of the industry. I love facing it. People look out for new tunes every day. I'm happy that I am a part of this constantly changing trend in Bollywood." - IANS
Wish to share your story?
Trending Now: