Taking prisoners from jail to stage, two men gave a new meaning to condemned lives

18-May-2015
Vol 6&nbsp|&nbspIssue 20
The curtain opens on Anburaj, lodged in Mysore jail since 1998. When he and his brothers, associates of sandalwood smuggler Veerappan, surrendered in Salem, at the behest of the government, they thought the authorities would come good with their promise of amnesty. But that's not what happened.
Nearly two decades later, he still continues to be in prison. He has married inside jail, earned a distance-education graduation in History along with a certificate course in Panchayat Raj. Soon, his wife Revathi will deliver their first child.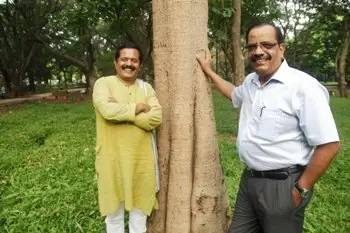 Hulugappa Kattimani (left) and Gopal Hosur have brought hope and sunshine into the lives of scores of jail inmates in Karnataka through their experiment with theatre (Photos: Saggere Radhakrishna)
Anburaj credits this all to theatre.
Yes, inside the jail.
The backdrop of this story is our everyday life, where mostly people go about their lives and jobs, seeking happiness for themselves. But sometimes, just sometimes, a different kind of dialogue takes place.
This is what happened in the late 1990s between Gopal Hosur, a Superintendent of Police in Karnataka, and theatre person Hulugappa Kattimani. In their journey together, they brought about, literally, a theatrical transformation among those cursed to spend their lives behind bars, but yearning for change within and outside.
The oppressive loneliness of imprisonment can break a person completely from within. This was documented by none other than BV Karanth, the doyen of Indian theatre, who also served as director of National School of Drama.
Karanth, whose story is woven inextricably into this script, became a larger-than-life figure on Indian stage with his unique approach to theatre.

In his fulfilling career spanning more than six decades, Karanth faced a challenging time as an undertrial in Bhopal jail after he was arrested by the authorities following a controversial incident where he tried to save the life of his student Vibha Mishra, who had set herself ablaze.
Mishra saved him from being sentenced for life, but while in jail Karanth decided to fight his depression with the one strength he could rely on - theatre.
He directed plays with prison inmates and staged a stunning show that left the jail authorities dumbfounded. It was not just the play, but a process of complete reform and positivity that they had seen in those engaged with Karanth, that left everybody thinking.
Hulugappa Kattimani was Karanth's student and it is not surprising that he imbibed the lessons of this episode well. When Karanth set up Rangayana, a government-funded theatre institute, in Mysore in 1987, Kattimani was among the 40-50 students chosen by him to study theatre.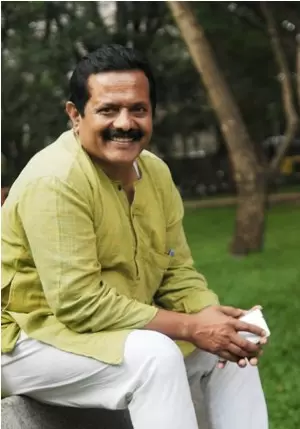 Kattimani and his wife Pramila Bengre have been working with prison inmates through their organization Sankalpa since 1997
Kattimani went beyond this learning, beyond greasepaint and costumes, beyond applause and fame, and continued to think of ways to make his knowledge more useful and meaningful to society.
Much before Karanth passed away in 2002, Kattimani and his wife Pramila Bengre had chosen their roles. Their mission was to facilitate a reformation of both society and prison inmates through their organization Sankalpa, which began working in Bellary jail in 1997.

Seventeen years later, the organization has staged more than 150 shows of various Kannada plays, directed by Kattimani and a host of other creative, like-minded people.
Kattimani, now in his mid-50s, recalls, "When I approached Gopal Hosur, then a Superintendent of Police, for permission, I didn't think it would be easy to meet a bureaucrat and convince him that I wanted to work with prisoners, using theatre as a tool. But he surprised me: he welcomed the idea with open arms. He was all for it."

The next step was a bigger challenge: winning the confidence of the convicts. "They came in different shapes and sizes, and with varied backstories too," Kattimani says. "Naturally enough, they were bitter, angry and didn't want anyone to peep into their inner worlds."
Hosur, who retired as Head of Intelligence and is now in his mid-60s, feels, as he did then decades ago, that theatre has the potential to help prisoners overcome their grief and aggression.
"When a person lands in jail the sense of permanency of the act that brought him here sets in completely and absolutely," he says with unusual insight.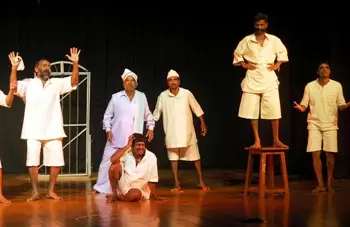 Plays by convicts are being staged outside prison premises at reputed venues like Rangashankara in Bangalore
"Aggression is another by-product. The biggest question for a person who has to spend a considerable part of his lifetime in jail is, how to live day after day inside the four walls."
So when Kattimani approached him with the idea of directing a play with the inmates as performers, the idea struck to him as a novel one. The question of failure, or bureaucratic hurdles didn't really crop up as it was a one-off trial. "This was an experiment," recalls Kattimani. "Even if it failed, it would have left some lessons in its wake."
The challenge was not just about making actors out of inmates, but also about the whole process of bringing them together, helping them build a rapport, and open their hearts and minds to each other. "Once inside a jail, even the most jovial person turns guarded," says Hosur. "The challenge for the director was to break down that barrier."
The first play 'Kalanema' (written by Manjunath Belakere of Rangayana) was performed before a full house within the premises of Bellary jail. None other than the then Chief Minister JH Patel watched the play on the invitation of the District In- charge Minister MP Prakash, who was himself a writer and a performer. The performance was astounding, worth every minute for everyone involved in the process. The jail staffers too were more than pleasantly surprised at the outcome.
Eventually, women convicts were roped in too, and shows were organized outside the jail as well. "As risky as it may sound, people had to see the talent that lies trapped within the high walls of jail, and convicts had to see that the society accepts them back into its fold through a social mode," says Hosur. "The applause still makes them heady."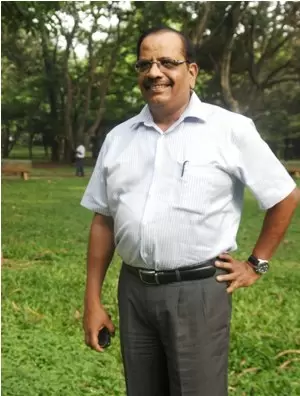 Hosur bypassed bureaucratic red tape to support the initiative
Anburaj is living proof.
"I wouldn't have been able to deal with my life if I didn't have theatre to provide me the insight and solace," Anburaj says, his voice choking with emotion.
"I simply cannot begin to explain how and when it changed my life. All I can now say is that though I may be inside the stone walls of jail, my spirit roams free. I am happy that I came in contact with Kattimani's Sankalpa in 2000. It's a bond that will continue for life."
Quite recently, the audience at the upmarket Rangashankara in Bangalore was lucky enough to witness the world-class productions 'Jategiruvanu Chandira' and 'Maara Nayka' (an adaptation of Shakespeare's Macbeth). Far from being an event dominated by 'patrons', it was the convicts who had gifted the audience a few moments of fine theatre from their life.
For the inmates, theatre is empowering, liberating and uplifting.

"It helps us overcome our limitations, accept our situation and even when inside the jail, we constantly strive to become better citizens with the hope of mingling in society as normally as we can, when we come out," says Anburaj.
So deep has been the impact of Sankalpa on the prisoners, that it seeps into every pore, courses through their thoughts, and becomes the voice of their conscience.
When a show was organized in Shravana Belagola, the site of the monolithic Gomateshwara atop a hill, the convicts expressed their desire to go close to the statue as the Mahamastakabhisheka was going on and they would never get an opportunity easily to watch this ritual.
"I took them," says Kattimani, "and to be honest, my heart was pounding. The escorts were as tired as the prisoners. And there were all chances of a successful escape attempt as the hill lies open to such adventures."
None of that happened. When they came back down, the media asked one of the convict-actors: "The opportunity was right there… didn't you feel like escaping?"
The man said: "What are you saying? If I run away, who will play my role this evening?"

Trending Now: