International beauties enamoured by a once obscure Maharashtra town
20-April-2015
Vol 6&nbsp|&nbspIssue 16
A once-barren northern Maharashtra town, which has turned into a model-town and drawn global attention for its unique achievements, was visited by Miss World 2014 Rolene Strauss and Miss England 2015 Carina Tyrrell last week.
The two beauty queens, accompanied by Miss World Organisation Chairwoman Julia Morley and Director Steve Douglas visited Shirpur town for two days despite the blistering heat and dust of summer.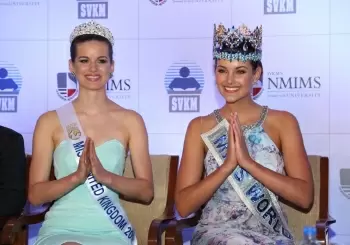 Miss World 2014 Rolene Strauss and Miss England 2014 Carina Tyrrell at the press conference in Mumbai (Photo: IANS)
Guided by Amrish R. Patel, the president of Shri Vile Parle Kelavani Mandal (SVPKM) (Mumbai), the visitors viewed the various initiatives undertaken for water conservation, women empowerment, education for underprivileged, and health for the tribals.
They also heard farmers' success stories.
Shirpur, around 375 km from Mumbai in Dhule district bordering Madhya Pradesh, was once mentioned for its poverty, barrenness and perpetual drought, insufficient water for people and animals. It was generally viewed as an uninhabitable place.
"What drew us to Shirpur is the success story of the people of this region who have turned this infertile land into a man-made oasis with passion and hard work of past two decades," an awed Miss World Strauss told mediapersons after a two-day tour of the town.
The facelift of Shirpur started after Patel took over as president of Shirpur-Warvade Municipal Council in 1985.
"The town was in abysmal state, with potholes, encroachments on civic lands, garbage everywhere, severe water shortage and other problems.
"I took up its socio-economic transformation as a personal challenge to improve the life of the marginalised rural communities," said Patel.
Patel started by setting up a spinning unit in 1996. Within 13 years, it grew into a full-fledged, multi-process cotton textile manufacturing enterprise encompassing the entire value chain -- from cultivation to production to fashion wear.
Strauss said she feels that the women empowerment is a global issue and women could be truly empowered when women from grassroots would be empowered.
"Shirpur is a living example of this. It is a lesson that the world cannot progress without women participating in the growth stories," the Miss World 2014 added.
Both -- Strauss and Tyrrell -- met tribal women and girls, discussed their issues and even shared beauty tips, besides clicking many selfies during the two-day visit to the Shirpur town.
Shirpur is now one of the largest textile hubs in central India generating many job opportunities and succeeded in preventing migration outside, said Shri Vile Parle Kelavani Mandal Trustee and Deesan Texfab Group Director Chintan Patel.
He said the town is kept clean throughout the year, over 2,000 check dams ensure full rainwater harvesting and abundant drinking water round the year.
Patel also said that educational facilities, the 2.50 million trees planted, best of medical facilities, open areas, playgrounds and other amenities are superior to those in some big cities in the country. - IANS

Trending Now: