A social activist turns her living room into a classroom for imparting special skills to children
Kirthi Jayakumar
&nbsp | &nbsp Delhi
13-April-2015
Vol 6&nbsp|&nbspIssue 15
It's like a never-ending tug of war; a struggle between those who want to unleash fear and ignorance and those who strive to make this world a better place for everyone.
For every extremist force like a Taliban or Boko Haram, which uses threat, abuse and violence to keep children, especially girls, away from accessing education and building a better future, there are those like Malala Yusufzai and scores of other lesser-known advocates, activists, policy makers, who are working hard to make sure that every child gets to go to school and enjoys equal rights and opportunities.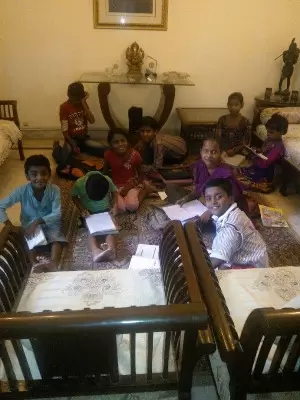 Every afternoon, children between five and 14 years troop in to Ritu Abbhi's living room to study and learn special skills (Photos: Kirthi Jayakumar\WFS)
Ritu Abbhi is one such quiet agent of change, who is teacher, friend, philosopher and guide all rolled into one for several children who troop into her home in the national capital region to study and learn special skills.
Every afternoon, within a matter of minutes, her quiet living room is transformed into a lively, fun-filled classroom. Children between five and 14 years walk in with their heavy schoolbags, pull out their textbooks, and get ready for "Ritu ma'am" to begin the lessons.
As if on cue their warm and loving teacher comes and greets each one and then takes a look at their work assignments, which largely determine the choice of subjects she takes up.
Of course, Abbhi's classes are an extension of her work as a social activist. "I love reaching out to people in need; it's my passion. I have always found a way to do something for the community and those lesser fortunate.
"My association with the Social and Development Research and Action Group (SADRAG), a non profit that focuses on critical development issues like education, women's empowerment, child protection and violence, takes me to the grassroots where one gets to closely observe the challenges that rural communities face so that one can come up with workable, sustainable solutions. However, I wanted to do something closer home as well," she shares.
Whereas she had made up her mind to work with the impoverished families living in the vicinity, Abbhi wanted to start small. So, initially, she began by organising informal sessions with the local domestic workers, motivating them to not just understand their rights and entitlements but also fight for them.
"I gave them basic literacy lessons, taught them the nitty-gritty of banking and also talked to them about health and hygiene. The idea was to make them self reliant and empowered to stand up for themselves and their children," she says.
Abbhi's concerted efforts to transform them and their attitude were so well received that when she suggested that they start sending their children for a few hours everyday to study with her, the women jumped at the opportunity.
"The response was overwhelming. From the very next day, I had a gaggle of enthusiastic children crowding my living room. Enabling children from the neighbouring slum settlements to stay in school and do well is a cherished mission now," she adds.
The dedicated teacher has bought a whole lot of stationery, notebooks, textbooks and other supplies for her students. While some of them have never stepped into a formal classroom, others are in dire need of assistance to understand as well as complete their school work.
"I have 10 to 12 children coming home. All of them essentially hail from homes where there is not enough money to spend on education. If at all, parents have to choose the ones who will get to go to school.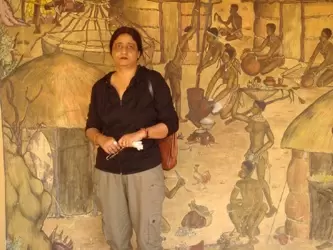 Ritu Abbhi is a teacher, friend, philosopher and guide for several children from the settlements near her home in the national capital region
"Most of them are unable to handle the school work because the elders are illiterate and are totally focused on earning a living to make ends meet. I help them with their homework and assignments and prepare them for exams.
"For those who are unable to go to school I start with the elementary stuff – alphabet, words, numbers, and so on. We begin at 3pm and I try to give them all individual attention, spending at least three hours with each one."
But it's not the curriculum alone that these little ones are taught; Abbhi goes all out to ensure that they get a well-rounded education. Classwork apart, she does many activities with them to keep things interesting and engaging.
"Most of them are tired after coming back from school, so I like to include fun things for them to do. These are important to keep their interest in their studies alive. We play games, do drawing and painting, sing songs, recite our favourite poems and put up small show-and-tell acts. It's a great way for them to develop their skills," she reveals.
Considering the kind of poverty-ridden lives they lead, does she encounter any problems in keeping them committed to their schooling? After all, it's quite natural for parents to prioritise their immediate survival over long term gains.
"It has been my experience that they want to break away from the life their parents have led and they understand that education is their only way out. I have never needed to remind any of them to show up for class. I always find them present on time or even before time. Some students are very intelligent and just need guidance to shape their future," she says.
Today, her students represent the hope of a better life for their families, as she has made it possible them to dream big. "I have been able to do so because I have the unconditional support of my family. My two sons are working professionals and when they have time on hand they are ready to chip in," she says with a smile.
Everyone has the ability to affect the change they want to see around them. All that is needed is a proactive approach and an empathetic attitude. Abbhi's untiring endeavours toward bringing education to those most in need validate the well-known adage: 'charity truly begins at home!' - Women's Feature Service

Trending Now: