Women of Dharavi send across a strong message through their creativity

Surekha Kadapa-Bose
&nbsp | &nbsp Mumbai
30-March-2015
Vol 6&nbsp|&nbspIssue 13
The atmosphere was charged with excitement; there was a great sense of achievement and triumph on everyone's face.
Women of all age groups and from different vocations and occupations – some were cooks, domestic workers, cleaners, seamstresses, homemakers and, of course, school- and college-going students – cheerfully welcomed visitors and enthusiastically explained their creations on display.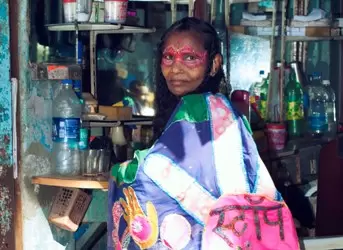 A participant from Dharavi draped in the sari that she had created (Photo: SNEHA)
"I have embroidered this sari myself and even modelled it for a special photo shoot," remarked a proud Nirmala Panjabi, 40, pointing to her life-sized picture that showed off a pure silk green sari with a vibrant patchwork 'pallu' (loose end of the sari) that boldly declared: 'Don't touch me!'
Standing beside her, Rutha David, too, looked thrilled with a huge picture of herself clad in a black silk sari with patchwork 'pallu' that screamed: 'Balatkari ko lock karo, mahila ko nahin' (lock the rapist and not the victim). David said she had worked hard on the 'pallu' that is filled with lock motifs with a real brass key dangling from each one!
Just a few paces ahead, Anjali Amma, 50, stood tall beside her dynamic portrait shot in which she is seated on a stool in a ramshackle shop modelling a blue silk sari with the words 'stop rape' jumping out from the embroidered 'pallu'.
In a bid to create a rather dramatic effect the 'pallu' has several patches of hands sown around those words. Even though Anjali can barely read and write she revealed that she had been able to appliqué the stark slogan on the recycled, hand-me-down sari quite effortlessly.
Apart from these bespoke saris there were many other exhibits to enjoy at the recent three-week-long arts and public health festival, 'Alley Galli Biennale' held at Dharavi in Mumbai.
There were sculptures, installations and pictures, among other diverse expressions of creativity. Each piece made a strong statement and had a unique stamp of exquisiteness. With basic guidance from experts they had all been handcrafted by women and men whose daily lives are otherwise fraught with livelihood struggles and marred by some form of abuse, be it physical, verbal or sexual.
Even so, as one looked at them interacting animatedly with the visitors and it was impossible to imagine their other, more painful, existence.
Dharavi, the biggest slum of Asia, is spread over more than 500 acres in central Mumbai and is home to more than a million people belonging to various faiths, economic backgrounds and even multiple ethnicities. Amidst the obvious poverty and squalor, the hardworking residents produce leather goods, textiles and pottery items, among other products, with a collective annual turnover that is upward of $500 million.
The second edition of the Biennale, organised by the Society for Nutrition, Education & Health Action (SNEHA), a non-profit that works with women and children in the area, saw the participation of 500 gifted locals.
Apart from having a lot of fun and getting the opportunity to learn skills from well-known experts, what they took back from the experience was the courage to fight against violence and discrimination and talk about their everyday challenges.
If, over the years, violence has been a part of life for Dharavi's girls and women then today they have also learnt to give it back to their abusers. This change in attitude has slowly come about thanks to the different empowering workshops and activities that SNEHA has been doing with them for years now.
"Mein aaj kal usko raste pe bhi maarti hoon (these days, I do not hesitate to hit him on the road, too)," said Zarina Khan, who separated from her abusive husband a couple of years back. Working as a cook in nearby Mahim, a western suburb, she added that not only has she learnt to take care of herself but she helps other women domestic violence survivors fight injustice as well.
The idea of putting up an event like this came from the tremendous success of a workshop-cum-exhibition of handmade cloth dolls that SNEHA had helmed three years back.
It took two years of careful planning and concerted efforts towards picking the art and performance pieces that were eventually showcased at the Biennale.
Once the broad themes of art, health, recycling and vitality, were decided, the Dharavi talent had a stream of experts guiding them to paint, stitch, act, sing and hold street puppet shows.
For instance, Susie Vickery, a textile artist was the force behind the 'Map the Hurt', the saris with a message, and all other embroidery work on display; Supriya Menon curated 'Everything is Here', an installation with myriad elements, from cartoon-inspired sunglasses sourced from an optician to clay models shaped by women and children.
Delhi-based filmmaker Manish Sharma joined hands with cinematographer Runal Hattimattur to conduct a 10-day workshop on filmmaking that was the basis of a documentary on sanitation and safety.
Incidentally, poor sanitation is one of the worst problems plaguing Dharavi. More than 1,000 people queue up to use one toilet and women are especially vulnerable when they step out to relieve themselves after dark. So, in a sense, the documentary sparked a conversation around this major issue in the community.
In addition to these joint works, there was an extensive showcase of 300 photographs taken by Dharavi children, documenting the occupational hazards of industries in their area, under the mentorship of Nitant Hirlekar.
The Alley Galli Biennale was a great success, as people from across the city, including those who had never stepped into the narrow streets of the sprawling slum settlement, made it a point to visit and appreciate the works on display.
Whereas reams have been written about the exceptional talent that has emerged year-after-year from Dharavi - music bands, painters, pottery artists, street dancers, artisans have not just thrived but also influenced positive change in their community. Yet, to see this burst of creative energy was truly a treat for the eyes, mind and the heart. - Women's Feature Service

Trending Now: