A poor Muslim girl, who dreamt big and soared in the skies, needs one more push
Mohammed Shafeeq
&nbsp | &nbsp Hyderabad
16-March-2015
Vol 6&nbsp|&nbspIssue 11
Unlike girls of her age who dream of becoming doctors or engineers, she wanted to be something different. Many laughed at her dream, but today she is one among the few Muslim women in India to hold a commercial pilot's licence.
Coming from a modest background - her father is a bakery worker - Syeda Salva Fatima, with her sheer determination and hard work, entered the male-dominated field and became the first female from the poverty stricken old-city of Hyderabad to get the licence.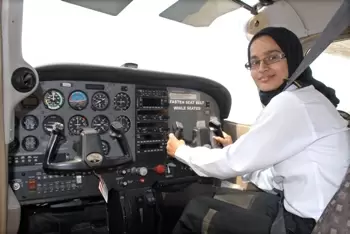 Salva dreamed of becoming a pilot since her school days (Photo: IANS)
Having crossed the first step she is now preparing for the second - certification on a mid-sized passenger jet.
A resident of Sultan Shahi, a densely populated neighbourhood in the backward old city, Salva dreamt of flying aircraft since her school days.
"When I was in the ninth standard I used to collect articles about the aviation industry and pictures of different aircraft. Like almost all the girls, my friends wanted to be either doctors or engineers, but I wanted to do something different," said 26-year-old Salva.
"I used to share my thoughts with my classmates and they always used to ask me whether this is really possible. But in the end, the dream came true thanks to Almighty Allah," said the burqa-clad woman, who studied at the Aizza School in Malakpet here.
Eldest among four children of Syed Ashfaq Ahmed, she had no clue either as to how her dream would come true in view of the meagre earnings of her father.
As her parents insisted that she opt for engineering, she enrolled for coaching conducted by Urdu daily 'Siasat' for EAMCET, a common entrance test for engineering and medical courses.
It was 'Siasat' editor Zahid Ali Khan who gave wings to her dreams. On learning about her ambition, he offered to bear the entire expenditure for her training.
It took a year for Salva to gather all information and prepare herself to take the final plunge. In 2007, she enrolled in the Andhra Pradesh Aviation Academy.
"It was my first air experience and I was thrilled," recalled Salva, who had an adventurous nature from her school days and was a keen participant in extra-curricular activities and games.
Salva was also aware of the ups and downs in her path. "People used to ask me: 'You are a girl, what will you do by becoming a pilot? After your marriage, you will have to be a housewife.' I never cared about these comments and taunts because my family supported me," she said.
Five years later, she successfully completed her initial training, logging 200 hours of flying on aircraft like the Cessna 152 and 172, including 123 hours of solo flight.
She obtained a Private Pilot Licence and Flight Radio Telephone Operator Licence, besides a Commercial Pilot Licence (CPL).
The training was tough, especially the written exams, and she slowly but steadily completed it. "I never came across any discrimination against women or Muslims. Everybody was cooperative."
After obtaining her CPL in 2013, she found that this was not enough to get a pilot's job in an airline.
She has to now undergo multiengine training and Type Rating to be able to fly bigger aircraft like the Boeing 737 and the Airbus A-320. This requires Rs.30 to Rs.32 lakh.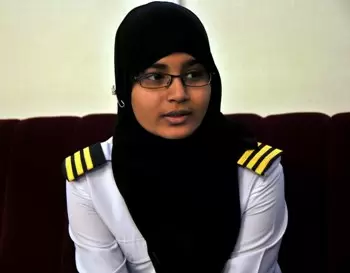 Though she obtained her CPL in 2013, it is not enough to get her a pilot's job in an airline
Refusing to give up, she is making all efforts to and standing by her is her husband Shakeeb, whom she married in 2013.
She is now looking for support from the government and philanthropists to reach her final destination. She is keen to take up a job in Spicejet or Indigo.
Zahid Ali Khan, who along with his friends spent Rs.18 lakh for Salva's pilot training, is making all efforts to help her reach her destination. He has written to Civil Aviation Minister Ashok Gajapati Raju and Telangana Chief Minister K. Chandrasekhar Rao, seeking their support.
"What is important is that a girl has achieved this. It doesn't matter whether she is a Muslim, a Hindu or a Sikh," said Khan.
Khan, whose newspaper is active for various social and educational causes, believes women have an equal role with men in this century.
"Muslim women can and should participate in every field within the limitations prescribed by Islam. Salva can wear a scarf without any problem and there is also nothing objectionable in the dress which she has to wear as a pilot," he said. - IANS

Trending Now: