An international expert team recommends a restoration plan for Punjab's forts
Jaideep Sarin
&nbsp | &nbsp Chandigarh
02-March-2015
Vol 6&nbsp|&nbspIssue 9
Punjab's magnificent forts and other heritage structures need a public awareness and official restoration plan so that these historic symbols of state power can be preserved for future generations, feel experts from the International Committee on Fortifications and Military Heritage (ICOFORT).
After touring heritage structures, especially forts, in Punjab for nearly 12 days in February, the 19-member team of experts, mostly from European countries, felt that though satisfactory work was being done to maintain forts in Punjab, a comprehensive restoration plan could help better preserve the state's rich heritage.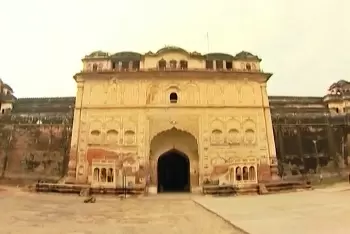 The team visited the forts in Patiala (in photo) and Bathinda among others
"The forts (in Punjab) need a good restoration plan. Rain and other conditions damage the restoration after some time. The difference between a restoration plan and repair must be understood. At some places (in Punjab), only repairs are being undertaken," said Hans-Rudolf Neumann, who headed the ICOFORT team during the tour.
"I feel that engineers and architects should be sent to other places and countries to understand how restoration is done. Restoration takes a long time, even 10-15 years. It is not a question of spending money alone; experienced people are also required," Neumann added.
He said that the team was quite impressed with the heritage available in Punjab.
"Restoration of forts in Punjab is necessary for the national identity of the Punjabi people. When people know about their history, they feel proud. Also, there is a need for more education of people about their heritage," Neumann pointed out.
The team, which included experts from Australia, France, Finland, Germany, the Netherlands, New Zealand, Switzerland, Turkey and Ukraine, visited forts and heritage structures in Patiala, Nabha, Bathinda, Patti, Amritsar and Chandigarh. The team also saw 'sarais' (fortified structures for resting) along the Mughal-time imperial highway, later called the Grand Trunk (GT) Road and now National Highway No. 1.
Neumann said that the team's experience about the heritage structures along the GT Road was "unique".
"Their objective was to know about these forts, both from the perspective of the historical narrative and from the point of view of technology and material of the past and the current conservation and management scenario of these sites," said leading conservationist Gurmeet S. Rai, who was with the team for some time.
"The visit of these experts is an opportunity to highlight the heritage values and conservation challenges and the need for the government to understand that heritage conservation is more than the 'fixing' of old buildings," Rai said.
Punjab has taken a Rs.300 crore ($48 million) loan from the Asian Development Bank (ADB) for promoting cultural heritage tourism.
"Forts were the symbol of state power. Unlike the forts in Europe and some other countries which were only for military purposes, the forts here were multi-purpose ones with palaces, temples and other buildings inside," Neumann said.
Having studied the Bahadurgarh Fort near Patiala, Bathinda Fort and the Gobindgarh Fort near Amritsar, Neumann and his team felt that there were definite European links to the architecture and design of these structures. - IANS


Trending Now: