Girls of Sundargarh, a tribal district, strive hard to play hockey for India
Rakhi Ghosh
&nbsp | &nbsp Sundargarh
23-February-2015
Vol 6&nbsp|&nbspIssue 8
Jerina Tirkey, Dipika Tappo, Asha Kerketa and Anita Kerketa are among several girls from the villages of Sounamara, Tileikani and Lulkidihi in Odisha's Sundargarh district, who share a dream – they all want to play hockey professionally and represent India internationally just like Dillip Tirkey, Lazarus Barla, Subhadra Pradhan, Jyoti Sunita Kullu and Binita Tappo have done in the past. All these national stars belong to this region, which is informally known as the hockey district of the state.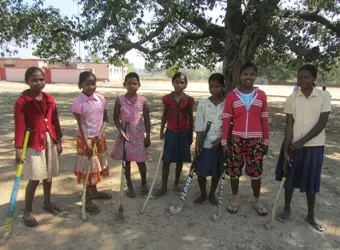 In villages across Sundergarh district teenaged girls dream of playing for Indian hockey team (Photo: Rakhi Ghosh\WFS)
Every morning, it is common to see teenage girls and boys troop out of their homes with a heavy bag on their back, a stick in their hand and a spring in their step. They are all heading to the local government school where, besides attending class, they get an opportunity to do their favourite activity of the day – play a competitive game of hockey.
Chulu Barla, a former sarpanch of Sounamara, who loves playing the game himself, points out, "Today, Sundargarh is famous nationally and internationally, as it has produced some great hockey talent. You name any player from Odisha and s/he can trace their roots back to this region. In the rural areas particularly, everyone is at home on the hockey field. What I love about the game is the fact that we can all play it freestyle and it's thoroughly enjoyable."
But how did Sundergarh, a predominantly tribal district in western Odisha, which shares its borders with Chhattisgarh, become such a hotspot for hockey talent?
"Though no one really knows when we started playing the game in these parts our elders have told us that they picked it up from the Christian missionaries, who had come to our villages several generations back," shares Chulu.
Traditionally, the non-cultivating months from October to December make up the playing 'season', which is when tournaments are held regularly and hundreds of village teams take part enthusiastically.
"The biggest event is the Khasi Cup under which a series of games are held and the winning team is rewarded with a goat, which is used to prepare the victory feast that is shared by everyone. The Khasi Cup doesn't have any set rules of play and each team can have anywhere between 12 to 15 players. The idea is to have fun," elaborates Chulu.
Of course, from this un-coached, freestyle way of playing have emerged several top stars of the game. In fact, talent scouts from both the Sports Authority of India (SAI) facility at Sundergarh district headquarters and the Panposh District Sports Hostel see these villages as the training grounds for the legends of the future.
Dilip Tirkey, former Indian hockey captain, iconic defender and presently a Rajya Sabha MP from Sundergarh, is a hero for all budding players. In 1989, when SAI coaches had picked him from a group of hopefuls, no one had imagined that this boy from Sounamara would make history.
"When Dillip's first international match was shown on television we had only two sets in our village. The telecast timing was an unearthly 3 am but still almost everyone in the village had stayed up and watched the game. When the team won we were cheering the loudest," recalls Fransis Lakra, Tirkey's childhood friend.
Like Tirkey, Subhadra Pradhan, who plays for the women's team, is another local hockey icon, idolised by girls and boys alike. Her father, Shyamsunder Pradhan, recalls the day she was selected, "Every year, coaches from the district headquarters come to our village and organise matches to select upcoming players. My daughter was in Class Five when her talent on the field was noticed. As her father I feel proud when she dons the national team's jersey these days."
According to Father Isidore Kindo of Jagatmata Church in Sounamara, tribals do not really believe in gender discrimination. "Most parents do not see their daughters as any less talented than their sons. So the support that girls receive is equal. And even when it comes to coaching opportunities or selection matches for a place in the state or national team, the elders root for both sexes," he says.
After all, both girls and boys are making India proud. Says Selvesta Minz, a former hockey player, "We have a long line of female players like Subhadra Pradhan, Jyoti Sunita Kullu and Binita Tappo to look up to. Apart from these, there are younger players such as Anjana Dhurwa, Basanti Lakra and Rinakanti Ekka, who have made a mark in the national team. Currently, there are several avenues for girls to show off their aptitude for the game."
Asha Kerketa, who is studying in Class Six, is confident that she has a bright future in hockey. She fervently dreams of gaining admission into the SAI Sports Hostel, where legends are nurtured. "On a personal level, I am prepared to work hard and sweat it out on the field to practice and become good enough to play for the state and even the country," remarks the youngster.
On his part, Tirkey is doing his bit to give back to his people. In 2013, he organised the Gramin Olympiad Hockey Tournament in the district where a whopping 800 teams took part. "The idea of organising a village level tournament was to give the budding talent a platform to compete, boost their confidence and get an understanding of the rules and regulations of hockey so that in the future they can easily get adapted into the formal style," he explains.
In addition to this, Tirkey has plans to provide sports equipment and an Astroturf ground at the village level itself to give more children a jumpstart into the big league. "We are in talks with different business houses to encourage them to generously extend their helping hand for the promotion of hockey in this belt so that our children can get good quality training from the national level coaches," he says.
If things go as planned, there's nothing to stop girls like Asha, Jerina, Deepika and others from ruling the Astroturf in the times to come. - Women's Feature Service

Trending Now: