Young women bikers are riding across the continents, blazing a new trail
Mayabhushan Nagvenkar
&nbsp | &nbsp Vagator (Goa)
23-February-2015
Vol 6&nbsp|&nbspIssue 8
Seattle-based techie Rashmi Tambe wears her passion on the sleeve of her rugged jacket, along with the dust, grime and road-grit gathered over thousands of miles she has clocked on her motorcycle across continents.
Tambe, one of the several thousand bikers who have descended on the coastal village of Vagator, 25 km from the state capital, for the two-day India Bike Week, is one of those slowly but surely swelling flock of young Indian women who are leisure-biking across the country and the world with only their tough pants and tougher will for company.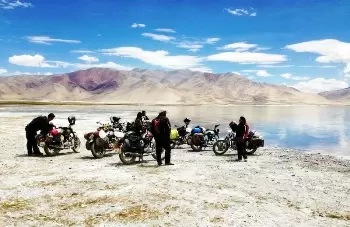 The number of young women bikers taking to leisure biking is growing in India (File Photo - for representational purpose only)
Tambe is one of the star speakers at the event, which will also feature rock shows, BBQs, modified bikes, a cross-country riding expedition and all the grunge elements which make up a biker event.
Her resume is of rock-hard pedigree. "A friend and I travelled 3,000 miles from Seattle to Alaska. I've also biked solo over 5,000 miles across the expanse of North America and 5,000 miles through both central and western Europe. I think I should be the first Indian woman to do that," she said.
Tambe also edits the Global Women Who Ride project that attempts to track down a woman biker in every country that she rides through during her journeys.
"The thing is there are not too many women bikers as role models. The project aims to create resource about women bikers across the world and to fill that gap. I interview a woman motorcyclist in every country I travel through," she said.
Tambe is not the only Indian woman biker whose passion has ridden on wheels. For Coorg's Sangeetha Jairam, bike-love appears to be a case of a genetic hand-me-down. Her father biked all the way from India to London on his BMW R/25 more than two decades ago.
Sangeetha, a yoga instructor, only took her passion a few notches higher. Her bike travels have slipped in and out of the Silk Route through Kazakhstan, Azerbaijan, Kyrgyzstan, Southeast Asia and the Himalayas, to name just a few. So hooked she is to biking that she calls the activity her "friend, philosopher and guide".
"My first journey was in Bhutan. At the time there were no mobile phones, ATMs and the like. The whole trip was about meeting people and making do," she recalled.
"You can learn anywhere, anytime. Every time you travel and meet people and other motorcyclists, you always come away with a new experience," she said, adding that she was setting her sights on her dream bike, a Ducati Multistrada, in the near future.
But while Sangeetha had a father who goaded her into biking, for Delhi's Sonia Jain, owning a bike was taboo and she had to plead with her friends for a ride on a motorcycle.
"My friends let me drive near the house, but only in first and second gear, but my parents would never buy me a motorcycle then," Jain said. Her first biking break came in 2009, when Jain auditioned for the India Bike Rally, a 4,500 km event spread across 21 days.
"That was my first long distance riding experience. After that, there was no turning back. I exactly knew what I would be doing for the rest of my life," Jain said. - IANS

Trending Now: