Weaning girls away from the vices of the locality through ballet
Kamayani Bali-Mahabal
&nbsp | &nbsp Power of dance
24-January-2015
Vol 6&nbsp|&nbspIssue 4
Bom Jardim, home to some 200,000 people, is one of the poorest and most violent neighbourhoods in Fortaleza, Brazil. Located at the south western tip of the metropolitan area, with long streets set out in an orderly grid, the signs of poverty are everywhere: cracked cement or none at all, an abundance of houses that are only half-built, and the makeshift architecture typical of areas that have only recently been occupied by migrants from the countryside.
It is here that Brazilian prima ballerina, Dora Andrade, has set up her School of Dance and Social Integration for Children and Adolescents (Edisca) that enables young girls from the favelas (slums) to not just gain formal education and learn dance but also to acquire some much-needed social skills.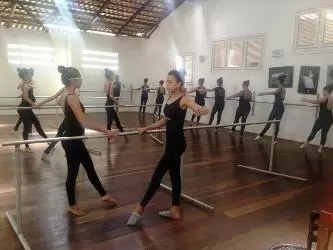 Edisca, primarily a dance school, enables young girls from the favelas (slums) in Brazil to also acquire some much-needed social skills (Photo: Kamayani Bali- Mahabal\WFS)
Moreover, it provides the pupils a square meal every day and shows them how to care for and respect their bodies. Free of charge, the girls who enrol in Andrade's school generally come from three of Fortaleza's poorest localities, one of them a shantytown built on the edge of the city's garbage dump.
A majority cannot read or write, and belong to broken homes where unemployment is rife, poverty endemic, and violence common. "Since 1991, Edisca has been providing high-quality 'inter dimensional' education that combines reason, emotion, willpower and self-improvement through art, preparing students for life and creating opportunities," shares Andrade.
Madeline Abreu, the in-house psychologist at Edisca, understands the emotional burdens that the students are carrying and believes that their school gives them a shot at normalcy.
She says, "The reality is that socio-economic hardship often pushes young people in these localities towards drug abuse, child labour and even prostitution. Initially, we started off by offering dance lessons in ballet, which is generally taught to girls from wealthy families.
"Edisca now specialises in modern dance, which has its foundations in the classical ballet techniques. Of course, as it evolved, the dance school expanded into other disciplines, including singing, theatre and visual arts, as well as new educational functions, such as tutoring and English and computer classes."
Soon after, it also became necessary to provide food for the students, under the guidance of nutritionists, because many of them were undernourished and had poor eating habits.
"Dance is a physical language and it is essential for dancers to be in excellent physical condition and practice good hygiene. Another cost that the school felt necessary to absorb was transportation. Most children who go here live on the distant outskirts of the city and often cannot afford the bus fare," elaborates Abreu.
"I learnt to eat vegetables here," recalls Tatiane Gama, 31, an Edisca graduate, whose life turned around the day she stepped into the school when she was just eight years old.
She was one of the school's earliest inductees and continues to remain associated with it even today as a professional dance instructor, whose moves, a fusion of ballet and contemporary styles, are sheer poetry in motion.
"Our education happens in stages. At the onset we dance. Ballet particularly teaches discipline. Then we get on to the basics of reading and writing. There's also psychological counselling for most children traumatised as they are witnessing street violence, day-in and day-out," she explains.
Gama has been teaching dance since she turned 18 and feels that it has saved her from a life of hard labour with no returns.
"I was fortunate to have been inducted into Edisca. By then, the school management had realised that once children turn 16 or 17 their parents are keen on withdrawing them from school so that they can take up a job.
"This led to the setting up of the Edisca Dance Company that is made up of the most talented dancers at school. They are paid a monthly stipend of around 100 reals (50 dollars)," she informs.
Performing with the Edisca Dance Company, which is well known internationally, has given this talented artiste a chance to travel several countries around the world, "including France, Italy, Germany, Austria and the United States", experience different cultures and meet new people.
"Imagine a girl from the 'favela', who had never thought she would step outside her neighbourhood or city, has seen the world. No other school would have been able to provide such education or opportunities to me," says Gama, who is self-reliant and very creative.
Apart from dancing, a number of Edisca's students also take to academia. Jamila de Oliveira Lopez, 23, is one of them. Although a wonderful dancer, she hopes to become a journalist soon.
"I want to be able to express myself in words, too," remarks the young woman who always topped her class even though she had to do her after school studies in the kitchen because she "shared a room with her two sisters in a home that was in an extremely violent neighbourhood".
To keep Edisca, which has 400 students attached to it presently, and the dance company going for girls like Gama and Lopez, there's extensive fund raising done through performances and donations.
Furthermore, UNESCO has established a unique partnership with Repetto, the French ballet shoe and equipment maker, to promote this innovative initiative.
Abreu shares that "Edisca is looking to expand its outreach programme to involve parents living away from their children or those who have lost contact with them for years. The goal is to get these parents, especially young mothers, into our fold and invest in the maximum possible activities".
Lopez, who is studying to become a prolific scribe sums up in her own words, "Poverty is not just lack of resources, it's the inequality that can steal a child's future. Seeing the students of Edisca on stage is like seeing them overcome all the difficulties that deprivation brings with it. Girls forget their sadness and learn to take destiny into their own hands." Women's Feature Service

Trending Now: