Swachh Bharat has earned the accolades of foreigners living in India
Debaprio D. Choudhury
&nbsp | &nbsp New Delhi
24-January-2015
Vol 6&nbsp|&nbspIssue 4
Foreigners who came to India for work or love and decided to make the country their home are upbeat about Prime Minister Narendra Modi's ambitious "Clean India" campaign. They, however, cautioned that the execution of the mission remains a "big challenge".
The "Swachh Bharat Abhiyan" was launched by the prime minister Oct 2, the birth anniversary of Mahatma Gandhi, to make India a clean and better place to live.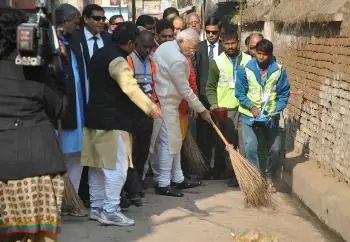 Prime Minister Narendra Modi taking part in Clean India campaign at Varanasi (Photo: IANS)
"Modi is really dynamic and the (Swachh Bharat) mission is a wonderful initiative," said Japanese-origin Odissi danseuse Masako Ono, who came to India 18 years ago to learn the dance form in the country of its origin.
"The execution of the mission is a big challenge, like any other initiative. Let's try taking care of our own garbage at least to start with... we ourselves have to do it from our small surrounding environment. I tell you it is effective for your physical fitness," said the Bhubaneswar-based danseuse, an empanelled artist of the Indian Council for Cultural Relations (ICCR).
Delhi-based American textile designer Peter D'Ascoli said: "We, who live in India, are aware of many problems and challenges facing the nation. I am pleased to see the ambitious initiatives Modi and his new government have launched."
"The 'Swachh Bharat Abhiyan' is a much-needed public awareness programme that has reminded me of the TV commercials I saw as a child in the 1970s in New York, teaching citizens not to throw garbage on the street," said D'Ascoli.
The textile designer, who has been living in India for the past nine years, runs a design and product development workshop in Delhi to work with Indian talent. He has worked with the state-run Handicrafts and Handloom Export Corporation to find ways to promote India's rural craft.
Croatia-born Bharatanatyam danseuse Nikolina Nikoleski said the 'Clean India' drive was "phenomenal and a much-needed initiative".
"It's great to see how it has motivated so many people in a short time to really make a difference and contribute with their efforts," said Nikoleski, whose love for Bharatanatyam brought her from Zagreb to Delhi.
Nikoleski, an ICCR scholar, has been living in India since 2004 and runs a dance academy in the national capital.
Bosnian fitness and wellness expert Vesna Pericevic Jacob, who came to India after she fell in love with an Indian man, said it was good that the campaign was launched at the highest level.
"The 'Clean India Mission' is a necessity and I am glad that it has been taken up as a project at the highest level. It is definitely encouraging to see everyone getting involved," said Delhi-based Jacob, who moved to India from Bosnia 11 years ago after her marriage.
Besides government departments and NGOs, millions of people across India have joined the cleanliness initiatives to make India completely clean by 2019.
The central government will spend nearly Rs.200,000 crore in a five-year period as part of the ambitious plan to clean India by October 2019, coinciding with the 150th birth anniversary of Mahatma Gandhi.
While launching the campaign, Modi said the work of "Swachh Bharat" should become a mass movement and exhorted India's 1.25 billion people to devote 100 hours every year towards the cause of cleanliness.
The prime minister has nominated prominent people and groups, including cricket icons Sourav Ganguly and Sachin Tendulkar, actors Priyanka Chopra and Salman Khan and Mumbai's iconic dabbawalas, as ambassadors of the campaign. - IANS

Trending Now: