"I would want my son to help his partner when he is a grown-up man"
Nivedita
&nbsp | &nbsp New Delhi
19-January-2015
Vol 6&nbsp|&nbspIssue 3
Why should only women cook and do the laundry, asks actress-entrepreneur Shilpa Shetty, who feels men should contribute equally to household chores to ease out a woman's responsibilities. She also feels this give and take goes a long way into a happily ever after.
Shilpa, who is married to businessman Raj Kundra, credits her husband for helping her out in household work whenever needed and thereby maintaining a balanced life.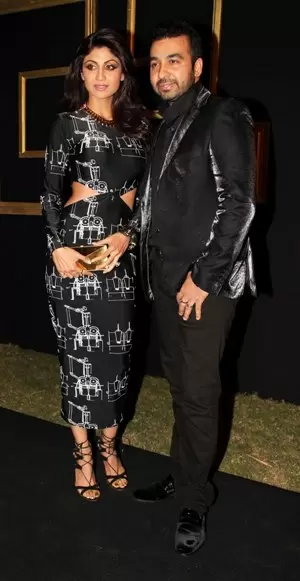 Actress Shilpa Shetty with husband Raj Kundra (Photo: Indian Photo Agency)
"There is lot of give and take needed in a relationship and that's how it works. That makes the relationship interesting," Shilpa said over phone from Mumbai.
"There are a lot of men who do the laundry and I would like to say that Raj is one of those men. Whenever we travel abroad, where we don't have any help, we help ourselves. There is nothing to feel sorry about," said the mother of son Viaan, who will turn two later this year.
"I would want my son to help his partner when he is a grown-up man," she said.
Shilpa's stand comes in reaction to a Nielsen India Survey, supported by Ariel India, conducted on Indian households across five cities which revealed that more than two-thirds of Indian women feel the existence of inequality between men and women at home.
She says it is upsetting how Indian society teaches girls - but not boys - to learn skills like cooking and doing the laundry.
"I just think that one need to also condition young boys and that's when you will have a new and brighter India," she said.
The 39-year-old, who has been married for over five years, salutes "all women who are homemakers".
"I'm not a feminist but a responsible woman. I salute all the women who are homemakers and I think that's the most difficult job. There is no day off. Women are not only going out and earning bread and butter but also looking after the family," she said.
To cite an example of a woman's quandary, Shilpa said: "Cooking is difficult for all the men. I love to cook and I cook in a while, but if I am made to cook every day, that will get on my nerves. So, if men can help in something as small as the laundry, then why not?" she added.
Shilpa may be a celebrity to the outside world, but at heart, she says, she's still the girl who comes from a middle class background and has seen her father helping her mother in household work.
"I've seen both my parents work really hard...my dad used to do the house's laundry. When we were young, the washing machine was just introduced, so I remember my dad waiting for the weekend only to help my mother do the laundry," said the actress, whose association with Bollywood goes back to almost two decades.
During her film career, she delivered hits including "Main Khiladi Tu Anari", "Dhadkan" and "Life... in a Metro". Not only in India, she gained international recognition after featuring and winning Britain's "Big Brother" reality show in 2007. - IANS

Trending Now: