With a pinch of realism, tribal girl takes children to the world of magic
Deepsha Rath
&nbsp | &nbsp Kandhamal
03-January-2015
Vol 6&nbsp|&nbspIssue 1
She is a gifted storyteller who doesn't have any formal education.Born into a poor Kondh family in Jharipani village of Kandhamal district in Odisha, it was her grandmother, who ignited her imagination by narrating to her enthralling tales about a world with magical birds, stunning flowers and terrible demons.
Ever since that time, it is these fantastical creatures that have enabled her to face tough times and get over the disappointments of a deprived life.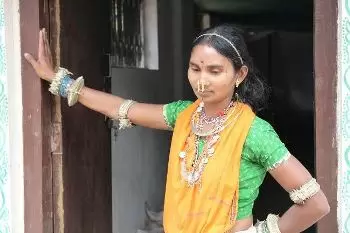 Basanti Majhi, the author of a rare collection of stories penned in Kui, the language of a quarter of a million tribal people in Odisha (Photo: Deepsha Rath\WFS)
Meet Basanti Majhi, the author of a rare collection of stories penned in Kui, the language of a quarter of a million tribal people in Odisha. 'Kutia Kondh Lok Kahani' is her way of introducing a new generation of Kondh children to their native traditions and folklore, which until now had been passed down over the generations only through the oral tradition.
Majhi can dream up an alternate reality in a trifle. With the setting invariably being the jungle – she calls herself "a child of the greens" – her characters are entrenched in tribal culture and are often seen overcoming the difficulties of contemporary times.
She has a distinct style and, yes, lots of personal experiences to tap into. Says the writer, who speaks in a dialect that most mainstream people cannot follow, "In my stories, I weave together reflections of my own life, the grief and pain of my people and the world in which I live. With that I throw in some demons, ghosts or rich landlords, to make the plot more interesting. For me, stories have always been a way to deal with hardship."
Truly, her life has not been easy. As a child she used to accompany her parents and three siblings to work in the local paddy fields from dawn till dusk. Bone tired as the family made its way back home in the dark, the women would start thinking about how they were going to put together the evening meal.
They did not even have a moment's rest. "That was our life. It began and ended with backbreaking hard work. But, every day after we retired to bed, my grandmother would tell us the most fun stories. It was the best time of day for me," recalls Majhi, whose grandfather had three wives.
It was her second grandmother who had an endless supply of entertaining tales – where a bird could marry a beautiful girl or a creeper could bear a child!
Today, Majhi has followed in her grandmother's footsteps, the only difference being that she uses the metaphorical style to reveal some of the harsh realities faced by the tribal community.
In fact, issues such as drought, hunger, poverty, and child marriage have been presented in all their stark detail. Here's how she tells the story of a childless young woman and the treatment that is meted out to her by society:
"His name was Golden Ring. He was a blessing from her brother. Ani was married into a family in a distant village. After all her family members passed away she had no one to turn to. Friendless, lonely and poor, she was leading a meaningless life. Then one day Ani's brother came visiting and saw her anguish. Moved by his sister's plight, he gave her a golden ring. She held it in her hand but it slipped away. She put the precious ring in an iron box but it disintegrated. Finally, she swallowed it to keep it secure. Three days later, she gave birth to a baby boy. He was her life."
Majhi understands the pain of losing family members. Married at 18, her husband passed away of an unidentified illness by the time she turned 20. She has been alone ever since.
The few days of her romantic rendezvous are still vivid in her mind, "I had never thought of marriage as a regular affair. I imagined my bridegroom to be a character from one of my grandmother's stories.
"He could be a fruit, a flower, even a python! Of course, nothing like that happened. I met my husband at a community gathering arranged by Seva Bharti, a local NGO. From the time he first saw me, he wanted to take me for his bride but I did not consent to it. After two years of hide and seek, he succeeded in expressing his love to me and I gave in to his wishes. But, I guess, Mother Earth had something else in mind. She wished to take him back."
After he was gone, she joined Seva Bharti's office at Mundigarh village to work as a housekeeper. To overcome her grief she took to writing with a vengeance.
Throughout the day, she diligently went about her chores, washing utensils or drawing water from the well, yet her mind would always be busy weaving stories. Come evening and she would start putting down her ideas on paper in her native language. Whatever she wrote she put away in an old tin box.
Majhi's life took a sudden turn when eminent folklorist and historian, Raghunath Rath, came to Seva Bharti to interact with local volunteers. As he was speaking to them he saw the young woman furiously writing away in one corner.
He had earlier seen her quietly go about her work and largely keep to herself. It intrigued him. So, he inquired about her from Pramod Patnaik, the head of the NGO. Patnaik smiled and told him about Majhi's passion for penning stories.
When he asked if she would be willing to show him some of her work, out came the rusty tin box revealing a treasure of no less than 39 fascinating tales. Rath was convinced that such a unique, vibrant collection had to be shared with the larger world. So, he took the initiative to translate each story into Oriya, even as Seva decided to chip in by publishing it as a bilingual book.
'Kutia Kondh Lok Kahani' has indeed made history – it is for the first time that a Kondh has provided a glimpse into the mind of a tribal girl, her lifestyle, her aspirations and imagination. At the same time, it was also a completely unexplored genre in Oriya literature.
Reflecting the deep understanding and respect that tribal people have for the forest and the animals, the book also had shades of Rudyard Kipling's 'The Jungle Book'. Sample this story, entitled 'The Vulture':
"One day, the king and queen decided to take a walk to the nearest market. On the way, the queen, who was pregnant, started having birth pains and soon gave birth to a still born. Disappointed, they left the lifeless child right there and went away. A few minutes later, however, the baby suddenly started to cry. A vulture sitting atop a tree nearby saw the baby and took him. The bird took care of the baby, nourishing him like his own. As the boy grew up the vulture even sent him to school. …"
Majhi's storytelling has an inherent innocence about it, supported by incredible imagination and just a little dash of the everyday. She is happy to see her work in print but that wasn't her aim.
As she puts it, "It was a good experience to see my stories in the form of a book. My stories are the unspoken part of our lives. I write about my journey without thinking much of the destination." - Women's Feature Service

Trending Now: