It is Christmas season and time for a feast

22-December-2014
Vol 5&nbsp|&nbspIssue 51
Christmas – the very word conjures up images of a beautifully decorated tree, gifts wrapped in red and gold, twinkling fairy lights, and a table full of finger-licking goodies.
So, what would you like to have for your Christmas feast this year? The same old roast chicken, baked veggies, gingerbread cookies and plum cake? Take a break from this customary fare and go for an exotic, yet easy-to-prepare meal, which has dishes picked up from across the country.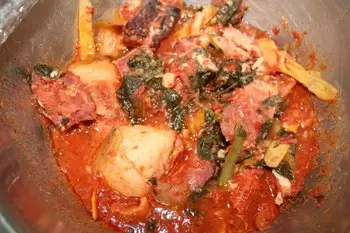 Gak Jan, a delectable pork curry, is a local Manipuri favourite during Christmas (Photo: WFS)
As is usually the case in most Indian homes, it's the women of the household who spend weeks planning and preparing for the extra special festival meal.
While the fare is pretty much standard – there's lots of fried savouries, rich and luscious meat curries, sides of seasonal vegetables and an array of sweets to round everything off – what is clearly evident is the influence of the local ingredients and regional favourites.
For instance, if coconut is the star of all dishes in the Goan cuisine then aromatic spices abundantly available in the north east Indian states form the basis of their preparations. Then again, in Andhra Pradesh, traditional southern favourites like the Pulihora (lemon rice) and Garelu (lentil donuts) are served with the evergreen favourite Hyderabadi mutton biryani.
In Manipur, the countdown for Christmas has already begun and Hiam Riamei, 23, a resident of Tameng Long and a native of the Zeliangrong tribe, can't wait to tuck into Gak Jan (pork curry) with dollops of King Chilly chutney and sticky rice.
"We generously use local spices like King Chilly, Sangchagu, Tamik and Dahngengthainui in pork and beef curries to give them a typical flavour and aroma," says this secondary school teacher. The food, according to Riamei, is made by kitchen assistants at the neighbourhood church, locally known as 'langars'.
Even as the fiery chilly rules the palate in Manipur it's the coconut and semolina that combine to create a variety of dishes in the land of the sun and sea, Goa, which, incidentally, is also the most sought after destination during the season.
"Around here, Christmas festivities begin from December 19 onwards, which also marks Goa Liberation Day," shares Cleophas Caiado, 26, a local resident of Ribandar, a picturesque town located between state capital Panjim and Old Goa.
Of course, the prep for the quintessential rum-and-raisin cake happens at least five months in advance with the soaking of the dry fruits in the liquor. The traditional Goan feast is quite elaborate with distinct Portuguese flavours.
Sweets are the pièce de résistance of the spread. Caiado, a journalist with an English weekly, says, "There is a whole range of sweets to choose from – Dodol, Doce, Bolinhos, Neuros… all of which are homemade."
Not just in Goa, the celebratory dinner down south, too, is very much a homemade affair. "Things around here are quite different from the western world," remarks Sheena Sannihitha, 23, from Kurnool in Andhra Pradesh.
"Whether it's the food or the clothing, we stick to the Indian stuff," says the young data analyst, who plans to wear a hot pink 'pattu' silk sari on Christmas. "It is the cultural diversity that makes Christmas in different parts of India so rich and traditional," she adds.
Age-old Andhra culinary traditions are reflected in the Christmas platter that constitutes savoury snacks like Garelu, curries like Kodi Kura (chicken curry) and Gongura mutton, rice staples Pulihora and Biryani, and sweets, Payasam and Kharijakayalu. "Of course, like elsewhere in the world, the entire family goes to Church at midnight and attends the morning mass," she reveals.
From Kurnool, where local flavours dominate, let's go to Mumbai, where Debbie D' Cruz's family follows the English traditions to the T. Talking about the grand Christmas lunch organised in her home every year, the content planner with a music company, quips, "It is like a reunion for the whole family - cousins from across India and even abroad descend here – and that's why the table is groaning with items made with every possible meat we can lay our hands on.
"There's beef roast, fish, chicken, pork… We include a few signature dishes like mashed potatoes, rum-and-raisin cake, milk cream toffees, date rolls and rose cookies. The recipes have been passed through nearly seven generations."
Although cultural influences differ, lending their own unique twist to the festive treats, the spirit of sharing joy and camaraderie on Christmas remains the same everywhere. As D' Cruz, 27, puts it, "Be it any state of India, Christmas feasts celebrate homecoming, happiness and togetherness…"
Worked up an appetite for the exotic? Looking to take a break from the customary fare and go for a different, yet easy-to-prepare meal, with dishes from across the country? Savour the diverse flavours of Incredible India through these select recipes… go ahead and cook up a gastronomic storm this yuletide.
GARELU (LENTIL SAVOURY DONUTS/ANDHRA PRADESH)
Ingredients:
* 1 cup urad dal (skinned white lentil)
* 10-12 black pepper corns, lightly crushed
* 1/2 tsp cumin seeds, lightly crushed
* Salt to taste
* Oil for deep frying
Method:
1. Soak the dal in water for one-and-a-half to two hours.
2. Strain the water and grind the dal to a paste sprinkling very little water. To the paste, add salt, cumin and pepper and beat till fluffy.
3. Heat oil in a heavy bottom vessel. Once it reaches smoking point, reduce the flame to medium heat.
4. Wet your hands with water, take a lemon-sized ball of the batter and flatten it into an oval shape on a greased sheet or banana leaf. Make a hole in the centre so that it cooks evenly all over.
5. Slowly drop them into the hot oil and fry it on both sides on medium heat to a golden brown. Fry 4-5 vadas per batch depending on the size of the vessel.
6. Remove them onto a serving plate. Serve while the crust is still crisp and with chutney and sambar.
Cooking time: 20 min
Makes: 10-12 vadas
(Source: http://www.sailusfood.com)
POORNALU (TRADITIONAL FRIED SWEET AND SAVOURY SNACK\ANDHRA PRADESH)
Ingredients:
* 2 cups channa dal (Bengal Gram lentil)
* 1 ½ cup grated jaggery
* 1 tsp cardamom (elaichi) powder
* 1 cup fresh grated coconut (optional)
* 1 cup urad dal (skinned white lentil)
* 2 cups rice flour
Method:
For batter:
1. Soak the rice and urad dal for about six hours.
2. Grind them into a smooth and thick paste with a batter consistency. To this, add salt and keep aside.
For Poornam:
1. Pressure cook chana dal with water. Cook one part dal with two parts water till four whistles.
2. Once it cools off, remove any excess water and mash it nicely by hand or in a blender. Now add grated jaggery, shredded coconut and cardamom powder. Cook it again stirring in between till it becomes a thick paste.
3. Let the dal mixture cool. Make them into medium size balls.
4. Heat oil in a pan. Dip each sweet ball in the rice and dal batter and fry till golden brown.
5. Serve them at room temperature.
(Source: http://simplefoodbowl.com)
GAK JAN WITH KING CHILLI (PORK CURRY\MANIPUR)
Ingredients:
* 1/2 kg pork
* 250 gram fresh turmeric root
* 150 gram ginger and garlic crushed
* 1 dried king chilli (crushed)
* 10 tbsp fermented bamboo shoot
* 2 potatoes (diced) (optional)
* 5-6 tamik Leaves
* 5-8 dahngengthainui leaves
* 1 bay leaf
* 1 sangchagu (wild root) (crushed)
* 1/2 litre water
* Salt to taste
Method:
1. Cut the pork into small pieces and marinate it with fresh turmeric, ginger and garlic. Leave it for 10-15 minutes.
2. Put the marinated pork in the pan and stir for five minutes till its fats are released.
3. Add the crushed dried king chilli (or any other if this variety is not available), bay leaf, dahngengthainui and tamik leaves, sangchagu [these are also optional] and salt. Stir for about five minutes.
4. Add the fermented bamboo shoot and stir. Once the ingredients are mixed well, add water and cover the pot. Cook for 30 minutes.
Serves: 4
(Courtesy: Hiam Riamei)
SANNAS (STEAMED LENTIL CAKES\GOA)
Ingredients:
* 1 cup parboiled rice
* 1/2 cup urad dal (skinned white lentil)
* 1 cup rice
* 5 grams dry yeast
* 1/2 teaspoon sugar
* 1/2 cup coconut milk
* Salt to taste
Method:
1. Soak both the rice and urad dal separately overnight.
2. Drain and grind them separately using enough water to make a smooth and thick batter.
3. Mix the batters well in a deep vessel. Place the yeast in a bowl with sugar and two tablespoons of warm water. When it begins to froth add it to the batter and whisk well.
4. Add coconut milk and salt and mix. Set it aside to ferment for about five hours or till it doubles in quantity.
5. Heat sufficient water in a steamer. Grease the idli moulds. Pour the batter into each mould and place it in the steamer.
6. Cover the steamer with the lid and steam on medium heat for about 15 minutes or till done.
Cooking time: 26-30 minutes
Servings: 4
(Source: http://www.sanjeevkapoor.com)
BOLINHOS (COOKIES\GOA)
Ingredients:
* 250 grams rawa or semolina
* 200 grams coconut flakes
* 400 grams sugar
* 4 eggs
* 200 grams butter
* 1 cup milk
* 1/2 teaspoon baking powder
* 1/2 teaspoon vanilla essence
Method:
1. Boil the milk and stir in the sugar. Then add the coconut to the mix and let it cool.
2. Roast the semolina lightly and keep aside to cool.
3. Separate the egg yolks and whites.
4. Beat the two separately.
5. Beat the butter till smooth and creamy.
6. Add the yellows into the whites and beat.
7. Add the butter to the egg mix.
8. Add vanilla essence, baking powder and sweetened milk, and then mix.
9. To thicken the batter, add a little semolina. To thin it, add a little milk (if needed).
10. Take the batter in your hands and make small balls and put in a baking dish. Use a fork and add a few lines to make a design
11. Preheat the oven to 175 Celsius and bake for approximately 25 minutes till brown.
(Source: http://bongong.com/)
DATE ROLLS (MUMBAI, MAHARASHTRA)
Ingredients:
* 2 cups grated, pitted dates
* 1 cup powdered almonds
* 1 cup powdered cashew
* 2 tbsp clarified butter/ghee
* Dry coconut powder to roll the dates mixture
Method:
1. Keep a pan on medium heat and heat the ghee. Add the grated dates. Soften them up for 5 minutes.
2. Add almonds and cashew powders and mix well.
3. Shape this mixture into rolls and dust them with dry coconut powder.
4. Cut into small round pieces and store in an airtight container. (Courtesy: Debbie D' Cruz) - Women's Feature Service

Trending Now: