Traditional handlooms offer the best alternative for modern designers

Surekha Kadapa-Bose
&nbsp | &nbsp Mumbai
08-December-2014
Vol 5&nbsp|&nbspIssue 49
It's time to go back to the roots. Trade those Chinese silks for a rich and lustrous Tussar or Muga, the chiffons and georgettes for the homegrown 'mulmul' or Benarasi brocade. Don't feel like donning a sari or salwar-kameez? Then pick up a Chanderi gown, Paithani dress, Kanjeevaram skirt or Pochampalli fitted jacket.
Today, indigenous handlooms have gone haute with a vengeance as several Indian designers have taken on the mantle of converting everything 'swadesi' into a 'hip' style statement.
Designers like Doshi have been reinventing the traditional crafts and presenting them with their own contemporary twist (Photo Courtesy: Purvi Doshi)
Couturers like Anavila Sindhu Misra, Krishna Mehta, Anita Dongre, Purvi Doshi, Vaishali Shadangule, Shreejith Jeevan and others have joined hands with grassroots weavers and craftspersons, who were earlier struggling to keep their livelihood going, to not just give a boost to their hopes and prospects but also revive the world's interest in ancient Indian crafts.
No other country can claim to have such a diverse heritage of ethnic textiles as India. There's Chanderi, Jamavar, Maheshwari, Paithani, Pochampalli, Kanjeevaram, Tussar, Jamdani, Baluchari, Bandhni, Dhonekali… it's a never-ending list.
In fact, mythological epics like the Ramayana and Mahabharata as well as other historical texts, too, generously describe their beauty and craftsmanship.
Yet, somewhere around the end of the 19th century people had a sudden change of heart. Their undying love for the homespun cotton and silk got replaced by a blinding fascination for the power loom-produced Manchester cotton. That phase lasted till the advent of the Swadeshi movement initiated by Mahatma Gandhi, which brought on a craze for khadi.
The handloom industry chugged along evenly till the 1980s. But, post-liberalization, as cheaper fabric flooded the market, weavers and traditional artisans once again faced serious setbacks and challenges. Although the government introduced a plethora of measures to help out the 43.31 lakh weavers (2009-10) and allied workers in the handloom industry, they seemed to be on their way out till designers and, consequently, the fashionistas began rediscovering their fine qualities.
In the last couple of years, an increasing number of fashion designers have switched over to only working with the local textiles and embroideries. Kerala-based Shreejith Jeevan, who debuted at the 2013 Lakme Fashion Week (LFW), is a big fan of Indian textiles.
The designer, whose brand, Rouka, was showcased on Indian Textile Day organised as part of the LFW, believes, "It's important to take responsibility for one's own cultural heritage. Look at what has happened in Europe. They don't have any crafts left. They have all become extinct. As designers we can play a critical role in preserving our heritage textiles."
Since 2012, the Indian Textile Day, ably supported by the Ministry of Textiles, has been a great attraction at the LFW. Apart from Jeevan, there are many other well-known designers who have presented their collections at this event, including Anavila Sindhu Misra, Krishna Mehta, Anita Dongre, Purvi Doshi and Vaishali Shadangule. They all work with grassroots crafts-persons enabling them to keep their talent and expertise going.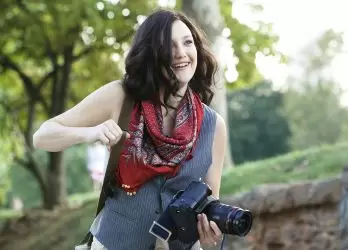 Delhi-based fashion designer Aneeth Arora's brand, Pero, is a favourite among celebrities such as Kate Hudson, Mira Nair, Arundhati Roy and others (Photo Courtesy: Aneeth Arora)
The Ahmedabad-based designer Purvi Doshi, who became a rage with her maiden show of Indian wear, swears by the traditional materials, "The texture of the fabric or the woven motifs in Indian textiles is so striking and unique that they don't need any enhancements." Doshi has been reinventing the traditional crafts of Gujarat and presenting them with her own contemporary twist.
Giving the 'desi' a truly international feel and fan following is the Delhi-based fashion designer Aneeth Arora, whose brand Pero is a favourite among celebrities such as Kate Hudson, Mira Nair, Arundhati Roy and others.
She says, "Every Indian textile has a unique beauty. As they are made of natural fibres their magnificence is matchless and the comfort level high." Her clothes amply reflect this splendour. Mulmuls with delicate prints never looked as classy as they do on an Aneeth Arora's designs.
Even though the designers freely experiment with the weaves and age-old motifs to give the Gen Next the trendiest of attires in the most comfortable of textiles, they never compromise with the original feel.
For instance, Anavila Misra, known for making her designs come alive with linen, has experimented with the yarn by mixing it with silk to give it a glamorous sheen. Till recently, her linen saris came only in base colours but these days they are available in shimmering red, sexy magenta, luscious green and peaceful blue, embellished with typical tribal motifs of appliqué work.
The international ramps are seeing their fair share of Indian textiles as well. Be it New York, Paris, Barcelona, Hong Kong or Dubai, the demand has only been growing.
Dwelling on this development, Mumbai-based designer duo Kapil & Mmonika says, "Globalisation has played an important role in the promotion and interaction of the Indian textiles around the world. Also being rich in its cultural heritage and with a golden history of weaving and creating exquisite textiles, India is the preferred destination for textile lovers. All this makes our weaves much sought after." The duo designs wonderful contemporary dresses in brocade and silk.
As designers convert their fondness for weaves into fabulous clothing, the future of India's rich textile heritage definitely looks bright. - Women's Feature Service

Trending Now: