Vishranthi gives room for its women to create and also sells the creations
Hema Vijay
&nbsp | &nbsp Chennai
01-December-2014
Vol 5&nbsp|&nbspIssue 48
Every afternoon, Vishranthi, a home for the elderly, located on the picturesque East Coast Road on the outskirts of Chennai, Tamil Nadu, is abuzz with activity - its residents, most women well into their seventies and eighties, get down to work with bright strips of old clothing.
One of them is R. Rajam, 79, who has been living here for the last 15 years. With a content smile she says, "For me, this is the best part of the day. I love doing this activity although I am not as much of an expert as Chellamma here."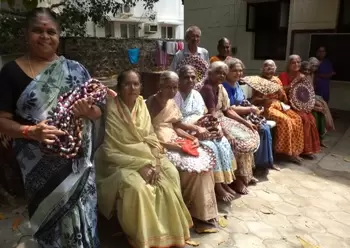 Making hand-crafted products has given a whole new meaning and direction to the lives of these old women (Photos: Hema Vijay\WFS)
Almost immediately C. Chellamma, 74, replies, "Oh, Rajam is being modest. Look, she has made this wonderful teddy bear pattern, the Tirupati tilak and, not to miss, Krishna's foot..."
Sounds intriguing, doesn't it? So, what exactly are these industrious grannies up to? Well, they are using their newly-acquired craft skills to make lovely rugs and mats from recycled clothing.
Making these hand-crafted products has given a whole new meaning and direction to their lives; something they really look forward to, considering they otherwise struggle to find things to do to fill up the long, lonely hours sans spouse, children or extended family. They wake up with a renewed sense of purpose simply because they are excited about putting their minds together to think up of innovative patterns that they then bring to life with their nimble, albeit trembling, fingers.
And no, making mats and rugs is certainly not a mere time-pass for them; it's a serious enterprise that is bringing in a modest income to help support their home. The mats are marketed by Vishranthi at various craft fairs held in the city, under the guidance of the Women Entrepreneurship Promotional Association (WEPA).
Remarks D. Saraswati, 64, one of the youngest women living there, who has fashioned over a 100 mats till date, "It is satisfying to think that in our own small way we are contributing to the upkeep of our home. We are not irrelevant."
In fact, these days, they are rather kicked that they have successfully completed a huge 21- feet-wide circular mat, which they are trying to enter into the Limca Book of Records. "Limca has communicated to us that they will consider our mat for a mention in their 2015 edition. All of us at Vishranthi are looking forward to seeing this materialise," says Prabha Sridar, 58, secretary of Vishranthi Charitable Trust that runs this old people's home.
T. Vidya, one of the female staffers at Vishranthi, has seen from close quarters how making mats has livened things up for the seniors. "Owing to rapidly failing eyesight, trembling hands and other ailments that come with their advanced years, sooner than later many of them have to leave this activity. But they love it so much that they insist on sitting in the activity room to watch the others merrily weaving way," she shares.
R. Annapoorni, 72, who came to Vishranthi five years ago, is one of them. "I used to like making the mats but I can't do it any more. However, I see that my friends are doing a much better job," she says, paying her fellow mates a generous and well-deserved compliment.
A few years back, it was Vishranthi's founder, Savithri Vaithi, also in her eighties now, who had introduced the concept of weaving floor mats from strips of fabric to these women. The process is quite straightforward – individual strips are plaited into ropes and then sewn together in a circular or oval shape. Vaithi had come across such mats during a visit to Bengaluru, capital of neighbouring Karnataka state.
Impressed with the idea of the recycled mats, she decided to give it a shot. Back at Vishranthi, she explained the process to the women and then encouraged all those interested to come forward and try their hand at it. The raw material was easy to source – while many were willing to give up their own old clothes they also picked out the unusable clothes from the ones that came through donation.
"During the first month, I was just tearing the saris into strips. Later on, I started plaiting them," recalls Chellamma, who was among the first to follow Vaithi's advice. Before she started making mats, the septuagenarian's main work was to grind idli batter for use at Vishranthi. "Making mats is way more fun and rewarding," says Chellamma, who has been living at the home for nine years.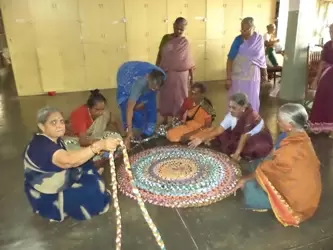 Inmates make lovely rugs, mats and other such items from old, recycled scraps of clothing
K. Lakshmi, 68, who has been at Vishranthi for three years, points out, "It is a simple skill and doesn't take long to pick up." The real challenge is in creating a pleasing pattern because their choice of colours is confined to the colour scheme of the recycled clothes they have at hand.
The work load is shared and it takes a couple of days of collective "granny power" to weave a single mat. One shreds the old cloth, another plaits it and yet another stitches it together. For instance, Kanakamma, 70, likes to make plaits, while B. Shantha, 84, enjoys sewing them together.
Some are also extremely talented with the needle. Kamala, 86, can do amazing double needle crochet work. "I used to make mufflers and sweaters as a girl," she reminisces. Now, besides making mats she fashions tea coasters in square and rectangle shapes as well as the surukku pai (drawstring bag).
Says S. Rajalakshmi, 78, who shifted into this home after her husband passed away eight years ago, "We do the weaving whenever we get the time and it is so engrossing that we barely look up when we are at it." Agrees R. Indumathi, 65, "At last, we all have a fresh interest in life."
Thus far, the enterprising Vishranthi grannies have created around a 1,000 mats. These generally sell at Rs 50 or Rs 60 apiece and the proceeds go towards the running of the home. In October this year, their merchandise was put up for sale at two craft exhibitions, including one by WEPA.
"Vishranthi had sent about 150 mats. All of them were sold out within days," says Prema Desikan, 74, Founder, WEPA. A former industrialist, Desikan had wound up her business enterprise to make time for WEPA because she "wanted to help unemployed women stand on their feet through small business enterprises".
Apart from the craft fairs, the senior women receive immense appreciation and praise from the school and college students, who regularly troop in to visit and entertain them by putting up skits and musical shows. Yet, at the end of the day, there is the dull pain of living without their family around.
These women have learnt to find joy and solace in each others' company, and in the little jobs they do to keep the old age home going. And the floor mat initiative has brought about a huge resurgence in their spirits. After all, there is nothing as invigorating as a sense of purpose and ongoing achievement, isn't it? - Women's Feature Service

Trending Now: