To put India on the international soccer map and to discipline children, a game is on

Partho Burman
&nbsp | &nbsp New Delhi
01-December-2014
Vol 5&nbsp|&nbspIssue 48
Football craze peaks among the young and the old of urban India every world cup season. But hardly gets translated into action and never has it been a much sought-after sporting activity in the country.

To give the game a lift in the motherland and put the country on the international soccer map, a 33-year-old electrical engineer Chetan Misra is encouraging youngsters take to football with passion.
Misra uses football to instill discipline and values in the children
Misra, who grew up in Bhubaneshwar in Odisha, graduated in Atlanta, U.S.A, and is now settled in New Delhi, says, "Guns and drugs – I have seen them abroad. This culture, though in the teething stage here, should have to be nipped.

"We need to mentor children with values and discipline for which football helps. It can make a huge difference to their lives."

This strong belief in him that the game serves as a tool for social and holistic development of a child has given birth to TheFootballLink Trust, a non-profit organization which, according to its website, promotes football among the underprivileged children and youth, both boys and girls, especially in areas where kids are prone to higher abuse and crime.

The fledgling trust has branched out from TheFootballLink (TFL) Sport Private Limited, a social enterprise aimed at exploring and advancing the football ecosystem across the country and making it a sustainable medium for healthy lifestyle and entertainment. TFL again is a follow-up of FootballFirst, a coaching company that offers age-specific football curricula.

Concerned that the game is popular only in West Bengal, Kerala and Maharashtra and not in other parts, Misra says, "People do not take football seriously. A child's holistic development gets stuck because the parents do not give their children even an hour a day as playtime."

He fell in love with the game while he lived in the U.S for eleven years. Impressed by the roaring success of the Girls Grassroots Football programmes in Washington DC that introduced the sport to adolescent and teenage girls at the grassroots level, the young man upon returning home kicked off his own coaching academy.

"I found India to be a divided country on the lines of religion, caste, culture, language and politics. Hence, I decided to work collectively and collaborated with Delhi police, Delhi Sports Authority, NGOs and schools to get children, both underprivileged and those from sound economic background, out on the ground to play football."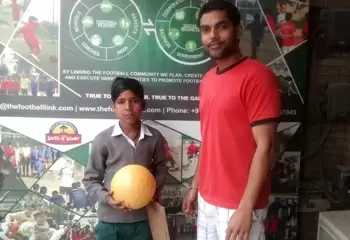 Chetan Misra has introduced football to hundreds of kids in Delhi
TheFootballLink, that exposes kids to the game and its nuances right from foundation to technicalities, has inked a five year-pact with Sports Authority of India (SAI).
The trust seeks to benefit immensely in terms of goodwill and financial assistance from SAI in exchange for scouting and spotting talents and creating professional footballers out of them who may even represent the nation in the near future.

He says he has worked with 25,000 kids, of which 50 percent of them were from underprivileged society.

Training four-year-olds to 30-year-olds, Misra observes, "The segment, which I find it the most exciting to deal with, is the 8-12 age group. At this age, their comprehensive and receptive skills are excellent.

"If they come from an economically challenged environment, then the response is nothing less than fantastic. You give them a little, they catch up fast and respond swiftly as their lifestyle otherwise is difficult. It is a delight coaching this class of children."

Misra works with a team of seven members including Sahil Bakshi and Nipun Bhalla.

Initially, TFL trained these kids at the police battalion ground in Vikaspuri under the supervision of Delhi Police. Encouraged by their overwhelming interest in the game, it continued organising regular programmes for them, mostly in Malviya Nagar, Raisina, Madhu Vihar and Vikaspuri.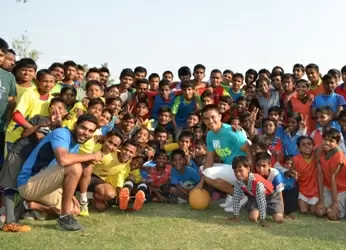 Misra hopes that some of the children he coaches will represent the national team
The coaching provided to these underprivileged children is completely free of cost while those who can afford are charged.

To improve the quality of the training, TheFootballLink is also working with the Coaches Across Continents, an international NGO, that uses football for social development in various countries.

Using his engineering background, Misra has invented F-Cube, an audio-video learning tool. It is similar to a wall practice where one kicks the ball on the wall and it bounces back to the player.

F-Cube, which is all about `football for fun,' flashes alphabets while making appropriate sounds whenever the ball hits the wall. The child is actually learning while playing.

"F-Cube helps keep the kid engaged and more importantly away from television," explains Misra, awaiting patent for his creative tool.

Though this technology is not yet available in the market, it was launched by Union Minister of Youth Affairs and Sports Minister Sarbananda Sonowal at Jawaharlal Nehru stadium in Delhi about three months ago.

So, from where does the money flow in for this young football enthusiast to run the venture? The head coach of Jesus and Mary College, he diverts his earnings to develop the sport and bring kids into it. Besides, his well-to-do father Biraja Misra also chips in.

Misra is also authoring a book, "Stop Dribbling Pass" that focuses on the Indian football ecosystem through the prism of sports.

Can we expect TheFootballLink to produce international players? "Sure," he smiles, "But we need to be patient, for the results will start showing only at the age of 18 or 20 if a kid is introduced to the game when he is 3. For a player to deliver, the nurturing period spans about 12 years."

As India will play host to 2017 FIFA Under-17 World Cup, TheFootballLink is preparing the ground to make little Indian stars twinkle. Are you ready for the game? Then, get linked to http://www.thefootballlink.com

Trending Now: