'A lot of history and heritage in the state is getting neglected'
Jaideep Sarin
&nbsp | &nbsp Chandigarh
22-November-2014
Vol 5&nbsp|&nbspIssue 47
Punjab has always been famous for its agriculture and religious tourism, particularly the holiest of Sikh shrines, Harmandar Sahib (popularly known as the Golden Temple) in Amritsar.

But for travel writer Puneetinder Kaur Sidhu, the state that ushered in the Green Revolution in the 1960s that made India self-sufficient in foodgrain, has much more to offer in terms of history and a rich heritage.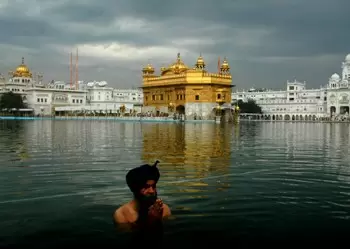 The Golden Temple at Amritsar is one of the well known landmarks associated with Punjab (Photo: Indian Photo Agency)
Having travelled extensively through the state, Sidhu has just penned her experiences and research on what Punjab has to offer through her contribution to a travel book, "Experience Punjab on the Road" (Times Group Books, Price: Rs 299). She is the principal writer of the book, which deals with various aspects of the state.
"Driving in Punjab can be a lot of fun with good roads and the fact that the distances are not much. You can travel from one end to another in around five hours," said Sidhu, whose emphasis was to explore and share travel destinations through short trips from five main cities of Punjab - Amritsar, Patiala, Chandigarh, Ludhiana and Jalandhar.
"Punjab is not all about the Golden Temple, the Attari-Wagah Retreat ceremony and the Jallianwala Bagh. The state has so much of history and heritage to offer along with food delights and the lush landscape. One unique thing about Punjab is that even its countryside is so urbane," she said.
Sidhu said that she has tried to bring out the rich historical aspect of Punjab. "This state has seen many historical events. Besides the influence of Sikhism, there is a huge Mughal imprint in the state - like Sultanpur Lodhi is important to Sikhs but has a lot of Mughal influence too."
About the things around the five main cities, Sidhu pointed out: "Amritsar is Punjab's poster destination. It is a foodie's delight too. Patiala has a lot of royalty and heritage in and around it. Bathinda may not have much to offer on the food front but you can see stud farms in the Muktsar area. The Ferozepur belt still has a lot of agricultural fields. Chandigarh offers nearby sites from the Harappan civilization."
Sidhu said that a lot of history and heritage in the state is getting neglected as people just have no idea on what is there around them.
"Some of the heritage buildings have been converted into offices, rest houses and even colleges. In some areas, even local residents don't know about historical buildings around them.
"Take February 14 for example. Most of Punjab - and the rest of India - celebrates it as Valentine's Day. People don't realise that on the same date in 1556 Akbar was coronated as the emperor of Hindustan at Kalanaur (in what is now Gurdaspur district). Kalanaur even has a unique Akbari mosque," Sidhu said.
"Another unique thing is the museum at the Police Academy in Phillaur (near Ludhiana). It has police case properties from 18th century onwards," she said.
This apart, some of the prominent heritage buildings in Punjab are the magnificent Khalsa College complex in Amritsar, the Sainik School in Kapurthala, the royal Moti Bagh Palace and Sheesh Mahal in Patiala and a number of forts and havelis.
Since Punjab and its rich food also go side by side, Sidhu pointed out that the state has a lot to offer on this front.
"Besides the rich food from Amritsar and other places, even a place like Kot Kapura haston offer Royal Atta Chicken - a tribal recipe originally from areas now in Pakistan. It is quite popular and has to be ordered in advance," said Sidhu, who loves to travel and explore.
For the record, thanks to the Green Revolution, Punjab today contributes over 50 percent of wheat and rice to the national kitty despite having just 1.54 percent of the country's geographical area. - IANS

Trending Now: