Criticism apart, a Manipur expert finds the film Mary Kom resonating with reality
Syeda Hameed
&nbsp | &nbsp Delhi
13-September-2014
Vol 5&nbsp|&nbspIssue 37
As I watched the premier of the new Hindi film, 'Mary Kom', for two hours I sat in a packed hall, riveted. I juxtaposed my experiences of Manipur with the film and discovered a resonance.
While the producer, Sanjay Leela Bhansali, has made another important woman-centered film, this time taking audiences to India's beautiful yet most neglected region, Manipur, actor Priyanka Chopra has brought the eponymous Mary to life as if she was born to play her.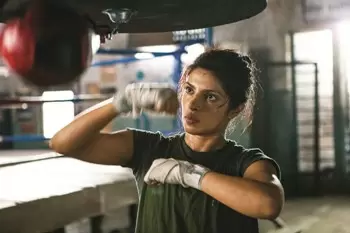 A still from 'Mary Kom', starring popular Hindi film actress Priyanka Chopra, which traces the tough journey of a female boxing champion (Photo: WFS)
Of course, I write this piece not as a film critic but as one who has watched Indian films all her life and has also had the privilege of visiting Imphal and other parts of Manipur several times since 1997.
The second chapter of the book, 'Beautiful Country: Stories from Another India', which I authored in 2012 along with Gunjan Veda, is about our Manipur experience.
Manipur for me is a place synonymous with women. While they do not wield political power - they do not have a presence in the state legislature - they certainly run the daily business of life in the region.
I have always idolised the Manipuri mothers, Meira Paibis (torch bearers), who assumed the role of protectors and guardians of the youth in this highly militarised and turbulent state. In fact, for decades they have been the role models for gender movements all over India.
From Ima markets (mother's markets), where women run the show, as traders, vendors and entrepreneurs, to the brave sisters who stripped in front of the Assam Rifles to protest against the rape and killing of Thanjam Manorma Devi, Manipuri women have shown the highest integrity and grit.
It's this typical, never-say-die spirit of Manipuri women that shines through in the on-screen story of MC Mary Kom, a girl from an unknown village, Kangathei, who managed to create sporting history for India in world boxing arena in the years 2008, 2010 and 2012.
In the film, she is shown as the schoolgirl, whose anger at the gender injustices she sees all around her spills out in the form of street fights. It is the tough coach, M. Narjit Singh, who channelises her anger towards sports.
Mary is shown to pull on a pair of red boxing gloves to begin the arduous training of body and mind. But at this juncture her father says, 'No!' He declares that he won't allow his daughter to be disfigured in a 'male' sport, forever hampering her marriage prospects.
Burning her gloves is his way of asserting patriarchy. He asks her to choose and she makes her choice. She decides to pursue boxing. Both father and daughter pit their stubbornness against each other.
However, it's the young woman who emerges triumphant – evident by the fact that her father learns of her national victory through the local newspaper.
Later, Mary is, once again, seen defying male dictate. Even though her coach forbids her from tying the knot – he believes that a national level champion has no business marrying as marriage means dead end for a woman – she decides to take the plunge. He turns down her wedding invitation but watches her walk down the aisle from a discreet distance.
Here, Priyanka Chopra effectively conveys the agony of a woman caught between choices. Swinging between hope and regret she moves into married life.
The opening shot of the film shows her being rushed to the hospital to deliver her children even as she is stopped and questioned by a patrol vehicle, which, incidentally, is a way of life in Manipur.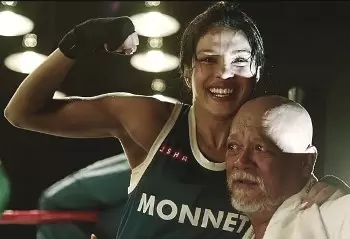 Mary Kom shared a wonderful rapport with her coach, which is evident from the film
After she gives birth to twins, she moves into the 'Ima' phase. While most women have to pick between their family and career, in this biopic, the epiphany is Mary's husband, Onler.
It is he who takes on the responsibility of childcare and urges her to return to the ring. One of the most moving scenes of the film is when Mary arrives at her coach's doorstep with her infant sons.
The old tough guy opens the door. There are no words of explanation exchanged. He simply takes off his insignia shawl, makes a double sling with it, places the babies in it and drapes it over her shoulder saying: "Now you are triply strong – a mother with two children. Invincible!"
As Mary, Priyanka will deservedly walk away with the top acting honours. Supporting her very well are a host of other characters, from her first hulk of an opponent to fellow contestants and even the sleazy 'babus' (officials) of the sports federation, who thrive during foreign tours even as the sportspersons are expected to perform feats on a 'kela and chai' (banana and tea) diet.
The innuendos of sexual harassment and pornographic text messages are not to be missed, although I suspect that the director Omung Kumar went soft on the issue, lest the patriarchal censors use it as an excuse to make cuts in the narrative.
On another note, the film reflects stark reality of Manipur. There is no effort to glamourise the bleakness of Imphal, certainly a far cry from the dreamland that Bhansali is known to create through his works.
'Mary Kom' is our very own version of the 'Million Dollar Baby'. It celebrates the spirit of Manipur, the triumph of gender and a new phase of masculinity. This film needs to be seen not with jaded but with fresh eyes. - Women's Feature Service

Trending Now: