Mollywood in the throes of a major change in looks and content
Sanu George
&nbsp | &nbsp Thiruvananthapuram
30-August-2014
Vol 5&nbsp|&nbspIssue 35
It's time for the three "ageing superstars" of Malayalam cinema to make way for fresh faces. With influx of youngsters, growing popularity of Tamil films and the expansion of digital platforms, the heydays of the trio of Mammootty, Mohanlal and Suresh Gopi seem to be over.
The three amongst themselves have more than 800 films and six National Awards for the best actor.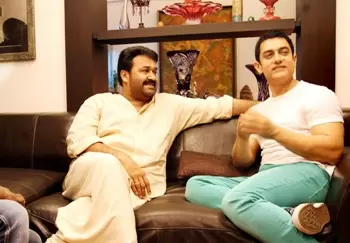 Malayalam superstar Mohanlal (l) with Bollywood star Aamir Khan (Photo: Indian Photo Agency)
At 62, Mammootty is the eldest among the three. Gopi, once the angry young man of Malayalam cinema, is 55, while Mohanlal, popularly called Lal, is the youngest at 54.
Ace comedian and character artiste Jagadish, who rubbed shoulders with them in several films, feels it is time to see things in the right perspective.
"When the trio was going great guns, the only competition that they had was amongst themselves. But in the past one decade things have changed drastically, and today, not only are they pitted against more than a dozen youngsters, the audience has now accepted Tamil films, which offer a rich variety," said Jagadish.
"Also, there are numerous options for entertainment available in the form of cell phones, social media and what not," he added.
When the three actors started their career in 1980, it took them a decade to establish themselves as the reigning stars by dethroning legends like Prem Nazir and thespian Madhu.
In fact, the trio were seen as a perfect replacement for macho Jayan, who was killed while attempting a dare devil stunt on board a helicopter.
The 1990s and the following decade can be summed up as the glorious period for them and later their experience and versatility helped them to stay ahead of the curve.
Every rise has its fall. Starting 2010, the trio too faced disappointments when their films started bombing.
In the past few years Mammootty had 29 releases and barring a few, none really shook the box office. Lal had 22 releases, and Gopi, who was busy with TV assignments, had 19, but all the films met with the same fate.
The failures indicate that their names do not have the power to pull the crowd at the theatres any more.
Dileep, who was never rated as a superstar but played a glorious innings in the industry, continues to hold on to where he has been since the turn of the century.
He takes inspiration from Bollywood megastar Amitabh Bachchan, who is still going strong despite being 71. He said that he has survived this long because "he reinvented himself and takes roles that suit his age."
"We have to accept certain things in life and that is, one can't be always on the top. Today even in politics, where age is not a criterion, this does not happen," he said.
Another film personality, who wants to be anonymous, admits that the trio are "gifted actors", but added: "As the saying goes, 'There is a time and place for everything' and one should be wise enough to understand it."
Award winning filmmaker Majid Gulistan says stardom is like an illusion.
"Films are in itself an illusion and the stars ride on that. Even in Hollywood, the concept of star system has changed and nowhere except in the Malayalam film industry could these superstars have had such a long run. They should consider themselves hugely fortunate.
"When the concept of star system goes, new ideas and thoughts gain significance and it would be based on the theory of survival of the fittest in all respects," said Gulistan. - IANS

Trending Now: