Back to school as the medium changes to tribal mother tongue
Rakhi Ghosh
&nbsp | &nbsp Mayurbhanj
09-August-2014
Vol 5&nbsp|&nbspIssue 32
Kolha tribal families living in six Gram Panchayats under the Kaptipada block of Mayurbhanj district in Odisha will always be grateful to Chanchala, Jamuna, Kuipai, Panamani and other women teachers whose efforts have brought the local tribal girls back to school.
Holding classes in their native language Ho, instead of Odiya, has been the real game changer in these parts. The move has not only helped in increasing the literacy rate in the area but also boosted the confidence of the otherwise marginalised tribal children.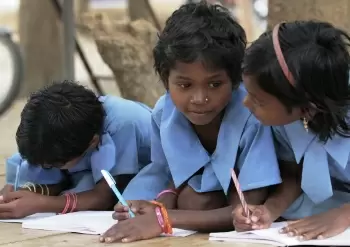 Kolha tribal girls are going back to school as women teachers from within their community take lessons in their native language, Ho (Photo: Rakhi Ghosh WFS)
Mayurbhanj district is home to several tribes, including Santhal, Kolha, Bhuyan, Bathudi Bhuyan and Gond. In the Kaptipada, Thakurmunda and Jashipur blocks, which are chiefly inhabited by the Kolha tribals, Ho is the preferred language of communication.
But as the medium of instruction in the government schools is Odiya, the dropout rates here used to be extremely high. Children were simply unable to grasp what was being taught in class. Consequently, even the teachers developed a lax attitude towards them.
Says Chanchala Mahanta, 38, chairperson of the School Management Committee (SMC) of Dekhachaturi Primary School in Kaptipada block, "The Kolha tribals in Mayurbhanj converse in Ho. So when their children used to start coming to school they found it difficult to study in Odiya. For them, it was like learning a foreign language.
"When I realised that the school atmosphere was becoming intimidating for them and that they were reluctant to come because of this barrier, I took it as a challenge to help them overcome this problem."
What did Chanchala do? In the beginning, she regularly started visiting the tribal hamlets in the nearby areas to talk to parents. "Being a mother I understood their apprehensions. I tried to convince them that their children, too, would be able to pick up the studies in Odiya.
"But when despite my concerted efforts they were still reluctant to send them, I asked them whether they would change their mind if their kids were taught in Ho. This had an immediate and positive impact."
The idea to introduce studies in Ho came from Siksha Sandhan, a non-government organisation working on issues related to education in the region.
Says Anil Pradhan, Member Secretary, Siksha Sandhan, "The poor enrolment numbers among tribal children forced us to probe into the reasons behind this problem. We conducted a survey to find out what exactly was preventing them from coming to school even though the mid-day meal was a major attraction for them.
"It was observed that tribal children felt inferior to their more mainstream counterparts and lacked the confidence to face the outside world. They were hesitant to attend school because they were unable to cope up with studies in Odiya. It was then that we persuaded the district administration to aid us in putting together study material in Ho.
"We created bi-lingual study material - in Ho and Odiya - keeping popular tribal culture, history and heritage in mind to make learning more identifiable and fun. Government teachers were also trained to teach tribal students in their local language."
All this was done with only one goal in mind - to be able to inspire children to come to school.
"While Classes One, Two and Three were handled easily by teachers from within the community, for Classes Four and Five, trained government teachers were appointed. This new curriculum brought about an instant change and within a few months we saw the attendance of tribal children jump from 35 per cent to 85 per cent," he adds.
Talking about the positive response their endeavours have received, Jamuna Samad, who was appointed as a language teacher at the Bandhasahi New Primary School in Noto panchayat in 2011, says, "When I had been roped in by Siksha Sandhan I was aware of fact that our children were unable to understand Odiya."
Jamuna tried to create interest among the children by initiating games and group activities in the village.
As she gradually struck a rapport with them, she motivated them to accompany her to school telling them that they could "play, sing and have lots of fun" there. Every morning, Jamuna made it a point to walk to school with them, a routine she has stuck to ever since.
What started off as a small experiment a few years back has established itself as a positive model for ensuring quality education to tribal children. "We believe that if similar activities are undertaken in other tribal areas, the 'education for all' motto of the RTE Act will definitely be fulfilled, concludes Pradhan. - Women's Feature Service

Trending Now: