Making pupils aware of government and social systems
Jaideep Sarin
&nbsp | &nbsp Chandigarh
09-August-2014
Vol 5&nbsp|&nbspIssue 32
A visit to the local fruit and vegetable market, local hospital or even a factory to understand how things work may not be an essential part of textbooks, but students in government schools across Haryana are becoming part of a quiet change in their classrooms as they are being exposed to practical knowledge in real time.
The Class Readiness Programme (CRP) initiated recently is ushering in the change to make the students learn different things in a more practical way.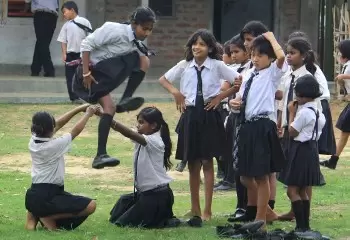 Simple activities like going around the school campus are part of the efforts to make education interesting (Photo for representational purpose only. Courtesy: Indian Photo Agency)
Localising education is as important for the students as it is for them to understand the texts they read in the larger context.
Hence, to bring around such a local understanding of theoretical knowledge, educational tours to local factories/industries, banks, post offices, local hospitals, parks, grain markets, vegetable markets, bus-stands, railway-stations, police stations and the like are organised for making students aware of the government and the social system around them, additional chief secretary for school education Surina Rajan said.
Even simple things like going around the campus of the school itself and knowing the local geography, visiting a nearby canal or park, carrying out small activities to learn mathematics or going to nearby historical places is being made part of school activities.
The CRP is one of the initiatives taken by Haryana's education department to bring about a change in the image of government schools.
The other steps taken include applied learning skills, teacher education programmes, redressal of students' grievances through a toll free number and even giving awards for best practices followed under the CRP.
The CRP and other initiatives were introduced after studies and diagnostic programmes in recent years pointed out that low attendance in government schools had certain factors.
These included the harvesting season (when children in rural areas used to assist their families in crop harvesting), indifference towards education of parents from lower strata of society in rural areas and even boredom in the classroom.
The students were not exposed to newer areas of learning. This led to boredom in the classroom. In some cases, there was even lack of attractive reasons to go to school, resulting in low attendance, Rajan pointed out.
Haryana has over 15,000 government schools in which nearly 2.6 million students are enrolled. The state has over 100,000 teachers, thus making for a healthy 1:26 teacher:student ratio.
The CRP introduction has helped in attracting students towards government schools. It makes them feel special and inculcate the spirit of curiosity and creativity.
This is having a good impact on student attendance. The private institutions have now started replicating this programme in their institutions, said director-school education Vivek Atray.
Even though sections of the staff were initially reluctant to adopt the new practices, especially the evaluation of teachers' performance, the initiatives are beginning to show change.
The focus of these initiatives is to bring about a change in the mindset of teachers and students, Rajan concluded. - IANS

Trending Now: