New machine to brew tea to your taste and choice may soon hit the market
Quaid Najmi
&nbsp | &nbsp Mumbai
26-July-2014
Vol 5&nbsp|&nbspIssue 30
It's time to bid goodbye to the tea-vending machines and the roadside tea-vendors. An Indian company has unveiled the world's first automatic fresh-tea brewing machine, which uses only fresh ingredients, is economical and low-calorie in its output.
Dlecta Food Pvt Ltd (DFPL), Mumbai, has developed the new technology and processes and has already filed for a global patent.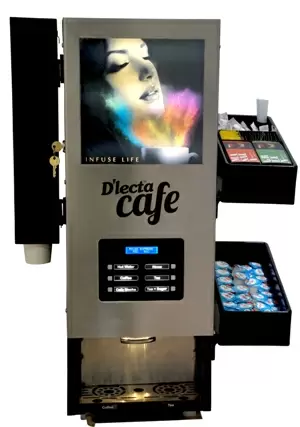 The machine can dispense five varieties at a time - tea (with/without sugar), coffee, chocolate and soup (Photo: IANS)
"The existing tea vending machines merely dispense a pre-mix tea comprising instant tea powder, sugar and powdered milk. The quality is often not up to the mark and the sugar content is as high as 62 percent, without scope for any modifications to cater to individual tastes," said company Managing director Deepak Jain.
In contrast, the D'lecta Tea Brewing Unit (DTBU) brews tea by using a special technology, with tea leaves of choice to maximise the flavour, smoothness and aroma of the final brew and dispense a cup of refreshing hot tea.
"Connoisseurs can customise their favourite cuppa, with a variety of black, green or regular tea, add real milk (against powdered milk) and sugar as per taste with separate provisions on the extended trays on the machine," said Jain.
All this within just 30 seconds, at an approximate cost of Rs.5.50 for a 100 ml cup, with a capacity for up to 400 cups per day!
"Indians are compulsive tea drinkers, at home and in office. But the problem is that in most offices, coffee vending machines are used to make tea or coffee. These beverages taste awful, are unhygienic and cannot be customised for sweetness, strength or milk. All this will change with DTBU," Jain assured.
Currently, in the Mumbai market, with the inflationary trends, an ordinary "cutting chai' (half-cup tea) costs upwards of Rs.6, and goes up to Rs.16 for a good, tasty cup.
The company's executive director, Devendra Garg, added that while coffee-making has seen huge automation and continuous technological advancements, the delicate and personalised tea-brewing has remained a manual process.
"Now, the D'lecta Tea Brewing Unit will offer the connoisseurs their choice of tea minus the labour involved in the manual brewing, all at the press of a button," Garg smiled.
Besides the choice of tea - the classic Assam Tea, Masala Tea or Green Tea - it can also brew coffee, chocolate and hot soup, Jain said.
The machine, which draws water from an internal 20-litre tank, can dispense five varieties at a time - tea (with/without sugar), coffee, chocolate and soup at a time. Each of these containers, as also those for milk and sugar, can hold raw material for 400 cups.
The critical cleaning factor is also very convenient as it encompasses several hygiene features - it will prompt for a self-rinse if any selected option remains dormant for more than 15 minutes and also does an all-rinse at the day's end.
"A few years ago, an automatic tea-vending machine was installed in my office and we spent hours around it until, one day, when the office attendant failed to clean it, we saw ants and cockroaches trooping out of it. It was back to the local chai-walla for us, and the machine was finally dumped," said media executive B.M. Pillai.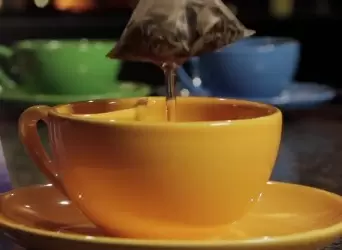 The company promises to offer refreshing hot tea
To begin with, D'lecta plans to target the OOH (out of home) segment and offer it to hotels, offices and commercial complexes on lease before examining other options.
The company will initially charge Rs.15,000 as a security deposit, Rs.15,000 per month for consumables and Rs.1,500 per month towards maintenance.
The company, already specialising in cow's milk products, has introduced 'Milke" a new dairy creamer to replace the milk powder for its DTBU.
Jain explained that existing machines use powdered milk in tea and coffee that is high in sugar content and low on milk - which is bad for health, especially for diabetics.
"Milke, made of pure cow's milk, offers 10 gm of evaporated milk, ideally suited for one cup of tea or coffee, is sugarless and comes in aseptic packaging, manufacturing at our state-of-the-art plant in Raigad (Maharashtra)," Garg said.
Originally known as Devashree Foods Pvt Ltd, DFPL is credited with creating a whole range of cow's milk products, including Dynamix Cow Ghee, in a market dominated by buffalo milk products that constitute nearly 60 percent of the Indian market.
According to the 2007 animal Census, India has around 200 million cows and 110 million buffalos.
Cow's milk is considered a healthier, low-fat option which is the choice of 85 percent of the global population - barring India and Pakistan - but now, cow's milk is gaining in popularity in India's Tier I and Tier II cities, Jain said. - IANS

Trending Now: