The latest fad is Kerala is to have dosa and omlette for dinner, just for Rs 25 on the streets
Sanu George
&nbsp | &nbsp Thiruvananthapuram
07-July-2014
Vol 5&nbsp|&nbspIssue 27
Ever heard of combining a dosa and an omlette? Welcome to the steaming hot thattu dosha and omplate, the latest fad in Kerala street food. And, it's a complete meal - for all of Rs.25!
Put this to changing times because gone are the days when many would think twice before supping at a wayside eatery. These have now become the latest fad among all classes of Kerala society and the most popular item on offer is the 'thattu (small) dosa' and 'omplate' omlette.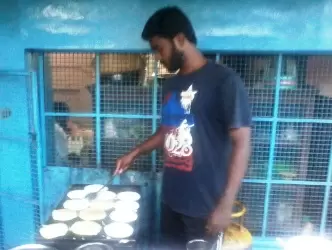 Thattu doshas being made at a roadside eatery in Thiruvananthapuram (Photo: IANS)
The thattu dosha takes its name from its small size that fits snugly into one's palm and is easy to cook as well as to eat.
Each steaming dosha is priced at Rs.4 and is generally eaten with coconut chutney, besides a red chilly chutney, rasa vada and even a pappad.
The omplate is made out of a chicken's or duck's egg. Why omplate?
Well, that's how many Keralites prefer to pronounce the word.
The wayside eateries, called 'thattu kada' in local parlance, take their name from their simple get-up where everything is dismantable.
As the sun goes down over the Kerala horizon, out comes the paraphernalia like benches and desks and vantage positions on the roadsides are taken over by the wayside eateries.
The essentially makeshift kitchens perched on three-legged tables propped up by bricks atop which is placed the tawa for making the dosas and the omlettes.
Manned mostly by family members, the work starts around 4 p.m, when the flour is brought straight from the mills and one of the workers gets down to making the batter. Another slices onions and the green chilies, a third arranges the egg tray and fourth lights the flame under the tawa.
"This is our bread and butter. It's tough these days as there is heavy competition as more and more thattu kadas are opening up. We have been in the business for the past nearly a decade and we have regular customers," said Bhuvanedran, the head of a thattu kada in the state capital.
"When we started off, this was basically a joint for the lower class of society, but today they are very few and it's mostly the middle and upper classes who come. We finish off around 10.30 p.m, when the police arrive and ask us to pack up. My wife and I, along with our son, do all the work and we are happy," Bhuvanedran added.
With competition increasing and a distinctive change in the clientele, those running these eateries have to ensure that there is more than adequate hygiene - clean surroundings, the use of paper plates, provision of a washbasin and proper disposal of waste.
"The local bodies are very particular that the place is spic and span when we leave after 11 p.m. When we began about seven years back, dosha was served on plantain leaves and customers washed their hands in the open. Not any more. We serve food on butter paper placed on paper plates. We have makeshift washbasins and all the waste water is collected separately and is properly disposed of," said Kuttappan, a wayside eatery owner in Kottayam.
A drive across the major towns and cities of the state after dusk reveals that each of these eateries is buzzing with activity, with many people eating or getting the food packed.
"Oh, my children and I really enjoy eating at these eateries. It's really tasty, quick and very cheap. The problem is my parents turn fussy when told that we had dinner at a thattu kada," said a homemaker who did not wish to be identified for obvious reasons.
The proof of the pudding, as they say, is in the eating! – IANS


Trending Now: