Paying back to the community by taking its members to school
Prantick Majumder
&nbsp | &nbsp Jhadol (Rajasthan)
28-June-2014
Vol 5&nbsp|&nbspIssue 26
How do you help your backward community living in remote, virtually inaccessible villages to progress if most of them are uneducated? Simple, finish your own studies, train as teachers and then use your knowledge to spread the cause in your home - as these nearly three dozen women are doing.
The group of 35 young women from a cluster of villages in Rajasthan's Udaipur district is perhaps the first in their families who ever went to school, and are now preparing to give something back to their communities by getting trained as primary and high school teachers.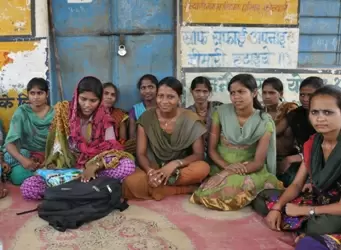 Some of the young women who are getting trained as primary and high school teachers (Photo: IANS)
Many of these young women - in the age group of 16-24 years - have parents who work as agricultural labourers and who are more or less illiterate.
"My parents work as labourers and our family income is very less. I want to become a teacher and educate people from my community," said Prem Kumari, a Class 12 passout, in Jhadol, around 40 km from Udaipur.
Prem Kumari has cleared the Basic School Training Certificate (BSTC) examination and, if selected, she can apply for a teacher's post in a primary school.
"I also want to study for a bachelor's degree, and later go for B Ed (the degree required for teachers in higher education)," she said.
As colleges in the only nearby city of Udaipur are far away, and because of problems in travelling, many of the young women prefer to study in the only two degree colleges in their area.
A college in Phalasia village offers a bachelor's degree in arts, while another in Jhadol also offers Bachelor of Education (B Ed) degree.
During their vacations, some of these young women work in chocolate factories in Udaipur and nearby urban areas to fund their education.
One of them earned around Rs.6,000 during her vacations, and spent this money on her studies.
These women are however not alone in their struggle and are being helped by ChildFund India, part of a global child development and protection agency.
A scholarship project called "Udaan" (flight) supported by ChildFund Germany has recently been rolled out to support children, especially girls, in high school.
The project offers life skills counselling, career guidance and information to enable them to choose a higher education programme meeting their aspirations.
"It aims at providing a helping hand to girls who are unable to pursue higher studies because of poverty or lack of logistical and financial support. The project intends to cover 250 girls for higher studies in Madhya Pradesh, Rajasthan, Jharkhand and Odisha," said Saroj Kumar Pattnaik, information and communications officer for ChildFund India, in Jhadol.
The project identified 66 girls from the Jhadol block and finally selected these 35 girls for the counselling programme as they had secured over 50 percent marks in their Class 12 examinations.
"We will facilitate the placement of girls in respective colleges and institutions in higher education courses of their choice. We will continue support to the girls by providing for enrolment expenses, tuition fees, travel expenses, books and study material, hostel or living expenses, and family support if required," Pattnaik said.
"We will bear all the expenses of those girls till they complete their chosen higher studies."
Most of the girls aspire to complete their BSTC or B Ed and become teachers.
Pramila Meghwal, a Class 12 passout and among a few whose families are a little well-to-do, said she was studying for a bachelor's degree in nursing.
How these women view education and how they are supported by their families need to be praised.
Shanta Kumari Padiyar, among these 35 women, is being ably supported in her aim to become a teacher by her husband Pratap Singh Chauhan.
Chauhan, in his early 20s and himself a master's degree student in a college in Udaipur, proudly said he was happy to see his wife become educated and supports her aim to help the community.
Youth who have been a part of the Udaan project will also be given information and access to internships and placement services to ensure a smooth transition from higher education to employment, ChildFund says. - IANS

Trending Now: