"Maybe on my next visit I will learn how to drape a sari"

Tarannum
&nbsp | &nbsp Lucknow
28-June-2014
Vol 5&nbsp|&nbspIssue 26
In the scorching summer heat of May, Sterre L., 29, a journalist with the Dutch national newspaper, De Volkrant, and her friend, An Sofie, 24, a photojournalist, landed in Delhi, on their way to Lucknow in Uttar Pradesh, to cover the Indian General Elections.
Just weeks prior to their departure when they had informed their parents about their upcoming assignment, the elders had expressed their apprehensions: how could the girls agree to go to a country that is considered unsafe for women? What about the language barrier? And would they be able to negotiate a conservative society?
Sterre was thrilled to be in India although she just wished that Indian men would "stop looking at us strangely" (Photos: TarannumWFS)
Nothing they said could discourage the young professionals or dampen their spirits. Shares Sterre, "India is the world's largest democracy and every democratic country is keen to understand and observe the election process here.
"For me, coming to India was a very big opportunity, as it was also my first assignment. A colleague at the foreign desk quit unexpectedly and I jumped at the chance of reporting from this region."
Unlike many journalists who chose to camp at Varanasi, mostly because of the Narendra Modi (BJP) vs Arvind Kejriwal (AAP) context, Sterre decided to do her news gathering from Delhi, Lucknow and Ahmadabad.
"I had read about Lucknow's wonderful mix of Hindu and Muslim culture. So I was more interested in getting a feel of the election from this city," she adds.
An Sofie accompanied Sterre everywhere. Armed with her camera, she captured all the different moods of the people as they went about their daily lives in the midst of all the hype and frenzied activities taking place on account of the impending polls.
She witnessed politicians on the campaign trail, interacted with Indian scribes to get a better idea of local politics and even visited the rural heartland.
Elaborates Sofie, "It hadn't been easy for me to convince my parents about my trip to India. The December 16 rape incident has left a permanent scar on the psyche of people in the West. But even then I managed to persuade them.
"Having spent all these weeks here, visiting unusual places and meeting many interesting people, I know I took the right decision. I truly believe that if one has to experience India and see it in all its colours, then elections are the best time to do it." Incidentally, for both Sofie and Sterre this was their first trip to the country.
Journalist Marianne N., 29, was also on her maiden visit to India, covering the elections for a Swedish newspaper. Having reported from Lucknow, Ayodhya, Amethi (Uttar Pradesh), Delhi and Vadodara (Gujarat), where she met up with political leaders as well as ordinary citizens, Marianne feels that though the people of India are generally good, they aren't very friendly or civil when they are a part of large crowds.
She explains, "Whenever I went to cover an election rally I made it a point to dress conservatively in a kurta and salwar pants, which I had bought on the very first day I had come in to Delhi. But despite being all covered up, people used to gawk at me.
"While the local villagers would stare at me from afar, as if I was from another planet, I had an especially harrowing time dealing with the volunteers of political parties, who, in the guise of helping out, would get too close for comfort." People pinching, touching and trying to take selfies by putting their arms around her was also quite common.
Sterre and Sofie had similar experiences. "I am baffled by people's fascination with white skin. It felt weird when men would look at us strangely. I wanted to tell them: 'we only have fair skin, we are not aliens!'" remarks Sofie.
In fact, given an option, Sterre says she would "love to trade my fair skin with the Indian skin colour. I feel it's so nice".
Of course, the women came up with a novel way to fend off unwanted advances – they learnt Hindi. "I would say 'kya baat hai' (what is it) loudly when people stared at me longer than usual. This always managed to startle them," says Sofie, with a huge smile.
Marianne picked up sentences like 'ladki nahin dekhi kya' (haven't you seen a girl before) and 'tameez se rahiye' (stay within your limits) to shun away those who tried to act fresh.
"I remember I was covering the road show of a popular youth leader for which I had due permission. Three volunteers had been asked to accompany me to ensure everything went off smoothly.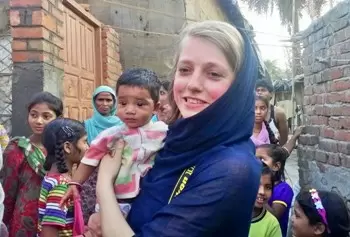 An Sofie captured all the different moods of the people in Lucknow
But quite strangely one of the volunteers was more interested in rubbing his cheeks with mine and taking selfies on his mobile. Irritated with his actions and attitude I finally told my Indian contact about it. She not only took his mobile phone and deleted all the pictures but also threatened him with dire consequences if he continued to behave in this manner," recalls the correspondent.
Surprisingly, political leaders were more forthcoming to meet them than they had expected. "My guess is that they were worried about how the international media would perceive and portray them. That is why they were cooperating. Just wish their supporters and followers would have been trained to behave properly as well," feels Marianne.
Apart from all these unpleasant encounters, the journalists had amazing experiences and gained some interesting insights. Marianne discovered that Indian women were not so submissive after all.
"I met a 60-plus couple from to an upper class Hindu family. When I asked them about their political leanings, I was expecting the lady of the household to simply echo her husband. I was really astonished to hear that she had a completely different perspective.
"While the husband was a hardcore Congress Party supporter, the wife turned out to be a Bharatiya Janata Party loyalist and she had no qualms about expressing this contrarian view. In the West, we view India as a very orthodox country so it was good to meet a liberated woman like her. Such interactions change our views," she says.
Sofie, on the other hand, was completely taken in by the hospitality of the Indian people. "Wherever we went, we were received warmly and people had even taken the trouble of preparing lunch for us.
"It was really gracious and lovely. If I forget all those times I was stared at then, in my memories, India is a beautiful country and I would love to come back here."
Marianne agrees, "I met an old family in Lucknow who welcomed me with open arms. They made some traditional delicacies just for me. And when I was leaving, they gifted me a wonderful sari. I may not know how to wear it, but I will always treasure it. Maybe on my next visit I will learn how to drape a sari!"
India turned out to be a bag of surprises for these women journalists - but this is certainly one assignment they will never forget. - Women's Feature Service

Trending Now: