'The idea is to reinvent the book as a cultural object, not just a textual one'

Hema Vijay
&nbsp | &nbsp Chennai
31-May-2014
Vol 5&nbsp|&nbspIssue 22
Today, if children in western countries are enjoying stories based on Indian mythology and tribal folklore as much as they love their Walt Disney animations and fairy tales from the Brothers Grimm, then a great deal of the credit for this should go to Gita Wolf and her publishing house, Tara Books.
For two decades now, this Chennai-based children's book writer-turned-publisher has been churning out stories on literature, folk art, philosophy and politics with intriguing narratives and mesmerising imagery imprinted on fabulously textured handmade paper.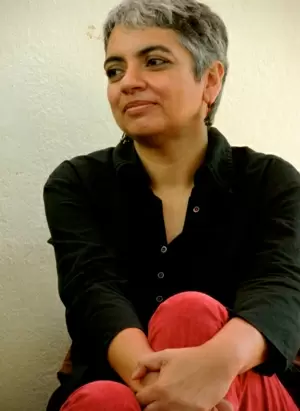 Gita Wolf and her publishing house, Tara Books, have been churning out children's books for two decades now (Photo: WFS)
Despite being very Indian in their look and feel, thanks mainly to a generous use of images from various local folk art traditions like Andhra Pradesh's kalamkari, Bihar's madhubani, Odisha's patachitra or Maharashtra's warli art, Tara imprints have a pan global appeal.
According to Wolf, "A book can be many things. The idea is to reinvent the book as a cultural object, not just a textual one. We make a conscious effort to put together text and art in a manner that is easy to understand, especially for people who are not familiar with it, and we present it along with a strong universal theme. We also address a wide range of genres from fiction and mythology to peace and gender studies."
Wolf, who has written more than 14 award-winning books for children and adults, including 'The Very Hungry Lion', which won the Alcuin Citation in Canada in 1997, and 'Hen-sparrow Turns Purple', that won the 1999 Biennale of Illustrations Bratislava plaque, has always been open to experimentation.
For someone who has been trained in English and Comparative Literature, she turned to publishing moved by the lacuna she experienced when she tried to source some good quality indigenous books for her own child.
Moreover, she had always been fascinated by the nuances of communication, both visual and literary. That's how she made up her mind to set up Tara Books in 1994.
Over time, Wolf has roped in a range of talented writers, folk artists, contemporary illustrators and designers from around the world, some already critically acclaimed while others relatively unknown, to infuse creativity into the world of children's literature.
These contributors personify a diversity of styles, traditions, professions, genres, and even age groups. Presenting their brand of creativity in this already unique world of eclectic storytellers are tribal artists from different parts of India.
Be it T. Balaji, who is proficient in kalamkari, Gond art exponents Durga Bai, Ram Singh Urveti and Bhajju Shyam, or Radhashyam Raut, a young patachitra mural painter, they have all left their mark.
How did the publishing house hit upon the game-changing idea of getting these tribal artists to illustrate their books? Says Wolf, "We felt that India has several living art traditions that need to be explored. Tribal art offers new ways of seeing the world, and is great for illustrating children's books."
And how did Wolf and her team at Tara zero in on Bhaiju Shyam and others like him? "We network with museums, craft centres, and, of course, our researchers go to different villages across India to locate these tribal and folk artists. Our books derive heavily from such research explorations.
"We have managed to fund this fundamental field work through donations from agencies and also with our own personal funding," she reveals. Over the last decade some of these activities have been supported by a major grant from Hivos, a funding agency in the Netherlands, although it is no longer available.
Apart from the fact that all Tara books showcase artistic traditions that hold an exotic appeal to the world audience, what adds to their appeal is that not only are they entirely hand-crafted but they are imprinted on handmade paper as well. Elaborates Wolf, "We wanted to find a way to create books that are aesthetic and tactile, too. Machine-made books lack this character. But it is not just books that interest us. Tara also conducts workshops, research and documentation on various subjects."
Tara's Book Craft Workshop in Chennai, which is led by printer C. Arumugam, has been crucial to their success. Arumugam and his team now manage to mass print handmade books at an unheard of production speed of at 18,000-22,000 books every year, or about 65 books per day.
This is surely a record for any handmade book production centre, anywhere in the world. Live demonstrations of the silkscreen printing process at Tara's Book Building and visits to the workshop are available by appointment for those interested in taking a look at how this seemingly impossible feat is done.
Gita Wolf has definitely created a strong legacy in the children's publishing domain, as acknowledged by the various awards that have come their way over the last few years, including the 2014 London Book Fair's inaugural International Book Industry Excellence Award in the Trade Children's & Young Adult Category.
Besides, even artists like Ram Singh Urveti and Bhajju Shyam have been presented the BolognaRagazzi Award in Italy for their illustrations in 'The Night Life of Trees'.
"Our identity lies on the border of what is local and what is universal, and between what is traditional and what is contemporary. The imprints explore different ways of seeing, representing and thinking," says Wolf as she signs off. - Women's Feature Service

Trending Now: