More women were fielded by parties this time and AAP led the way

Pamela Philipose
&nbsp | &nbsp New Delhi
24-May-2014
Vol 5&nbsp|&nbspIssue 21
India's 16th General Election has been the most expensive exercise of its kind in the country's history. One estimate puts the figure at Rs 30,000 crore, a tad shy of the bill notched up in the 2012 US presidential polls.
What does this tsunami of money power that brought Narendra Damodardas Modi to power mean for the faceless, voiceless Indian? The answer will unfold over the next five years, but what is clear is that for India's women, the more things change the more they remain the same.

It is true, of course, that this election has seen the highest ever number of women becoming parliamentarians. But it is equally true this increase is statistically insignificant – while 2009 general elections saw 59 women enter the Lok Sabha, this time the number stands at 62.
It is a fact, also, that the number of women who got tickets this time increased, but here again it was a marginal rise. In 2009, there were 556 female contestants out of a total of 8,070; this time there were 668 women out of a total of 8,251 candidates.
Most of these women were chosen for two reasons. Their ability to draw crowds was one. BJP's Hema Malini in Mathura, a constituency she had never been associated with earlier, and the Trinamool Congress's Moon Moon Sen, who won from Bankura, are examples of those who romped home on glamour power.
The second consideration was family connections. Would Dimple Yadav of the Samajwadi Party and Poonam Mahajan of the BJP have been MPs if they were not the wife and daughter, respectively, of prominent politicians? Undeniably, many male candidates made it through film or family connections as well but a disproportionately larger number of women did so.
When it came to the voters here, too, there were some striking trends. In keeping with the generally higher voter turnout, some 65 per cent of the total female voters exercised their franchise this time as compared to 55.82 per cent in 2009.
The gap between male and female voters was estimated by the Election Commission to be just 2.14 percentage points - half the difference of 4.42 percentage points that prevailed in 2009.
This ever growing constituency of women could well constitute a distinct political constituency in time, despite emerging from dissimilar backgrounds, religions, castes and regions.
But how prepared are parties for this? How willing are they to reflect this trend? Of all the major players in this searing summer of 2014, it is perhaps only the Aam Aadmi Party (AAP) that seemed to engage with these questions.
At least three aspects of AAP's campaigning indicated its relatively greater gender sensitivity. First, it fielded 59 women in a list of 434 Lok Sabha candidates, just one short of the Congress – the party with the largest number of women among the 414 candidates it fielded.
The BJP, incidentally, had just 38 women among 394. In other words, the party that could have afforded to take the most risk by fielding women – the BJP – did not seize that chance, even as a debutant party that had everything to lose by taking this gamble, did.
What is more – and this is the second point – AAP's list had many strong articulate women who entered formal politics for the first time in their lives. If they had been voted to power they could have defined a new political paradigm. Women like Medha Patkar in Mumbai North East, Nina P. Nayak from Bangalore South and Dayamani Barla, from Jharkhand's Kunti Lok Sabha constituency, were three examples of such candidates.
Third was the interactive nature of AAP's style of campaigning. In sharp contrast to Modi's helicopter drops and million-bodied rallies, I watched Arvind Kejriwal interact with around 2,000 people who had gathered to hear him in the Buddhist town of Sarnath, located at the edge of Varanasi in late April.
His words had an immediate resonance with the few women who had gathered to hear him, "People don't want leaders who fly in helicopters. They want politicians who connect and understand their problems. 'Road nahin, tho vote nahin' (no road, no vote), that is the principle we stand for."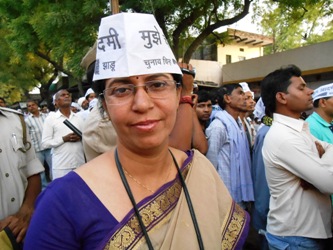 Savitri Singh joined the Aam Admi Party because it is "different" and has a culture that is "respectful to women". (Photos: Pamela PhiliposeWFS)
Interacting with a small group of AAP women attending that rally provided insights into why they preferred the party. Said Savitri Singh, an assistant professor from Varanasi, "This party is different."
I asked her to elaborate. "Other parties have made their pact with criminals, but the culture within AAP is evidence of the way it approaches women as a group. You can sense it even in the behaviour of party karyakartas (workers). It's only when a party's culture is respectful to women can someone like me join it," she said.
Manisha Singh, who was also present at that rally, argued for alternative politics, "By leaving positions of power, Arvind Kejriwal showed he cared for ordinary citizens."
She termed herself "middle class" and was angry at the way private schools and hospitals fleeced people. "Then there is the issue of safety of women. Every time we step out we feel scared. Why should this be the case? Today, as a member of this party, I can actually talk about such issues with its leaders," she ended.
Usha Devi and Durgawati, two village women who had come to the rally from a neighbouring village, believed that AAP was different because it was "honest and wouldn't steal food from our mouths". Said Durgawati, "There are many in our community struggling just to stay alive. Our young men are not working, and we hardly earn."
It's true that in this election it was money power, media power and the 'helicopter politician' who ultimately won. But the politics of transformation is ultimately about long distance running.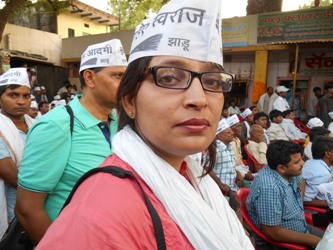 Manisha Singh believes in alternative politics that seriously takes up the issues of ordinary citizens
Whether AAP will live to fight for an alternative political vision in General Elections 2019 remains uncertain. But Lalita Ramdas, the Alibagh-based social activist who is a firm AAP supporter, argued that the path to the future lies in women like Savitri Singh and Durgawati.
"AAP must take the women's constituency most seriously, not just see them as voters but actively support them in entering mainstream politics. This is a section of the electorate waiting to be discovered," she said.
Ramdas is determined to persist, "Unfortunately most political leaders, including those in AAP, tend to be gender blind and view women's issues through the traditional prism. But within AAP we as women will push for greater representation."
If that happens, perhaps Kiran Pal, 22, a volunteer at the Sarnath rally, could realise her dream to "be somebody who helps other people". This daughter of a farmer who is doing her second year B.Ed, revealed how difficult it was to step out of her home because the "neighbours say all kinds of things".
Fortunately, her family is unusual in allowing her a limited freedom. Convinced that the AAP platform will help her to "develop", she commented that "there was less politics in AAP and more social activism, which is why I volunteered".
Pal had gone from door to door campaigning for AAP in this conservative pocket of Varanasi and argued that the future was on the side of the party, "I have talked to several youth, many ordinary women. They are all supportive of AAP. They will decide the fate of politicians in the future."
But if Pal's optimism is to prove prophetic, it means the AAP leadership would have to ensure democratic functioning. Observed Anuradha Chenoy, JNU professor and an AAP sympathiser, "The party has a membership base of 1 crore. It has made an impact. But unless there is an organisational structure in place that is democratic and responds to the voices on the ground, people's expectations may not be met." - Women's Feature Service

Recent Articles: