Four girls break the sand ceiling, create sculpture on Chandrabhaga beach
Rakhi Ghosh
&nbsp | &nbsp Konark
17-May-2014
Vol 5&nbsp|&nbspIssue 20
The rock of temple of Konark is internationally renowned for its exquisite sculpture going back to an ancient time. But that spirit of artistic endeavour continues to live on in this region, albeit in different forms and settings.
Reflecting this are four talented women sand sculptors from Odisha – Sonali Muduli, Ananya Kar, Amrita Priyadarshani and Sumitra Sahu, who had participated as a team during the recent International Sand Art Festival held on Chandrabhaga beach near Konark.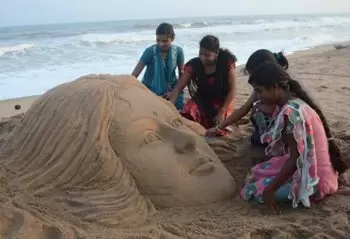 For artists like Sonali, Ananya, Amrita and Sumitra, sand sculpture is far more meaningful than any other art form (Photo:
Debasis SinhaWFS)
Sand art is a very unique art form and allows the artist a broad canvas on which to create enormous shapes like a huge Jagannath temple or compact human and animal forms.
The artist, using only a few instruments, can also make a foray into abstract art or create public-art-for-a-cause to send out particular messages to society.
The best part of this art form is that the materials used are never wasted even if something were to go wrong. If the lines of a drawing go askew, it will need to be redone; if the colours of a painting are not quite right, it may have to be discarded. Here all the artist does is to re-fashion his or her art and carries on!
The sand sculpting scene has generally been a male dominated one. It was for first time that these four women sand artists, working as a team, participated in an international festival of this kind in front of the public, competing with talent from several western countries.
They fashioned a theme-based concept out of sand, which projected the five elements of conservation-culture, heritage, water, nature and sustainability. It was appreciated by a large audience of five lakh visitors, many of them domestic and foreign tourists, who had visited the beach specifically to witness this unique festival.
Talking about the experience, Sonali – who has been learning this art form for the last seven years under the guidance of noted sand sculptor, Sudarshan Patnaik, a Padma Shri awardee – argues that this art form is totally different from other art forms.
Says she, "You can paint and craft things at home but making a sculpture in sand needs you to come out and practice on the beach. Doing this in a very traditional and orthodox society like that of Puri district is easier said than done." According to her, while the boys wanting to pursue this pursuit face no problem, for girls it has always been a challenge.
It is also physically strenuous because it means preparing a mountain of sand before the actual work of sculpting begins. But the difficulties of this phase are quickly forgotten, according to Sonali.
"As a school kid, whenever I visited the beach area, I would make it a point to come to the spot where Sudarshan Sir and some of his students used to practise. For me, sand sculpting is far livelier than any other art form.
"Although its life is just for some hours, you can fashion a beautiful piece of art at no extra cost," says this 23-year-old who is doing her Masters in Computer Application.
Before going into the big league of an international festival, this team of four had participated in a few national level festivals, but each one of them had to get over their inhibitions.
Ananya Kar repeats Sonali's observations, "Doing sand art sculpture in front of a huge crowd is always difficult, because you have to prepare it in a public place. It takes confidence to fashion the figure of a woman, for instance, paying attention to every body part. But there is really no escape from dwelling on the female form for the true artist, because women are the most beautiful of God's creations!"
People here are very conservative by nature, even preventing the women in their families from going alone to the beach. So the first thing a female sand sculptor has to do is to summon the courage and moral strength to come out of her home and work in front of a crowd.
Their mentor and instructor, Sudarshan Patnaik, understands the inhibiting factors well. "Women do come out to learn this art form but when I urge them to participate in a national level festival they demur, saying their families will not allow them to participate. For men, there are no such hurdles."

Patnaik also points out that there are no financial benefits in sand sculpting and to date the state government has not introduced it as a discipline in its art schools.
"When my students apply for a post in any of these institutions, they are rejected on the grounds that they have not gone through any proper learning process or passed any examinations.
"Their work is deemed as amateur stuff. This is unfair. Unless this art is taken seriously by art institutions, how can it be brought on to the professional level? And if these practitioners are not able to gain any financial benefit from it, how long can they continue with it?" Patnaik asks.
The other hurdle that sand artists face is the need for physical proximity with a beachfront.
According to Amrita Priyadarshini, another member of the team, some of her friends who stay outside Puri town had shown an interest in the art form but could do nothing about it.
"To learn this art they would have to stay in Puri which has no hostel facility. And even in Puri, there is only one institution in the beach area to which we all congregate for practice every day for two hours. It opens at 4 pm and closes at 6 pm.
"After 6 pm the beach area is not safe for women. If only there could be an art school with basement where we can be trained by experts and practice for five to six hours a day, we could improve our technique greatly," Priyadarshini reflects.
Sonali Muduli's father, Shyama Sunder, is one of those rare parents who steadfastly supports his daughter's attempts to become a professional in this field.
According to him, even before Sonali, Amrita, Ananya and Sumitra had come together to learn this art form, some local girls had expressed an interest in it, only to come up against a wall of parental opposition. When asked about his daughter's future plans, he states that he would support her.
"I have always given her the freedom to explore her creativity and cherish her dreams, and I will definitely let her continue. Sonali enjoys doing human figures as well as those of animals and birds," he says.
The fourth member of this group, Sumitra Sahu, is busy giving the final touches to her sand sculpture as I catch up with her. For her every minute is precious.
"During the hot summers and, of course, during the rains, we hardly get a chance to practice because the weather doesn't permit it. So whenever the conditions are right, we never miss a chance to come to the beach area to practice," she smiles.
As Sumitra works, she attracts some curious onlookers. One tourist comments, "It seems women here are now advanced."
And why not? Says Sonali, with her eyes lit up, "Whenever I create something in terms of sand sculpture or sand animation, I feel a sense of eternal happiness and want to continue doing this art forever." - Women's Feature Service

Trending Now: