From activism to politics, Ruth and Nina make an easy transition

Pushpa Achanta
&nbsp | &nbsp Bengaluru
03-May-2014
Vol 5&nbsp|&nbspIssue 18
Elections in India are usually full of surprises, be it the choice of candidates, voting patterns or the results. Many factors play their part in this exciting democratic process, right from incumbency to caste dynamics and political alliances.
Clearly, a lot is at stake not just for the leaders but the people as well. Like most previous parliamentary elections, the 2014 edition has seen its fair share of high drama, action and, of course, rhetoric.
Ruth Manorama, a Dalit rights activist is fighting the polls on a Janata Dal (Secular) ticket (Photo: Wolfgang Schmidt)
But there has been another significant development this time around: the presence of committed social workers in the race for the 16th Lok Sabha. If Medha Patkar, the founder of the National Alliance of People's Movements, created a stir in Mumbai then committed feminist Ruth Manorama and noted child rights activist Nina P. Nayak emerged as significant contenders in the neighbouring state of Karnataka.
Ruth Manorama – this name immediately conjures up the image of a courageous, determined Dalit rights activist and a tireless champion of the urban poor, including domestic workers.
Her impressive resume distinguishes her as the founder of Women's Voice Karnataka, National Alliance of Women (NAWO) and National Forum for Dalit Women (NFDW). Today, this Chennai-born, Bengaluru-based campaigner is present on key development committees at the national level, such as the National Advisory Council, National Commission on Population, Steering Committee on the Empowerment of Scheduled Castes and the Steering Committee on the Voluntary Sector for the formulation of the 12th Five Year Plan (2012-2017).
Locally, Manorama, a recipient of the Right Livelihood Award, has initiated a number of support groups in the poor neighbourhoods of Bengaluru, which have been empowering destitute women by helping them solve family disputes or rescuing them from dowry harassment or eviction threats.
Time and again, Manorama has strongly expressed the need for women to be active in politics – she has been quoted as having said: "women have better brain capabilities and if it is put to use for national building…imagine what can be achieved".
Her first foray into the political arena was during the 2004 Karnataka Assembly polls, when she had contested as an independent candidate from the Bharathi Nagar constituency, gaining 1.61 per cent of the vote share.
For the General Election, however, the feisty 62-year-old chose to fight from Bengaluru South Constituency on a Janata Dal (Secular) ticket. On her nomination she said, "When mainstream parties offer an opportunity to women, we must take it. Women cannot sit on the outside and say that they are not being given space. They must enter politics and public life to empower themselves and others, thereby reducing violence and exclusion in society."
Incidentally, this "high profile" constituency, with its upper-income and fairly literate voters, was the battleground of incumbent Ananth Kumar of the Bharatiya Janata Party (BJP), former UID chief Nandan Nilekani of the Congress Party and activist Nina P. Nayak from the emerging Aam Admi Party (AAP) as well.
Whatever her rivals may have pegged their campaign on, Manorama spoke of fulfilling her long-cherished dream of building an inclusive, corruption-free and safe society.
Effectively, a call for transparency, accountability and participatory governance formed the basis of her electioneering, as she visited the homes of the city's slum dwellers. She also reiterated her conviction that women have the potential to bring about long-term change.
Like Manorama, her political rival Nina Nayak, too, was hoping that many more women would be motivated to make inroads into the political space, following her example. Nayak, a devoted child rights activist, has been known to sensitively handle numerous cases related to distressed children as the former chairperson of the Karnataka Commission for Protection of Child Rights (KSCPCR).
With three decades of social work experience behind her, her connect with the locals of her Bangalore South constituency was apparent, as the AAP leader went on a campaigning spree in slums like Gurappannapalya.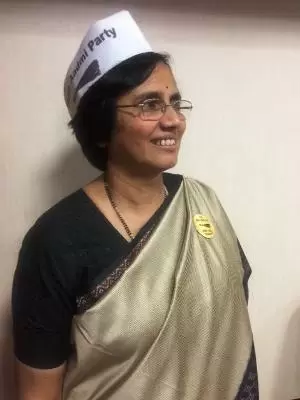 Nina Nayak, a devoted child rights activist, has jumped into the fray on an Aam Admi Party ticket (Photo: WFS)
Even though this was her maiden election, Nayak is not a stranger to making policy or enforcing it. She has actively promoted the implementation of the Juvenile Justice Act and the Protection of Children Against Sexual Offences Act. In 2009, after Nayak took on the post of Chairperson of KSCPCR, she raised her voice for the rights of children across the country. Until November 2013, she was a member of the National Commission for Protection of Child Rights (NCPCR).
Having grown up in Chennai, with an academic background in Social Work, this 60-year-old's career trajectory has been somewhat similar to Manorama. She has had stints as Member of the Sub-Committee on Children for the 11th Five-Year Plan, the National Planning Commission of India, and was the Honorary Vice President for the Indian Council for Child Welfare, New Delhi.
Having fought for years against corrupt practices like the misuse of funds and non-implementation of government services for children, particularly the Integrated Child Development Scheme (ICDS), Nayak's decision to run for election was prompted by the fact that being in Parliament could help her accomplish tangible gains for India's 422.8 million-strong population that is below 18 years.
Of these, around 80 million today live in very difficult conditions. Moreover, her unrivalled understanding of the struggles of impoverished women and children, which have given her a unique insight into their needs and aspirations, was another important reason.
Shared Nayak, "Young women across India are awaiting empowerment and opportunities for political participation. The Women's Reservation Bill must be passed and its implementation must be monitored locally. Win or lose, as a woman, I hope to be a role model for drawing younger women into politics."
Women like Ruth Manorama and Nina Nayak have spent decades working for the people, among the people. This time around they want to do some serious problem solving from within Parliament. Women's Feature Service

Trending Now: