A 16-year grows a lush green garden, catches documentary maker's eye
Aditi Bishnoi
&nbsp | &nbsp Cooch Behar
03-May-2014
Vol 5&nbsp|&nbspIssue 18
The black screen comes to life. A young girl dressed in a rust-coloured salwar-kurta is expertly clambering on top of a wooden structure amidst dense green foliage.
As the camera follows her, the youngster turns slowly to reveal her serene, pretty face. The stirring sounds of the flute strike up in the background as she goes about attending to the maze of bottle gourd creepers on her thatched roof. …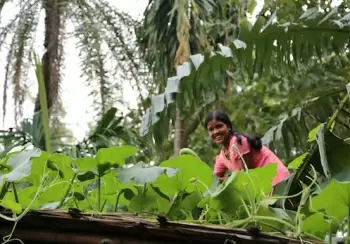 Monika Barman checks on the maze of bottle gourd creepers on top of the thatched roof of her home (Photo: WFS)
This is the evocative opening sequence of filmmaker Megan Mylan's new documentary short, 'After My Garden Grows', which has been showcased at the 2014 Sundance Film Festival.
Best known for her Oscar-winning film, 'Smile Pinki', Mylan has a penchant for finding her subjects in India.
If 'Smile Pinki' traced the journey of Pinki Sonkar, a five-year-old girl with a severe cleft lip from a village in Varanasi, the protagonist of her latest film is Monika Barman, a resident of Bhutkura village in Cooch Behar district of West Bengal.
Monika lives with her parents. A school dropout, this 16-year-old is the guardian of a lush vegetable garden that she has nurtured in the vicinity of her home. As is evident from the film, Monika grows bottle gourd, pumpkin, herbs, wild greens and mushrooms on her small plot.
One instantly wonders how this quiet teenager has managed to become a master cultivator, considering the poor social status of girls like her, who are generally considered a liability to be married off even before the legal age of 18.
According to the Census 2011 data, adolescents (10- to 19-year-olds) make up 20.9 per cent of India's population, which includes around 57 million girls. Many of these young women lead severely disadvantaged lives and early marriage is inevitable: in Bengal, of the total number of marriages that take place, 54.7 per cent are of minor girls.
Monika has escaped this fate until now because she is enrolled in an adolescent empowerment programme being implemented by the West Bengal government.
Under SABLA, or the Rajiv Gandhi Scheme for Empowerment of Adolescent Girls, which is a centrally sponsored programme, attempts are being made to improve their nutritional status and also provide them with an education based on life skills and vocational training.
A partnership between the state government (Women and Child Development Department) and Landesa, an international non-profit working on land rights issues, is enabling girls in Cooch Behar to understand their land rights and how they can secure them.
Landesa firmly believes that girls need to control the resources that can help them to assert themselves and boost their standards of living. Unfortunately, adolescent girls in India rarely possess rights to the most important asset of all: land.
That is why this programme, informally called the Girls Project, has been initiated. During the first year of its implementation in 2012-13, the joint pilot reached out to more than 7,000 girls across 299 anganwadi centres in Tufanganj block.
Since 2013, it has been extended to four more blocks covering 1,037 anganwadis, where a total of 40,000 girls, including Monika, are gaining knowledge about property and inheritance rights besides learning basic farming techniques to grow fruits and vegetables.
How did Mylan come to know of this life-changing transformation taking place in a remote corner of the world?
The filmmaker had initially read about it in 'The Seattle Times' in the US in 2012. Then when she went deeper into this story, she was inspired to capture it on film.
With funding from the Bill and Melinda Gates Foundation and the support of the Sundance Institute, she arrived with her crew at Bhutkura in 2013. After interacting with a few girls, Mylan zeroed in on Monika.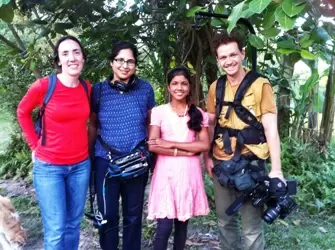 Megan Mylan (left) with Monika Barman, the protagonist of her latest short film, 'After My Garden Grows' (Courtesy: Landesa)
In the documentary, Monika welcomes her elder sister, who has come for a visit with her baby, and proudly serves up a lunch made from gourd and greens picked from her garden.
"Do you like it? Do you want more?" she inquires eagerly. Over light-hearted banter, the family enjoys a healthy, filling meal. Later, as they sit together in the courtyard, a serious discussion ensues.
When her sister tells their mother that Monika needs to go to school, the older woman remarks, "But father can't afford it."
Marriage then? It is an option but, again, it's expensive. Says Monika, "When didi got married the dowry was Rs 20,000 with some gold and a bicycle. Now that will not be enough."
Her sister smiles and says, "For this one's wedding, better to wait 10 years. The later you marry the better." "How about after my garden grows?" suggests the young girl, "I am 16. Maybe when I become 18 or 20?"
What is apparent through the sensitive narrative is that Monika has a staunch supporter in her mother.
When her father talks about a prospective match, she questions, "What's to be gained from getting her married early? I won't marry her until 18. I married my elder daughter early and now she is sick." Of course, her husband does not agree, "Poor people can't wait till their daughters turn 18. She is not even in school. A girl isn't something you keep at home after all!"
As Mylan's camera cuts to Monika, she is talking to her friends about the merits of eating good food, especially mushrooms, which she playfully calls "the frog's umbrella".
She tells them confidently, "How can vegetarians get adequate nutrition? Mushrooms provide that; I get vitamins that will make me nice and healthy. I learnt this at the centre."
Monika is at an age where contradictions are part of life. On the one hand, she wonders what it would be like to follow in her sister's footsteps; on the other, she wants to strike out on her own.
According to Mylan, Monika's story has a universal appeal because "every adolescent girl in the world remains very confused regarding her future. This will help a girl in France or Brazil to identify with Monika".
Today, as her film gears up for screenings at various global platforms, the talented filmmaker is hoping that just as "after 'Smile Pinki', the Prime Minister of India talked about the problems of the cleft lip in children", the film on Monika, which will be officially released in India in September – and for which Mylan will be in the country – would "provoke a discussion on land rights for girls." - Women's Feature Service


Trending Now: