When men dread to contest two women have dared to be candidates

Sarada Lahangir
&nbsp | &nbsp Malkangiri
26-April-2014
Vol 5&nbsp|&nbspIssue 17
In 2009, I had toured the Maoist insurgency marked villages in the region where the three states of Odisha, Chhattisgarh and Jharkhand converge, and saw widespread destitution.
The tribals there were bereft of a regular source of income, had no basic health facilities, and had access only to very poor educational infrastructure. The roads linking the various villages were so decrepit that they were just notional.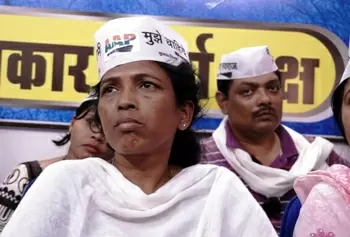 AAP candidate Soni Sori in Bastar is keen on bringing about a positive change in the lives of the tribals (Photos: WFS)
It is in such circumstance that I remember meeting Sahria Devi, 60, a widow belonging to the Birhor tribe of Hindiyankalan, a drought-stricken village in the Chatra district of Jharkhand.
She was busy making 'soops' (winnows) and hardly looked up, but the trauma of having lost three members of her family to starvation a few months earlier was apparent on her face.
Her remaining family – three sons, two daughters-in-law, two small grandsons – was surviving by collecting and selling honey and wood from the forest and selling the 'soops' she made at seven rupees a piece.
The family was entitled to an Antyodaya ration card that would have given them 35 kilos of grain at highly discounted prices, but Sahria had been unable to get the card despite pleading for one before local leaders.
This time around when I visited the region, I could not help but recall Sahria's plight. The place had hardly changed much – villages still did not have electricity; procuring safe drinking water was a challenge and the closest hospital had no doctors. But what was most apparent was that the locals were still living in fear, caught in the crossfire between the Maoists and government forces.
The threat of Maoist violence was real – Umakant, CPI (Maoist), secretary in the Bansadhara-Ghumasar-Nagabali division of Odisha, had in a taped message even asked people to boycott the elections because it was an empty exercise.
All three states had reported casualties to Maoist-driven violence in 2013. While Jharkhand saw 383 such incidents in which 150 civilians and security personnel were killed; there were 353 such cases in Chhattisgarh leading to 110 deaths; while Odisha witnessed 101 cases of violence in which 35 people had lost their lives.
This disturbed situation dissuaded many candidates from campaigning in the areas where the Maoists had a presence.
Jhina Hikkaka, who had been abducted by Maoists in March 2012, contested from the Koraput Lok Sabha seat on a Biju Janata Dal (BJD) ticket this time, and avoided visiting places like Narayanpatna and Bandhugaon, although they fall in his constituency, for fear of experiencing the terror all over again.
But there were other candidates – including two courageous women – who did not allow fear to come in the way of their electioneering.
Soni Sori, who contested from the Bastar Lok Sabha seat this time on an Aam Aadmi Party (AAP) ticket, even refused security. "Why do I need security to meet my people? It is my birthplace and I think there is no threat to me when I am here with them," she told me when I caught up with her.
Soni, a resident of Jabeli village in Dantewada district, Chhattisgarh, was arrested in 2011 by the state police for allegedly being a conduit in the transfer of funds from the Essar Group to the Maoists. She was granted permanent bail by the Supreme Court in February 2014 and has always maintained that she was a victim of the excesses of the security forces and the state.
"I always have been branded a Maoist sympathiser by the state, but I don't care. I am working for the benefit of the poor," she said, ruing the fact that Bastar has been turned into a battlefield with innumerable tribals being killed for no fault of theirs.
"Our children are carrying guns. I want to give them pens, I want to educate them. Tribals in Bastar are living in great pain and deprivation. I want to bring about a positive change in their lives. I want to give them voice," said Soni.
Another woman activist and award winning journalist, Dayamani Barla from Jharkhand, also embraced electoral politics this time. She contested for Jharkhand's Khunti Lok Sabha seat as an AAP candidate.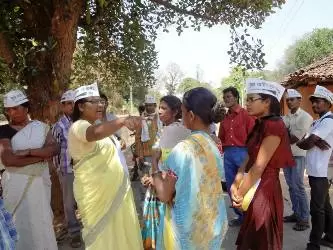 Barla (in yellow sari) campaigned on the slogan, "this is not politics but a movement; this is not an election but a challenge. Cast your vote and get your rights'
In 2012, this activist, well known as the 'iron lady of Jharkhand', spent 69 days in Ranchi's Birsa Munda jail after being accused of leading 400 Oraon tribal farmers in Nagri to protest against their fertile, multi-crop land being handed over to build the campuses of elite institutes like the Indian Institute of Management, Ranchi, and the National Law University.
Barla campaigned on the slogan, "Rajniti Nahi, Andolan Hai. Chunav Nahi Chunouti Hai. Vote Do, Hak Lo" (this is not politics but a movement; this is not an election but a challenge. Cast your vote and get your rights). Unlike many of her counterparts in the fray, Barla ventured into the most inaccessible terrain, whether it was high up in the hills or deep in the forests.
"My fight is for my people; my fight is to get rights over jal, jungle and jameen (water, forest and land). My fight is for the tribal cause and the implementation of laws. I don't want to make big promises but I want to ensure rights and social security for all tribals who have only got more and more marginalised over the years," said Barla.
Like Soni, she is not worried about the Maoist threat. "As long as my tribal people are with me I don't have to fear. It is not my fight but the fight of each and every poor tribal man and woman who is struggling to get a square meal every day," she elaborated.
As Alok Prakash Putul, a senior journalist based in Chhattisgarh pointed out, participating in elections in Maoist areas is a huge challenge. But two strong women faced up to this challenge this time and together symbolised an alternative, more people-centred, politics. - Women's Feature Service

Trending Now: