What was 'theatre by the people and for the people' is losing its real voice
Sahana Ghosh
&nbsp | &nbsp Kolkata
12-April-2014
Vol 5&nbsp|&nbspIssue 15
Essentially "theatre by the people and for the people", nukkad natak or street theatre (ST) has transformed into more of a "propaganda" tool used by political parties as a crucial election campaign strategy leading to disintegration and corruption of the art form, veterans say.
From highlighting candidates to taking satirical digs at the opposition's policies to generating voter awareness for the 2014 Lok Sabha elections, ST has gone beyond street corners or nukkads and gained momentum online. Theatre activists call this a positive sign.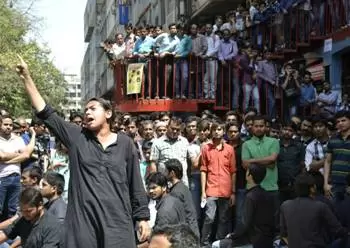 A street play in progress(Photo: IANS)
However, the trend of tailor-made scripts - either for advertising a cause or as a political weapon - has dumbed down its importance as an art form and damaged its credentials as a platform of expression for the masses.
"Corruption has crept in nowadays because of its use by political parties to spread their message. Street theatre originated to give voice to those sections of society which do not have a say.
"However, parties like the BJP which already have a strong voice in society are using it for political purposes and marketing strategy," said Shamsul Islam, a noted theatre personality and founder of the group Nishant Natya Manch.
Delhi-based Nishant has been instrumental in propagating ST in Hindi, Urdu, Haryanvi, Bhojpuri, Nepali, Punjabi and Telugu on local issues like corruption and religious intolerance. It also uploads its plays online.
"We are performing on issues relevant to society for the elections but we are not doing it for any political group," Islam clarified.
Thespian Bibhash Chakraborty observed that the versatile medium, which can draw in an audience anywhere from a marketplace to an alley and in any language, is struggling to carve out its identity as a distinct and respectable form of theatre.
Ironically, this is the situation in West Bengal, a state whose political turbulence in the 1960s immensely impacted the theatre circuit and alternative forms like street theatre flourished.
Theatre became a form of activism and the likes of Utpal Dutt and Badal Sircar gave a new meaning to anti-establishment plays and helped revive the tradition of street theatre.
"Initially when the Left Front was dominating, street theatre was used as a weapon. It's mainly used as a tool. But the art form itself is not being promoted...that respect is not there towards the form," said Chakraborty about the situation in West Bengal.
There is also a marked absence of the indomitable spirit that highlighted the crescendo of the ST movement in the 1960s and 1970s. Names of slain theatre activists like Prabir Datta and communist playwright and actor Safdar Hashmi, credited for popularising ST in the country, stand out as testimony to that very spirit.
According to Gora Ghosh, secretary of the Leftist organisation Indian People's Theatre Association, West Bengal (IPTA), the plays performed by it do not attack any party or person but target their policies.
"We don't attempt to influence the voters' decision...they are already aware of what is happening," said Ghosh.
Arvind Gaur, director of Asmita, a leading Hindi theatre outfit that does socio-political street-plays, stressed that these are meant to engage the common man in healthy debates and encourage him to participate in governance but should steer clear of influencing opinions.
His organisation has launched a series of skits, christened "Sawaal" (question in Hindi), for the elections. At the end of the 20-minute acts (by teams of 10 to 12 actors who are mostly youngsters), time has been allotted for an interaction with the spectators - an important aspect of ST.
"We do not influence their choices in any way or promote a particular political party. We ask them not to be influenced by caste, religion or money while voting.
"We also emphasise accountability and transparency of the MPs and ask the public to ensure they raise local issues in parliament," Gaur noted.
At the other end of the spectrum is the Aam Aadmi Party, whose student wing, the Chhatra Yuva Sangharsh Samiti (CYSS), claims that the ST showcased by its volunteers only highlights local issues that lead to an indirect criticism of its rival parties.
"We don't ask them to vote for us. But while highlighting relevant issues, there is indirect criticism of the other parties," said Kingshuk Singhoroy, a CYSS volunteer from Bengal.
CYSS is banking heavily on social networking to reach out to youngsters.
Though ST is no longer limited to rural areas, courtesy commercialisation and the internet, actors of Natya Chetana (theatre for awareness) in Odisha cycle hundreds of kilometres into the heart of the coastal state to generate awareness on topics like cultural degradation, women's issues and the like that are relevant to those areas.
"Street theatre is not meant to advise people. It is an artistic medium. But there is nothing artistic in performing for a propaganda and that shows in audience enthusiasm. There is no two-way communication in the commercialised election-related ST in big cities and towns," Natya Chetana's director, Subodh Patnaik, lamented. - IANS

Trending Now: