India's first woman Chief of Protocol is back in Paris where she started

Tripti Nath
&nbsp | &nbsp Delhi
29-March-2014
Vol 5&nbsp|&nbspIssue 13
India's first woman Chief of Protocol, Ruchira Kamboj, is all set to leave for Paris, a city that brings back pleasant memories of her first diplomatic posting as Third Secretary, from 1989-91.
A Francophile, she always wanted to return to the French capital some day as India's Ambassador. Her latest appointment as India's Ambassador to UNESCO, her third multilateral assignment, has fulfilled her long held dream.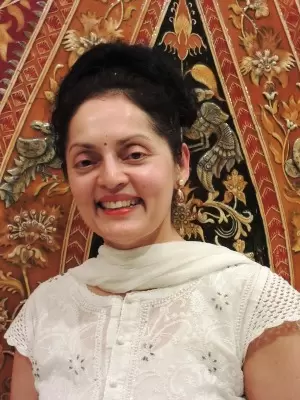 Ruchira Kamboj, India's first woman Chief of Protocol is now India's Ambassador to UNESCO (Photos: WFS)
As the first woman Chief of Protocol (COP) of the Government of India, this good humoured diplomat, known to be a tough taskmaster, has handled to perfection almost 250 incoming VVIP visits to India with a lean but very efficient team of 50-odd officials.
Sleep deprivation is the last thing on Kamboj's mind when she has to go to the airport past midnight to receive or see off a visiting Head of State or Head of Government.
Ask her why no woman diplomat before her was handpicked for the job of the COP and she says, "Perhaps the time had come for a woman to do this job and I just happened to be that lady."

When she was made the COP, Kamboj says that she was very conscious as people had misgivings that a woman might not be able to do justice to the duties involved. "But I took on the challenge and thought that I will make sure that not only will I do this job well, but do it better than a man," she remarks.

As the COP, this topper of the 1987 batch of the Indian Civil Service who always wanted to be a diplomat "extends the first hand that greets foreign dignitaries to India and also says the final goodbye to Crown Princes, Royalty, Heads of State and Heads of Government".
She and her team have been managing, on an average, over 100 incoming VVIP visits in a year. In fact, in less than 70 days of 2014, she has welcomed 19 incoming dignitaries besides handling critical outgoing visits of the President, the Prime Minister and the Vice President.
The articulate officer believes that "protocol is a tool for successful diplomacy."
There is never a dull moment. As she points out, "Delhi is among the world's largest diplomatic hubs with 162 foreign Missions. There are also 188 Honorary Consulates, close to 100 Consulates and 38 International Organisations located in other cities. Every time a foreign Mission even so much as breathes, it is work for me."

Kamboj, who ordinarily begins her day at the crack of dawn to manage her hectic schedule, is proud of the assignments her team and she have handled, in particular the ASEAN Commemorative Summit (December 2012) and the Asia Europe Foreign Ministers meet in Gurgaon (October – November 2013).
Much praise has come to Kamboj along the way but the moments she has really cherished are when Heads of State, while leaving the country, have told her, "…we would like to have a Chief of Protocol like India's."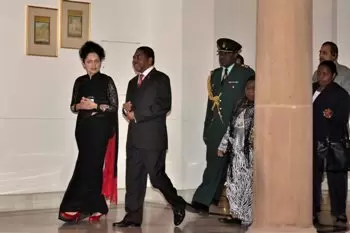 Ruchira with the President of Zanzibar at Rahtrapati Bhawan early this year
The daughter of an army officer, who attended school in Delhi, Baroda and Jammu, Kamboj says she owes her entire success to her parents and her very accommodating businessman husband, Diwakar Kamboj. Her earliest childhood memories are of her father's uncompromising insistence on punctuality and good dressing.

Ask her whether women make good candidates for the diplomatic corps and she feels that women can make any profession their own as they are hard working, honest, honourable and more wired to multi-task than their male colleagues.

India only has a hundred women diplomats who account for about 12 per cent of the total strength of about 800 officers in the Indian Foreign Service (IFS).
"When I joined the service 25 years ago, the intake, on an average, was two out of 12 a year. Now, in the last five to 12 years, we are taking 25 to 35 officers a year in the IFS. After 1991, we have increased the number of missions and posts abroad – presently these stand at an impressive 183," she says.

Incidentally, India along with the US, Canada and select European countries, is among the few in the world that has a woman Chief of Protocol. In fact, she will be working till the last day of her tenure like most of her colleagues do in a short staffed ministry.

As she gets ready to take on her first ambassadorship to France, Kamboj, who makes heads turn with her perfect dress sense and haute couture, describes her new assignment in the city of style, saying "the wheel has turned full circle" and is looking forward to "la vie Parisienne" (life in Paris).
"It has been a very rewarding experience being Chief of Protocol. One had to constantly push oneself beyond the limits but I am looking forward to opening a new chapter now," she says before saying "au revoir" and "a bientot" (see you soon). - Women's Feature Service

Trending Now: