Women zipping Ranchi in autorickshaws is a win-win situation for all

Saadia Azim
&nbsp | &nbsp Ranchi
22-March-2014
Vol 5&nbsp|&nbspIssue 12
The 'Gulabi Autos' plying on the streets of Ranchi are the coolest set of wheels in the bustling state capital of Jharkhand today.
They are the three wheeler autorickshaws being operated exclusively by women for women, an initiative floated to not just make a statement about women's empowerment but also to ensure a safer commuting experience for local women.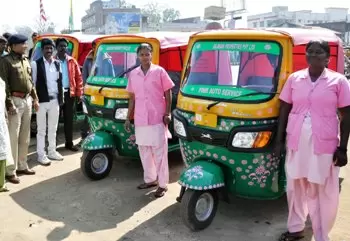 The 'Gulabi Autos' plying on the streets of Ranchi have become a hit among the women commuters (Photo: Saadia Azim WFS)
The concept is certainly not new – similar all-female transport services are being run in other cities including Delhi, Indore, Jaipur and Mumbai – but its impact nevertheless has been life changing.
The venture is a collaborative effort of the Jharkhand State Diesel Auto Union and a private real estate group that was keen to invest in an effective social project.
According to Sanjay Sahu of Rajmoni Properties, the firm that has financed the training programme, "We decided to support this initiative as it not only provides gainful employment to disadvantaged women but by enabling them to become a part of the public transportation system, it makes travel relatively hassle-free for others. As we see it, it's a win-win situation."
Of course, getting women to sign up for the course was not easy. Reveals Dinesh Soni, Convener of the Ranchi Auto Chalak Mahasangh (Ranchi Auto Drivers Association), "Initially, there were very few takers. One of the main reasons for this was that families usually had an objection to them working in a male-dominated profession."
Yet, despite the challenges, the Ranchi Auto Chalak Mahasangh kept up its efforts to convince women to come forward, especially highlighting the advantages of being financially independent and contributing to the household income.
Finally, by end-2013, a group of 25 motivated young women came together. The only qualifying criterion was that they had to be educated till Class Eight, the prerequisite fixed by the local administration to be eligible for a driver's licence.
After weeks of diligent practice sessions between 11 am and 2 pm every day at the sprawling Harmu grounds, 12 girls from this first batch managed to clear the licence exam and were ready to roll by mid-December 2013.
Today, the colour pink is really close to Aarti Behra's heart. To her, it's the hue that represents independence, mobility, employment and the hope of a better life.
Just a few months earlier, this 23-year-old homemaker was forced to step out to sell local liquor at weekly bazaars to make ends meet. She disliked the work and was looking for better paying options when she heard about the specialised training designed to teach women to drive an autorickshaw.
Today, Behra, who incidentally has been appointed as President of the Pink Auto Driver Association, zips around the city ferrying passengers efficiently. "It's like a dream come true for my colleagues and me. We are all trendsetters in our own right, something none of us ever believed we could be," says the cheerful young woman.
Six of the trained drivers, including Behra, are the proud owners of their vehicle. The rest of them are waiting for the finance to come through from the bank. The down payment has been given by the real estate group.
The women are paying back the company and the bank, at the rate of Rs 150 per day, as per the agreement. In addition, they are also giving the requisite road taxes from their daily earnings. After all the expenses are taken care of, most are able to save around Rs 250 a day.
Pratibha, 21, is happy with her newfound career. This young mother had studied till Class 10 in a missionary school but had to drop out because of the lack of financial support at home. She used to feel disheartened over having left her school education mid-way. That is not the case anymore.
When her husband, an NGO activist, encouraged her to learn driving, she grabbed the opportunity with both hands. With his support she hopes to repay her autorickshaw loan very soon.
Leaving her seven-month-old baby under the expert care of her mother-in-law, she goes out to work with confidence.
Within city limits, the 'Gulabi Autos', which can carry four passengers at a time, have become the favoured ride of women and children; men are welcome if they are with their family. The commuters feel safe with these women and find them more cordial.
Says Manisha Sinha, who has recently shifted back home from New Delhi, "If there is a 'Gulabi Auto' in the vicinity, then most women prefer to hail them. The girls drive properly and there is a greater sense of security with them at the wheel."
The increasing popularity of 'Gulabi Autos', however, has started to pose a serious threat to the earnings of the male drivers, triggering an all-out gender war. Two months after the service began, harassment at the hands of their male colleagues became a major cause of concern for these women.
Elaborates Rina Tigga, 22, who was married at 16 and worked as a domestic help until she took her driver's training and donned the pink uniform, "We are out there on the streets to make sure that ordinary women feel safe but now we too are facing a tough time. We are heckled and teased at the stands and often male drivers pass objectionable comments.
"But if they think that we will back down because of such intimidating tactics, then they are wrong. They do not know the strength of women. We have requested the police to cooperate with us and provide us with security so that we can continue doing our job."
Commuters like Anuka Tigga, a school teacher with a local school, who regularly travels in a 'Gulabi Auto', are also standing by these women.
She says, "The male drivers have been complaining about losing money and I have seen them abusing these pink auto drivers. They need to be reined in as soon as possible."
This overwhelming show of support as well as the determined attitude of the women has induced the Auto Chalak Mahasangh as well as banks to finance more pink autos. "We are training 48 girls to drive three-wheelers and over the next six months aiming to introduce about 50 pink autos in the city," says Soni.
So hop on to a Gulabi Auto to experience the power of pink. - Women's Feature Service


Trending Now: