Tracking the life of 'railway children' that does not chug along that easily
Malcolm Harper and Lalitha Iyer
&nbsp | &nbsp Delhi
22-March-2014
Vol 5&nbsp|&nbspIssue 12
What are the life stories of the scores of youngsters who live on railway platforms across India? What are their struggles? Do they ever get to meet their parents again? What happens to them when they grow up?
In this excerpt from Rescuing Railway Children: Reuniting Families from India's Railway Platforms, written by Malcolm Harper and Lalitha Iyer and published by Sage Publications, meet Vimla, a young social worker from south India who has been rescuing children from the platform and working tirelessly to reunite them with their families whenever possible.
Read about her encounter with three little boys with whom she forged a special bond over hot upma and good old Bollywood gossip.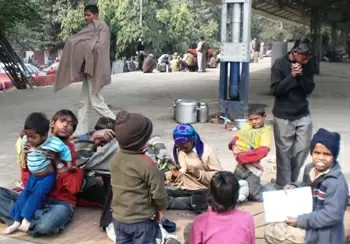 There are scores of young children who live on platforms across railway stations in India. (Photo: WFS/ Chrisi under Creative Commons 3.0)
It was a little past 10 in the morning. Vimla was shepherding three bewildered little boys with ease. She kept up some small talk, apparently about irrelevant things, but carefully noted any personal details that the boys offered inadvertently.
She had noticed around six boys who landed on the platform that particular morning. She managed to strike a chord with these three but in the process the other three slipped away.
Perhaps they were 'repeat' cases who had run away many times and carefully avoided anyone who seemed too interested in them. It was hot for a morning in October and she was glad that the shelter was very near the station.
One boy, Rahul, seemed very frightened and managed to keep back his tears only because the other two seemed brave. He meekly agreed to go with Vimla because he had simply no idea what to do. He did not join the conversation but held Vimla's hand tightly.
The other two boys were more talkative – one of them Vishnu, was boasting about his skills in cricket and the other boy Mihir was reeling off the first names of famous cricketers in India. Vimla promised them that they could play games in the evening when they came to the shelter. …
Vimla stopped at the Railway Police Force (RPF) station near the station master's room. She diligently made entries in the Daily Diary about the children she was taking with her.
She quickly completed the First Information Format and obtained the seal and signature of the officer on duty. She requested the constables to keep a watch out for three other boys she had seen, before they slipped away. They promised to help.
She also updated her availability in the movement register kept in the police station. When she began doing platform work, she was a little uncomfortable going to the police station; she also thought the children may get scared.
She soon realised that this step was very important – families searching for their children invariably reached the police. Also when the team members had any trouble with either the children or the general public, the police were there to support them.
As she was leaving, she met her colleague Sivakumar. … She quickened her gait when she realised it was nearly 10:30 am. The children were probably hungry and needed their breakfast.
The shelter was cool and welcoming. It was located in a crowded neighbourhood adjoining a high wall along the railway track. It was two-bedroom apartment on the first floor.
The bathrooms and toilet were set at the back and water was stored in large plastic drums in case the taps ran dry. Vimla introduced the children to the day-time caretaker Gangamma, who took charge of the new arrivals, showed them around and handed out some spare clothes to each of them.
Rahul found his a good fit and Mihir's T-shirt hung a bit loose. Gangamma offered hot upma and ripe bananas as soon as they emerged scrubbed and clean. The boys certainly felt much better after breakfast.
Vimla introduced the new arrivals to the other boys, who were reading or writing something. As they slowly made friends with each other Vimla noticed that Rahul quickly latched on to Santosh, a boy who had arrived three days ago.
Santosh had been travelling with his family and they had to change trains midway. However, he had been distracted by all the things happening on the platform and dragged his feet and it was too late when he realised that he was on a wrong train, which was already moving off. He was found by Sivakumar.
Fortunately, Santosh could give his address and contact details and his family was overjoyed to know he was safe. They were expected in the afternoon and he was indeed happy. Life would be good if all their cases were so simple! Her guess was that Rahul too longed to return to his family.
Mihir and Vishnu were happily chatting with two other boys Michael and Shyam – all four were great fans of the Bollywood star Shahrukh Khan and were swapping notes on the movies they had seen.
Vimla guessed that these were boys who had run away in search of adventure and freedom.
As she looked around, she noticed that two others, Jameel and Vikram, were staying aloof from the rest. They both looked sad and she wondered what story would emerge when the counsellor managed to reach out to them.
In her experience, the sullen expression usually meant that the exit from home had been painful – some elder beating or scolding the child or just the fear that some failure would bring on a severe scolding or even a thrashing. Sometimes it was a failed exam or some small sum of money lost or misspent. There was a lot of pent up anger and sadness. …
Vimla lives in a small town in south India and works for Sathi. She had grown up in a village nearby and completed her high school. She had no clear notion of the kind of job she would find. She only knew that she needed to work.
Her uncle, who ran a shop on the railway platform, told her about this NGO and she found the work very interesting and challenging from the very first day. Many trains crossed this junction and Vimla was usually on the platform from 7 a.m. to 10 a.m., looking for 'new arrivals' during peak traffic time.
It is tough work – often hard on the back and the legs. She herself came from a loving family and she instinctively extended warmth and affection to these boys. It continued to surprise her that so many of them had run away.
She and her team members were specially trained for platform work and reuniting children with their families whenever possible. She felt very happy when she saw parents meeting their children.
Today, there are approximately a 100 young people like Vimla in 18 major railway stations across India working for Sathi. Their work is quite streamlined and the good practices they have evolved and adapted make sure that at least for a few days in a month, all children landing on a platform are noticed and reached out to.
(Excerpted from Rescuing Railway Children: Reuniting Families from India's Railway Platforms, by Malcolm Harper and Lilitha Iyer; Published by Sage Publications; Pp: 211; Price/Hardcover: Rs 750) - Women's Feature Service

Trending Now: