For people living below the poverty line in urban areas, Amma canteens are godsend

Hema Vijay
&nbsp | &nbsp Chennai
15-March-2014
Vol 5&nbsp|&nbspIssue 11
In this election season, where political parties are trying to find novel ways to gain voters, Tamil Nadu Chief Minister J. Jayalalithaa, leader of the AIADMK, has figured out that the way to a voter's heart is through his or her stomach.
Her government's subsidised eateries, called Amma Unavagam, or Mother Restaurant, which have been coming up across the state since early 2013, today have lakhs of below poverty line (BPL) citizens queuing up to get their daily quota of steaming pongal, fluffy idlis and spicy sambar-rice, offered at a fraction of their real cost.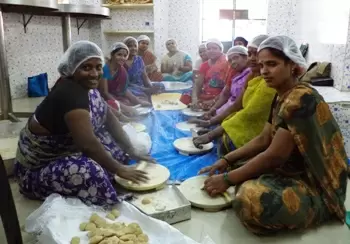 Amma canteens are being run by a group of 6-12 women in three daily shifts (Photo: Hema Vijay/WFS)
This is Amma's answer to the food security problems of the poor and to be fair to her she has hit upon an ingenious idea that works marvellously for now.
These budget canteens have come up at strategically located municipal corporation offices – that way the infrastructure and establishment costs have been covered effectively; the subsidised rice and dal are sourced from the Tamil Nadu Civil Supplies Corporation (TNCSC), while curd is supplied by the Tamil Nadu Cooperative Milk Producers Federation.
In addition, there is a daily cost of about Rs 5,000 incurred for vegetables and other ingredients but that is made up with the food sales.
To manage these functional kitchens and do all the cooking, Self Help Group women have been employed at a daily wage of Rs 300.
The first canteen started operations on February 19, 2013, in Chennai and its popularity has led to the opening of many more. Currently, there are 200 such eateries in the state capital of Chennai, which feed about 20 per cent of the city's 6.5 lakh BPL population.
Besides these, branches have been set up in towns like Coimbatore, Madurai, Trichy, Tirunelvelli, Tuticorin, Salem, Erode, Vellore and Tirupur.
Malarvizhi, a domestic worker in Chennai, starts off her day by making a beeline for Amma Unavagam's Adyar outlet to have hot pongal (350 grams serving) and a couple of idlis for breakfast, along with her husband, Rajendran.
At Re 1 per idli (that weighs 100 grams), the cost does not hurt her pocket. "Eating here is far less expensive than cooking at home," she points out, as she digs into the fare with gusto.
She adds, "Before this canteen came up I used to either wake up really early to make breakfast at home or buy stuff from roadside vendors who sell idlis at Rs 5 a piece."
Lakshmiammal, 60, who lives in the same slum tenement as Malarvizhi, has been staying alone ever since she was abandoned by her daughter.
Too old and frail to work, she is glad that she now gets to eat three square meals a day, thanks to the canteen. She makes it a point to reach by 7 am, which is when the Unavagam opens business, so that she can beat the morning crowds.
And what is on the menu for these diners? For breakfast, there's pongal (rice and moong dal gruel) and idli-sambar (which incidentally has been rated as the most nutritious of all traditional breakfast cuisines across the world); a choice of spicy sambar rice, lemon rice, curry leaf rice and curd rice is served for lunch; and chapatti-dal or chapatti-kurma is dished out at dinner time.
In addition, there's free, purified drinking water available. The damages for this basic fare - Re 1 per idli, Rs 5 for a plate of pongal, sambar rice or lemon rice, Rs 3 for curd rice, and Rs 3 for two chapattis with spicy dal or kurma.
"I am thrilled to eat chapattis for dinner at the canteen. With my food expenses going down I will finally be able to start sending some good money back home," remarks Naren, a migrant labourer who has been in Chennai for the last two years.
Another good thing about the menu is that it is reasonably balanced and nutritious.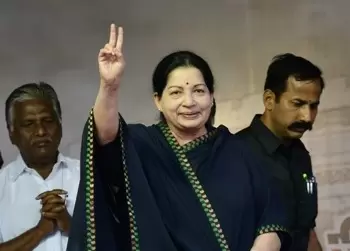 Jayalalithaa's Amma canteens have provided jobs to several women (Photo: Media Ramu)
According to Dr R. Bhanumathi, a city-based nutrition consultant who has checked out the fare at the Amma canteen in Government Rajaji Hospital, "Idli and pongal are healthy and easy to digest. The opening of the canteen has been good for both patients and their care-giving attendants."
Each of the Amma canteens is being run by a group of 6-12 women, who work in three shifts to cater to the three meal timings.
Many of the women employed at the canteens have permanently quit their other jobs as domestic helpers or wage labourers.
"The canteen gives us work every day and we make about Rs 9,000 a month for working a single shift of about 6-7 hours, which is a decent pay," says Usha. As a domestic worker, Usha was earning just Rs 3,000 a month.
Revathy, who works at the Amma Canteen on Thiruvengadam street is happy with her job. She handles the cash register in the morning and says that on most days about Rs 3,500 is generated by the end of the shift.
"The idlis are usually sold out by 9 am, although breakfast time is set at 7 to 10 am," she reveals with a smile.
While the lunch hour is between 12 to 3 pm, dinner service starts from 6 pm and concludes by 9 pm. Officials from the corporation come and collect the cash in the evening. A security guard is also employed at each canteen.
What has contributed to the expansion of the Amma canteens' client base is the uniformly high levels of hygiene maintained. Today, office-goers and salespersons are cheerfully sharing tables with slum dwellers, day labourers, housemaids, security guards, migrant labourers and others.
Everybody agrees that the food is tasty and clean and, most importantly, the canteens don't bar its customers from bringing their own pakodas or other side dishes. "The plates are clean and the food is fresh," says Mohan Kumar, a salesman. - Women's Feature Service

Trending Now: