Ushering in a change in women's life through a game of hockey

Elsa Mathews
&nbsp | &nbsp Dausa
08-March-2014
Vol 5&nbsp|&nbspIssue 10
It was entirely by chance that Andrea Thumshirn, a former German Premier League hockey player, landed in Garh Himmat Singh, a nondescript village in Dausa district of Rajasthan.
"I came here in 2009 as a tour operator with a group of hockey lovers. This village falls on the Agra - Jaipur highway and we stopped for lunch, arranged by my business partner who hails from Garh Himmat Singh.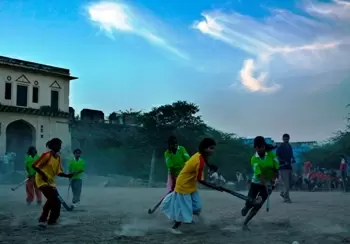 Girls in Garh Himmat Singh, a nondescript village in Rajasthan playing hockey. Andrea Thumshirn, a former German Premier League hockey player, has trained them in the game (Photos: WFS)
"Once I got a look and feel of what rural life in India was all about, I was hooked," recalls Thumshirn, who is in her late-thirties.
She came back the very next year – but this time around she brought along a few hockey sticks as well. "I was looking to do something different with my life and I decided to stay back and teach children to play hockey after school," she continues.

To do that, she set up in 2011 an organisation with a name that said it all: Hockey Village India.
Starting things up wasn't all that difficult. With the support of an influential family in the village, Thumshirn got access to a barren piece of land in the vicinity of the local fort.
"At the time no one in Garh really knew anything about hockey and I wasn't conversant with the either the local language or culture. All I wanted was that the kids get to have fun and so I went ahead with my plans. I rented a roller and levelled the ground at the fort. A metal wares shop in the nearby town of Mandawar made the goal posts for us," she says.

Naturally, Thumshirn did face a variety of challenges as she tried to introduce sports into the daily routine of the youngsters. She observed that unlike most urban children, whose lives revolved around schooling and sports, the kids in Garh, especially the girls, used to spend a large part of their day either helping out in the fields or cooking and taking care of their siblings.
So drawing them out on to play wasn't all that simple. "Convincing the villagers about my intentions was also not easy. In the beginning, I got no reaction to my talk about teaching their children hockey.
"They wondered what this white woman was going to do but as long as their kids were home before dark, it was fine," elaborates this dedicated sportswoman-turned-coach.
"Initially, whatever they did on the field didn't look anything like hockey. It was difficult to communicate with them and explain what the game was all about.
"I even bought a secondhand screen and a beamer to show them the popular Hindi film, 'Chak de! India', so that they would get a hang of it. To play an entire match with them at that point was beyond imagination," she recalls.

Their attire on the field, too, was a matter of concern. "The girls would come dressed in salwar suits and dupatta (scarf), which could prove distracting while playing.

Trying to talk them into wrapping the dupatta around their body or removing it did not work either," says Thumshirn.
She realised that getting them to wear the normal garment for the game – skirts – was going to be a challenge. The girls insisted they were too short.
Finally, Thumshirn came up with the idea of getting leggings stitched for them to wear under their skirts. Today, they are so comfortable with this uniform they roam around freely in it.

If Thumshirn went out of her way to bring change to their lives, then the girls of Garh Himmat Singh, too, have lived up to her expectations.
In fact, it is the girls' team that has made the village proud giving excellent performances.
Talking about the first match her team played in August 2011, she says, "We had fielded a mixed team of boys and girls and were up against DPS Jaipur, a well-known school. Of course, we lost at that time but we gained so much experience. Now we can beat the same team quite effortlessly."

Ever since that maiden contest, Thumshirn's team has played regularly in tournaments in Jaipur, Bhilwara, Haryana and Mumbai. "On most of these outings the girls' team won more games than the boys. But they always complained that there were more opportunities for the boys than for them!" she adds.

A significant breakthrough for these young sportswomen was when Hockey Village India got affiliated to the Panchayat Yuva Krida Aur Khel Abhiyan (PYKKA), a central government-sponsored scheme for the development of sports in rural areas.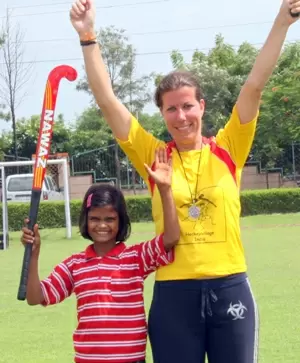 Andrea Thumshirn with one of her wards
They went on to win the second rank in the state tournament and five of the girls were selected for the state team in the under-16 category.

Samika Khandelwal, 12, has been training under Thumshirn for the last couple of years. "Andrea is always encouraging us to practice diligently and she is there by our side when we go to play," Samika says with a big smile.

Shivani Sahu, 10, is far more self-confident now after she started hockey two years ago, "Earlier, most of us used to stay at home and either study or do household chores. But Andrea bua sa (aunty) not only changed our outlook, but that of our parents, too!"

Princy and Sarhhita Kolawata, both 12 years old, are glad that they have a top rate coach to hone their skills. Says the duo, "Thanks to Andrea we have stepped out of the village and been to places like Kurukshetra and Delhi."

Despite her successful run, Thumshirn recently faced some trouble. She says, "In June 2013, I had ordered Astroturf, a synthetic playing surface from Germany to improve the practice conditions.
Although we had taken permission from the District Collector as well as the authorities of the local government girls' schools on whose grounds we were going to lay it out, we ran into trouble. Some people thought that I was trying to encroach on their land. We haven't yet been able to sort out this issue but hopefully it will happen."

Challenges apart, Thumshirn is looking forward to the future. She says, "Besides Garh, Hockey Village India is taking its mission to a few other hamlets in Rajasthan, in addition to one village in Bhusawal in Maharashtra, two in Goa and one in Mahabalipuram in Tamil Nadu."
Now here is a woman who has used her energy and talent to nurture the energy and talent of her young charges. - Women's Feature Service

Trending Now: