The nomads would like to have an Aadhar card and also send their kids to school
Anuradha Dutt
&nbsp | &nbsp Delhi
22-February-2014
Vol 5&nbsp|&nbspIssue 8
A stone's throw from a high-end private hospital and close to a luxury shopping mall that houses the latest in western fashion in South Delhi's Saket area is a cluster of tents that occupy the pavement.
Five families stay here, amidst a load of garbage spilling from the large municipal corporation refuse bin in the vicinity. Neatly placed outside these makeshift homes are ornamental vases, picture frames, objets d'art and hand-painted Rajasthani furniture for sale.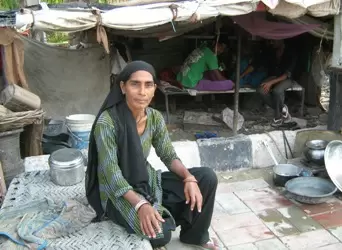 Banjara women have no voter cards or access to civic amenities like toilets (Photos: Anuradha Dutt WFS)
This is how the Rajasthani Banjaras (gypsies) survive in the big city, invisible to the local people and forgotten by the policy makers.
They are merely seen as a small part of the large nameless and faceless destitute population that inhabits the national capital, even though they have a distinct appearance and a lineage they claim with pride.
As Garhia Rajputs, who have supposedly descended from the great Mewar king Maharana Pratap, they are known to be highly skilled ironsmiths. Their traditional dress too sets them apart – while the men often sport desi shirts and pyjamas, the women wear a long skirt with rustic jewellery.
Today, as a concession to the modern times and in an effort to blend in, many young Banjaran males wear the ubiquitous shirt-and-pant ensemble, while the women have taken to the salwar kameez with their heads draped by the dupatta.

Mantara is a middle-aged Banjara widow responsible for raising two daughters and a son. Her husband died nine years ago.
While she is reluctant to talk at first, a bit of cajoling gets her to open up about her life and the challenges her community, and particularly its women, face being the 'pavement people'.
According to her, though they have been living in the area since before the late prime minister, Indira Gandhi, came to power, "nobody thinks about us or our welfare. We have neither voter cards nor a right to civic amenities like toilets. Access to education and healthcare is also a distant dream."

She is not wrong. The Banjaras scattered across Delhi and neighbouring Haryana and Uttar Pradesh, have never really figured in poll calculations as a legitimate vote bank; most of them don't even figure on the electoral rolls.
Consequently, policy makers have never factored them in while sanctioning benefits like free or low-cost housing, a common pre-election promise for those living below the poverty line.

For Mantara and her daughters, living under the open skies has many drawbacks and dangers.
She elaborates, "We don't have access to a toilet so we go to the nearest public convenience. But even that is a good half an hour's walk away. In case of an emergency we have to find a secluded spot but that is difficult because the area is very crowded.
"Going in the night is not even an option. We get water from a nearby tubewell and most of us bathe inside the tents, behind drawn curtains. In fact, we have to do everything from cooking to tending to the children within this cramped space."

It is a precarious existence, exposed as much to the vagaries of nature as to the onslaught of passersby. A young woman, who does not want to reveal her name, talks about drunken men trying to forcefully pull the tent curtains apart at night to peep in.
It is a hard struggle to retain vestiges of respectability, with the outrage over gang rapes and women's security having bypassed this community.

Once living as nomads, Mantara and her neighbours now move every time the police or the civic authorities evict them from their spot on the sidewalk. Their pleas for housing under a government scheme have completely gone unheard.
"What we do get from the authorities is a little bit of rations. The PDS card enables us to buy food at lower rates – rice at Rs 7, wheat at Rs 5 and sugar at Rs 14 per kilo. Kerosene is usually not available so we cook on a chulha (wood fired stove)," reveals Mantara. The smoke that fills their tiny homes often leads to serious respiratory problems.

But how often is it that they can walk into a government hospital and get treatment?
The answer to this question is a predictable one. Hoshiyari, a woman in her mid-fifties, draws on her hookah before she says, "For ordinary health problems we just wait till they pass. When it comes to child birth, the women deliver wherever they stay."
Her daughter-in-law Sita points to an empty plot and says, "We have our children there. In case of complications a private doctor is called over. Only during an emergency do we rush to the local hospital."

Hoshiyari's family has been living down the road from Mantara's cluster after the local authorities forced them to move decades back. Another group of Banjaras has been trying to settle down across the road from them although they are moved by the police time and again.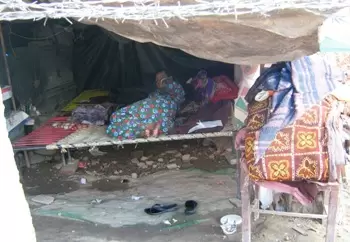 A Banjara woman in south Delhi sleeping inside a tent
pitched on the sidewalk
Hoshiyari's tent is neat and clean and a picture of Goddess Durga occupies the pride of place. Like all the women in the city, Sita's routine starts with the basics – cleaning the tent, cooking on the chulha and fetching water from a nearby nursery for plants.
The family earns a modest Rs 200-250 every day selling a wide array of iron implements that are displayed on a large wooden table outside.
Remarks Hoshiyari, "No one among us has ever gone to school. We don't have identity cards. We are not counted as part of India's population." Incidentally, the one thing that they do have is a mobile phone each which both women brandish proudly.

Getting an Aadhaar Card, which can be used as a proof of identity and also help them to avail of government's social welfare schemes, is a priority right now.
Sita has another fervent wish – that her children get to go to school. She has tried to enrol them in government institutions in Chhatarpur and adjoining urban villages but without any success.
In Mantara's cluster, too, mothers look lovingly at their kids playing on the footpath and express the hope that they will study one day and live different, more stable, lives.

Bhavani lives near Mantara's tent and seems to have weathered her 70-plus years well. The smile does not seem to leave her face and she remains optimistic despite the long years spent coping with acute hardships.
She still wears the gypsy 'ghaagra' and thick anklets. Her three daughters have been married to men from the community. Their weddings had simply involved pitching a large tent and calling a halwai (traditional Indian sweet-maker).
As she looks on at the bumper-to-bumper traffic slowly going past her and the crush of people surrounding her, the only thought that occupies the septuagenarian's mind is that one day she and her community will be acknowledged as citizens and as women who have a right to a decent and secure life. - Women's Feature Service

Trending Now: