A mother's letter to her teenage daughter takes the shape of a book

Shwetha E George
&nbsp | &nbsp Kottayam
01-February-2014
Vol 5&nbsp|&nbspIssue 5
Anna Varughese, 44, has been in and out of hospitals for as long as she can remember. She was only four when she was diagnosed with ulcerative colitis, a chronic abdominal disease that did not just rob her of a normal childhood but brought on a host of other near fatal disorders that ultimately led to a liver transplant and a brain surgery.
Despite her numerous and escalating health problems, Anna has just debuted as an author of a heartfelt memoir, 'Past Perfect: Letters to Aditi', in which she has chronicled her incredible journey – the countless hours spent in sterile white hospital rooms, the overwhelming love of her native family in Kottayam, Kerala, escapades in college, marital tiffs in Delhi, the "stupid drizzles" of London and, yes, the joys and challenges of motherhood.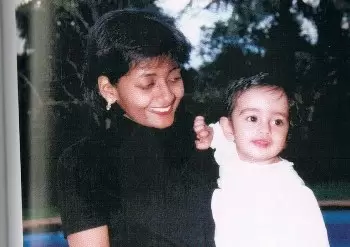 The author, Anna Varughese, holding 10-month-old Aditi (Photos: WFS)
Anna's earliest memory of the illness is still her worst recurring nightmare. She says, "It was the first time I had soiled myself in school. I was only three when my occasional bouts of diarrhoea became a 24-hour thing. As I grew a little older, children made fun of me every time I needed to rush off to the toilet."
What enabled her to carry on despite the continuous ridicule was the unwavering support of her mother, Mariam, who taught in the same school until Anna was 11.
Obviously, severe food restrictions were a part of her daily routine and endless consultations with doctors filled up most of her free time. But not one to give up on life Anna went on to experience all its highs and lows like any normal young woman – she did her MBA, married her college-mate and best friend, moved to Delhi and had a baby.

Of course, even as her daughter was growing up, Anna continued to fight her condition keeping herself busy with the child's schooling and her job. She worked with her husband to run a firm for training corporate and students in leadership and life skills.
Yet, every now and then, the painful incidents from her difficult childhood came back to unsettle her. In the book, she recounts the time when four-year-old Aditi came home from school one afternoon in tears. She had a loose stomach that had gone out of control.
Her friends had teased her and she insisted that she'd never go back. "In that one moment I relived my all traumas," says Anna, "I felt so bad for Aditi that I didn't send her to school the next day although my mother would have disapproved. I couldn't put her through the one humiliation I had gone through every day."

When frequent bouts of jaundice – a part and parcel of ulcerative colitis – eventually resulted in a damaged liver, she was advised to get a liver transplant.
The decision to go in for the procedure was made when Anna was 33 and a call from King's College Hospital brought her to London. It was the summer of 2002.
As she waited for her turn to undergo surgery she started writing a letter to her daughter, which later took the shape of the book.
"It was during those harrowing months of waiting in a dingy rented flat in London, away from my husband, parents, siblings and five-year-old Aditi that I began to write. I thought that if the transplant didn't work, then my daughter would never know the real me.
"I wanted to share with her the little joys of my childhood in Kerala – my growing up years spent in the loving company of my three siblings, a gaggle of cousin, grandparents and friends," she says.

In a way Aditi was firmly entrenched in a typical Punjabi joint family of Delhi and so Anna wanted to tell her all about the wonderful monsoons of Kerala, the ancestral kitchen at her home that churned out finger licking delicacies meal-after-meal, the books that had given her company through some of her darkest moments, and her mother, whose quiet strength had been a constant inspiration.
Once the transplant was successfully behind her she decided to continue with her writing.
"I quit work and left Delhi to finish my book in Kottayam. I completed it in six months and my brother, Varkey, edited it. After that we sent it to quite a few publishers but when no one came forward, we decided to print it our own," she shares.
That version came out in 2011. It was expensive proposition so just a few copies were printed and only Anna's immediate family and friends got to read it. Later, a family friend set up a meeting with Westland Publishers, who decided to publish it in its present form with more details, photographs and an afterword.

"What's funny," recalls Anna, "is that when I wrote the book I was sure I was going to die. But now as I read it I find it a little scandalous!"
Just like 'The God of Small Things', the award-winning work of another Kottayam offspring Arundhati Roy, Anna's 'Past Perfect…' also starts off with a reference to rain. The Malayali's quirky English vocabulary has been duly noted as well, along with the references to Syrian Christian aristocracy and old money.

Penning 'Past Perfect' has had a cathartic effect on Anna and now she is keen to write a work of fiction. But, as she points out, her priority, unlike other authors, is not to sell – "it is to stay alive until I finish my book."

Her journey has been unpredictable and recently, after the release of her book, she lost her mother, the pillar in her life. But Anna doesn't have too many complaints or regrets. Life's good, with her daughter by her side, her new best friend, a spiffy smart phone. The past has been written, the future beckons… - Women's Feature Service

Trending Now: