A foodie trail reveals that more executive chefs of star hotels are Indians
Venkatachari Jagannathan
&nbsp | &nbsp Chennai
17-January-2014
Vol 5&nbsp|&nbspIssue 3
Expat executive chefs no more make much of a difference at India's star hotels. Their Indian counterparts are adept in whipping out dishes of various geographies, said a top chef at Taj Coromandel.
"Foreign executive chefs in a star hotel do not make much of a difference any more in India. Indian chefs are traveling all over the world and working in hotels overseas. They have picked up the expertise in major global cuisines," said executive chef Alok Anand.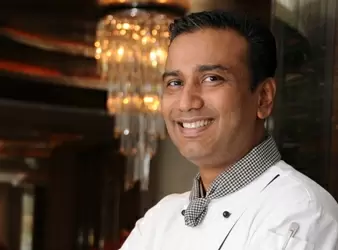 Alok Anand, executive chef at Taj Coromandel, Chennai (Photos: IANS)
A decade and a half ago, foreign chefs made a difference in Indian hotels as the new properties were coming up across the country, Anand said at the hotel's Anise restaurant, offering a prawn remoulade - poached prawns with mixed leaves, paprika, caper and olive dressing.
Six coiled prawns were attractively set in a line on the plate resembling small wheels that fast started rolling down the throat while the mouth salivated for more.
Anand said the succulent prawn starter is one of the several new dishes that have been added to the Anise's new menu.
The 86-cover Anise is an all-day dining outlet at the 212-room Taj Coromandel luxury hotel where kings, queens, presidents and prime ministers stay during their visits here.
Speaking about the essence of the new menu, Anand said the focus is not only on offering tasty food, including street food, but also presenting them in an interesting manner.
"A person first eats with his eyes. The quantity thus taken is unlimited. So food has to appeal to the eyes first. Have you heard of round sandwiches and square burgers? We are offering those here," he explained.
The new menu includes gluten-free dishes like Melon and Feta Salad, Kafir Lime Broth, Fussili Pommodori Basilico (with gluten-free pasta), Wild Berry Baked Yoghurt and more (further altered for celiac guests).
Forty-one-year-old Anand is perhaps the only chef in India who had cracked the tough IIT entrance exams after Class 12 but continued to pursue his catering technology course.
"I am not regretting anything. Looking back, I have done better than some of my classmates who had joined IITs. I do meet some of them when they come and stay in the hotels I work in," he added.
Some of his former colleagues said that Anand is very intelligent and a shrewd businessman capable of up-selling even to tough clients.
By this time, the mild and aromatic Kafir Lime Broth arrived at the table and the talk veered towards new crop of star hotels coming up in the city and the increased competition.
"Yes competition is there and it is good. Our clients do try out other restaurants and come back here," Anand said.
Prior to the launch of new menu at Anise, Anand had relaunched the hotel's South Indian restaurant, Southern Spice.
"We had closed the restaurant for nearly 10 months for renovation. We also visited several houses in the southern states to get recipes for new dishes. We have even got recipes for a couple of dishes from late actor Sivaji Ganesan's house," Anand said.
According to him, the menus at the hotel's restaurants are changed twice a year so that the regulars do not get bored.
Reverting to Anise, he said nearly 60 percent of the items in the menu are new, with some slow-moving items removed.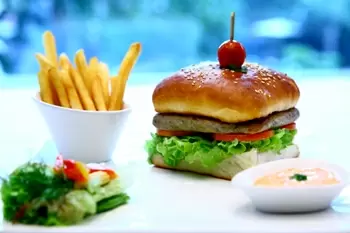 Asian Spice Chicken Burger
"We had added popular street food dishes like Kothu Parotta (shredded parotta), Bombay Masala Toast, Asian Spiced Chicken Burger and village tea made with jaggery. We have retained all-time favourites like Gosht Gilli Biryani, Coromandel Fish Curry and others," Anand said.
The burger with ground chicken patty and Thai herbs, the spicy Thai Chicken Red Curry or the Vegetable Green Curry served with steamed rice would silence any chatter-box and make a person focus on the plate.
"Only food can make all the five sense organs to work at the same time. It has the ability to totally distract a person's concentration," Anand said.
"First the eyes size up the food on the plate while the nose smells it. Then the fingers feel it while the tongue tastes it. The ears hear the sound when the food is chewed."
The Kothu Parotta (veg and non-veg), a popular street food of Tamil Nadu, though served in a bowl - on the street it is served as a heap - does sport the authentic taste.
For those on the move, Anise offers the Tiffin - the day's specialty of two vegetarian preparations (or one lamb or chicken dish), dal, pulao, Indian breads and, of course, dessert.
As the pester-power of children has a great influence over the parents in the choice of restaurants, Anise offers a special section of enticing treats like Crisp Fish Goujons, Crunchy Chicken Mini Burger and Fruit and Chocolate Pizza. - IANS

Trending Now: