From heritage hotel to literature hub, Diggi Palace has come a long way
Shilpa Raina
&nbsp | &nbsp Jaipur
17-January-2014
Vol 5&nbsp|&nbspIssue 3
From a mere 100 visitors in 2006 to a massive footfall of around 200,000 in 2013, the 17th century Diggi Palace shot into global fame from being just another heritage property to a literature hub as it served as the constant host of the Jaipur Literature Festival (JLF) for the last six years.
This eclectic marriage of literature and heritage has benefited both. So much so that the Diggi Palace is now synonymous with the JLF.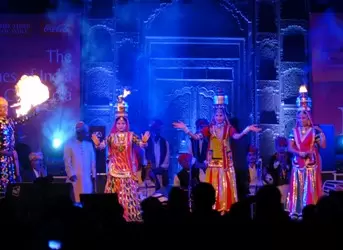 Rajasthani folk dancers performing at Jaipur Literature Festival (Photo: Indian Photo Agency)
From planning special, elaborate menus to setting up colourful marquees, the owners start their preparations three months in advance to ensure the five-day literature feast doesn't disappoint.
This year the festival runs from Jan 17 to 21 and boasts of 200 authors from eclectic backgrounds, including heavyweights like Nobel Prize winners Amartya Sen and Harold Varmus, Man Booker Prize winners Jhumpa Lahiri, Tash Aw, Alison Macleod and Jim Crace, Bollywood actor Irrfan Khan, Olympic boxing bronze medalist Mary Kom and lyricists Javed Akhtar and Prasoon Joshi.
"The festival is on such a massive scale that now we have started working throughout the year on a daily basis to get the property ready. In the final three months in the run-up to the festival, we work with a workforce of about 100 people that includes masons, carpenters, painters, and welders," said Jyotika Kumari Diggi, wife of Ram Pratap Singh Diggi, the owner of the palace.
"As the menu for this year goes, it is a closely guarded secret, but our family and complete staff have got together to plan a wonderful menu for international and national celebrities to get a taste of Rajasthani cuisine," she added.
The palatial property was converted into a heritage hotel in 1991. Its manicured lawns, sunny courtyards and open verandas get transformed into a platform for deliberations and discussions in the balmy winter sun.
The palace traces its origins to the reign of Emperor Akbar in 1524 AD when Khangarji chalked out a political career for himself in the Mughal court and created the aggressive and brave lineage of Khangarwat Rajputs. The Diggi branch of the Khangarwat Rajputs owes its genesis to Bhikharsinghji, the eighth son of Raja Khangarji.
This annual festival is an initiative of the Jaipur Virasat Foundation and was originally a segment of the Jaipur Heritage International Festival in 2006, till it developed into a free-standing festival of its own in 2008.

Since then festival directors Namita Gokhale and William Dalrymple have been in the company of Diggi Palace. And the owners too recognise how this association has given them "enormous exposure".
"There is no denying the fact that it (the festival) has given us enormous prestige, name and fame which have made us work harder to improve our property and services because we have to host the crème de la crème of the world," said Jyotika Diggi, adding they have 75 rooms where some sponsors, delegates and authors stay during the literary fest.
"For us, the journey has been a learning curve since 2006, and the journey so far has been amazing. The festival has lifted our palace into a centre for art, literature and culture. Our children have matured, and it has brought us all at Diggi Palace great recognition and honour," said Jyotika Diggi.
Jyotika Diggi believes the JLF, billed as the world's largest free literary festival, has been raising the bar of excellence every year.
"The changes that we have been observing are multifarious and quite amazing. From 20 authors and a few visitors in the first year to the footfall of about 200,000 people and 250 authors in 2013, we have seen the entire team of JLF raising the benchmark of excellence every year," she added.
"One of the biggest changes that we have observed is the fact that almost 75 percent of people who are attending this festival are Indian teenagers and youngsters," she said, adding that they completely enjoy the scale and challenges involved in hosting this event. - IANS

Trending Now: