The trick is in the spices but the recipe will not be told
Mohd Asim Khan
&nbsp | &nbsp New Delhi
11-January-2014
Vol 5&nbsp|&nbspIssue 2
When we talk of the food at an upscale restaurant we invariably talk of the chef behind it. But despite most of us finding the array of food available in Delhi's old quarters lip-smacking, few of us remember the 'bawarchis', or the traditional cooks, behind the culinary magic.
Purani Dilli, as the area is known, is still home to some of the indigenous Mughal-era bawarchis and many dishes' origins can be traced to this place.
Despite that, the Old Delhi cooks remain anonymous to food lovers as their toque and apron-wearing counterparts in five-star hotels and expensive fine dining restaurants hog all the limelight.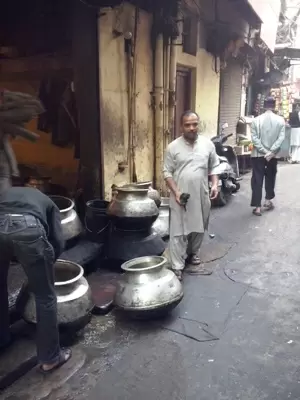 A bawarchi goes about his chores at Mohalla Rodgran at Lal Kuan in Old Delhi (Photos: Asim Khan)
No fancy oven, no proper kitchen, the bawarchis of Old Delhi are seemingly caught in a time warp and usually cook on the roadside using the traditional wood fuel.
Although some of them have started using gas stoves, paucity of LPG cylinders makes them use firewood very often. They cook only on order.
Mohalla Qabristan near Turkman Gate is house to some of the oldest bawarchi families of Old Delhi. However, it is not easy to trace their origins as even the oldest among the cooks can't recall as to how many generations have already gone in the profession of cooking food. But they have been around for a few centuries, for sure.
"I learnt this art from my father, and he from his father. That is all I know," said Mohammed Yameen, 70, as he intently peels an onion. At some distance his sons - he has five and all are in the same profession - are busy with different chores. Yameen never cared to send any of them to school.
The only thing in the world that these bawarchis care about is their recipes and spices. They guard their recipes with their lives - one of the reasons they seldom keep people from outside their family as apprentices.

And in case they have to do for some reason, they keep the apprentices away from the spices they use. This, they think, is essential to survive in the profession and maintain their exclusive taste.
"Sab masalo ka hi to khel hai (The trick lies in the spices)," says Haji Basheer of Sheedu Nihari Shop - one of the oldest such in Delhi - and a relative of Yameen.
Over the years, different variations of qorma have been thrown up such as white qorma and green qorma. Similarly, while taftaan, rumali roti and paratha are common, disco roti, maina and bulbul rotis are little known. It is difficult to trace the origin of these variations.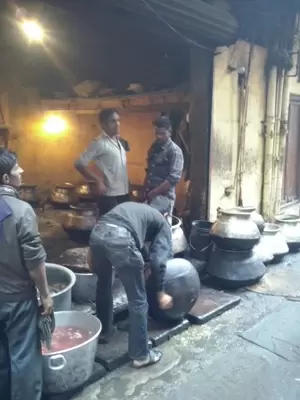 Recipes are family secrets that bawarchis maintain to this day
"I don't know who invented these dishes but they are quite popular now. We prepare these items only on order. But please don't ask me about their recipes. I won't tell you," says Mohamed Saleem, 60, another bawarchi.
"We charge Rs.200 per kg each for cooking qorma and biryani. The spices, firewood, and other material have to be provided by the customer," revealed Saleem.
Despite their efforts to keep their recipes secret and confine the art to the family, there have been new entrants in the business. But this does not worry the old timers much as each of them has a set bunch of loyalists who always come to them whenever they need to get special food cooked.
The newcomers include the vendors who sell haleem and biryani at the roadside at several places in the walled city.
"There are a lot of people nowadays who are cooking food. But they are newcomers and our customers always come to us for our unique taste," Zaamin, an old bawarchi at Rodgran near Lal Kuan, said with confidence. - IANS

Trending Now: