It is business as usual in the crescent-shaped central business district of Delhi
04-January-2014
Vol 5&nbsp|&nbspIssue 1
Built by the British in 1933, Connaught Place, the Indian capital's crescent-shaped central business district that had fallen on bad days, has now been restored to its pristine glory, complete with a fresh coat of white paint, brighter signposts, a landscaped central fountain lawn and better access roads.
The long-delayed renovation work, that seemed to drag on and on and left the much-loved shopping, eating and commercial plaza out of bounds for shoppers and inconvenienced those who work there, is finally over. Regular visitors are ecstatic that CP, as it has been popularly called, particularly by the young, can now once again become their favourite haunt.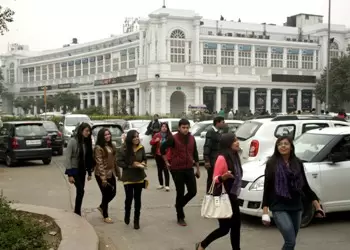 Connaught Place has been the favourite haunt of many generations of Delhiites (Photo: IANS)
"I was born in Delhi and for me it was 'The' place for rendezvous. Be it meeting with friends, hanging out or shopping...it was always like a second home," says Deepshikha Bhalla, 37, a homemaker.
"With the renovation work on, the entire place looked dusty, like a war-ravaged landscape. The buildings were shabby. But now it has got back its lost glory," she adds.
Once known as Delhi's downtown, Connaught Place was subjected to many physical assaults in the name of revamping the prime commercial area. It started with the initial digging for Delhi Metro in 2003 and then for the 2010 Commonwealth Games, what was euphemistically termed a "beautification drive".
In reality, it was anything but that - roads were in a perpetual state of being dug up, parking spaces were removed and walls were covered with scaffolding. After missing several deadlines, the ordeal is finally over, and the New Delhi Municipal Council (NDMC) has re-launched a refurbished CP.
This is part of NDMC's centenary celebrations that will also include a shopping carnival, a food festival and a concert.
Sixty-three-year-old Harjeet Mann is extremely happy with the new-look CP and the bright white painted buildings and lights to welcome him.
"It is a very dear place to me. I used to come here with my wife and we used to walk around, eat and shop. In the evenings it looks beautiful, especially in winter," said Mann, a businessman.
Designed on the lines of Bath city in England to resemble two concentric circles -- creating the Inner Circle, the Middle Circle and the Outer Circle and seven radial roads - the two-storey semi-circular structure, divided into blocks, was designed by Robert Tor Russell and W.H. Nicholls and was named after the Prince Arthur, the 1st Duke of Connaught, the third son of Queen Victoria.
Built in classical, Georgian style, it was the largest such in India at that time and even today is a premier hangout destination of the capital.
"You cannot think of Delhi if you don't have CP. It is the heart of the capital," said Shreya Sen, a college student who hails from Bangalore.
The name CP is so much stuck in the psyche of Delhiites that attempts to rename it Rajiv Chowk, after former prime minister Rajiv Gandhi, failed to take off.
Paul Hughes, a tourist from Britain, was charmed by the place. "It looks nice and the happiness around the place is infectious, though there are spots where things still need to be cleaned up," said Hughes and pointed to perennial paan (betel) stains, the blight of Indian cities, on the walls.
Neelam Kapoor, manager of Tilak Hosiery in B Block, was also content with the improvement.

"Earlier, the road outside was dug up and parking was a problem. Now the road has become good and lights have been put up. People can come easily and business has become better," said Kapoor.
While visitors are happy with the beautification, others are upset at the "hurried job".
"The quality of work done is pathetic. Many tiles that have been laid are coming off," said Jitender Arora of Oriental Fruits Mart, a seven-decade-old shop.
Charanjeet Singh, manager of Wenger's - a popular bakery established in 1926 that once had a tony restaurant on the first floor - concurred.
"Public urinals are not cleaned. With so many people thronging the area, there should be better crowd management," said Charanjeet Singh.
Nabhi Kumar Jain, founder of Jain Book Depot in C Block, also felt NDMC had done a shoddy job.
"This re-launch is meaningless. The money they have wasted should have been used to improve infrastructure. There is a water crisis in CP. Electricity is erratic," Jain asserted.
"Only the Inner Circle is looking good. They have completely neglected the Middle Circle and Outer Circle. There are power cables on the pavements and no painting is done in these two circles," he concluded.
But homemaker Bhalla said that at least some effort had been made to make the area look beautiful. "I won't say it has the charm of our time, but I would say it looks beautiful and fresh," he said. - IANS

Trending Now: