"Things can change and lives can improve if people have the will"
Shilpa Raina
&nbsp | &nbsp Bhuj (Gujarat)
20-December-2013
Vol 4&nbsp|&nbspIssue 51
Three years ago, Fatimahbehn had to travel a minimum of 10 km to buy groceries from her village situated in the far western arid land of Gujarat's Kutch district.

Today, she has opened her own shop - thanks to a CSR initiative by food and agriculture major Cargill to improve the social and economic status of women in her village of 641 inhabitants.
Success stories are emerging from the village. Fatimah Bhen has set up a shop (Photos: IANS)
Her story has inspired many in her area, especially the women, as they also faced the same difficulties.
But this is just one of the many things Lakhaniya village in a remote area of Gujarat has done to improve livelihood opportunities which are usually dependent on agriculture and dairy farming.
Apart from dependency on the rain gods for good irrigation, the inhabitants had to sell milk to local dairies at a low cost. And it wasn't enough for the 121 families to survive. Loans from local moneylenders at exorbitant interest rates had also pushed many to a life of penury.
It was this time around when in 2006 Cargill, an international marketer and producer of food and agriculture, and its Kutch Livelihood and Education Advancement Program (K-LEAP) CSR initiative and humanitarian organisation CARE (Cooperation for Assistance and Relief Everywhere), identified around 200 villages in the Kutch district for their fragile livelihood options and social and economic disparity.
Their first step was to empower women and create self-help groups (SHG) in the village.
The initial difficulty was to convince men to allow their women to participate in the activities that would help them understand basic accounting and moneylending process.
After much reluctance and resistance, the ice was broken.
"Men would say why you have to do this? Who will do household work? Why you have to go to a meeting," said 55-year-old Khattubehn.
"But there was this urge to do something and get out of the four walls of the house," she said, adding the village now has six SHGs with 100 women participants.
Each member of the group contributes Rs.50 to the SHG which is used as a "revolving fund".
It has multi-purpose benefits.
The SHGs generally give loans at low interest to people who wish to start a business or build their houses.
Fatimahbehn has taken Rs.40,000 from revolving funds for her shop and is selling products at their MRP.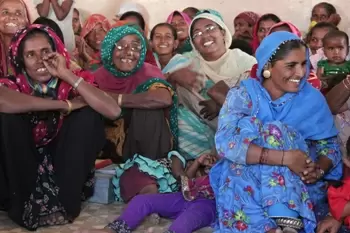 More than 100 women in the village are part of six different SHGs
"It has just made our life easy," she chuckled.
Another area where the lives of the women have benefited is animal husbandry and attending to their medical needs.
"People of remote village are against artificial insemination (AI) because of their religious beliefs. Though cross-breeding leads to better quality milk, all our efforts to convince them failed," said Ashutosh Mishra, monitor, evaluation and documentation officer, CARE India.
"Once a farmer finally agreed, others saw results and in another five years we have done around 700 AI," he added, saying it yields more milk.
K-LEAP uses government schemes as its base and works on channelising benefits like the Kisan Credit Card and works in sync with public sector banks and state government agencies like mineral development and seed corporations to empower villagers and improve their lives.
It has also connected villagers with the National Dairy Development Board (NDDB) and SARHAD Dairy, a subsidiary of Amul, to sell milk at a better price.
"Earlier we used to sell milk to local dairies who would give us Rs.10 to Rs.12 per litre. These people introduced us to these national dairies who buy milk depending on its fat content," said Ahmed Alana.
"We now sell cow's milk for Rs. 26-28 per litre and buffalo milk Rs.30-32 per litre," he added.
Even though the project has adopted 200 villages in these areas, this village is a successful module because of public participation at all levels.
"Things can change and lives can improve if people have the will," Mishra pointed out. - IANS

Trending Now: