Bridging the gap between private and government hospitals, a new model

Azera Parveen Rahman
&nbsp | &nbsp Agra
13-December-2013
Vol 4&nbsp|&nbspIssue 50
Arati Yadav is pregnant with her first child and although she is aware that her husband's meagre salary won't be able to afford her medical services at a private hospital, she is nevertheless adamant about good quality care for this phase of her life.

Her neighbour suggested a newly-opened hospital in their city which is a part of a network on a public-private-partnership (PPP) model of social franchising, bridging the gap between private and government hospitals.
"I was sure right from the start that I would go for an institutional delivery so that both me and my baby's health are not compromised. But private hospitals are so expensive, and we were not sure about the services at government hospitals.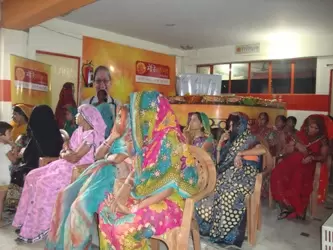 Pregnant women at Merrygold hospital, Agra, waiting for their turn for consultation (Photos: IANS)
"This hospital, however, fulfilled all our needs. It's affordable and the doctors and other staff are very caring," Arati said, sitting at the waiting hall of the Merrygold Hospital in Agra.
An initiative of the Hindustan Latex Family Planning Promotion Trust (HLFPPT), along with USAID and, in this case, the Uttar Pradesh government, the Merrygold Health Network runs on a franchising basis and in a pyramid structure.
So, a MerryAYUSH Centre provides health counselling, condoms, oral contraceptives, oral rehydration salts, iron and folic acid tablets; a Merrysilver Clinic provides basic obstetric care, family planning and immunisation services; and a Merrygold Hospital is an emergency obstetric care facility.
"The aim is to provide high-quality maternal and child healthcare services at affordable prices - 50-60 percent lower than private service providers," said an HLFPPT official.
The network, which came into being in 2007, operates at various levels across the country. Since it works on a PPP model, Accredited Social Health Activists (ASHAs) also lend a helping hand in spreading awareness about the network among the community.
"As an ASHA, my work is to make people aware. In the Akhola block (near Agra city) where I work, the number of institutional deliveries have gone up...about eight years back, it must have been 2-3 out of every 100 deliveries, now it's the reverse," Geeta Devi said.
"The services at this Merrygold Hospital are very good - and affordable. So all I do is tell people that such a hospital also exists, and it's for them to decide where to go," she added.
Anita Devi, for instance, decided to be back during her second pregnancy after leaving satisfied four years ago, when her daughter was born.

"The consultation fee is Rs.50, and the doctor listens patiently, advising me on what to eat, and guiding me through my problems. My family was happy with the services and so was I; so we have come here the second time as well," she said.
A package for a normal delivery and stay in a general ward comes for Rs.2,499, while it is Rs.2,999 in a semi-private ward, and Rs.3,999 in a private ward. For a C-section, the packages cost Rs.7,999, Rs.8,999, and Rs.11,999 respectively.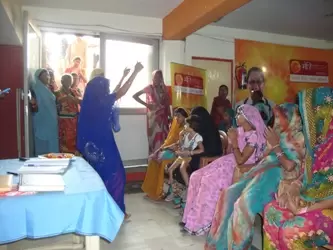 Women celebrating at the Godh Bharai, or baby shower function
In Uttar Pradesh, the network has its facilities in 36 districts. A franchisee interested in upgrading his facility to be a part of the network must fulfill certain criteria, like the number of beds, after which its medical staff is trained and connected to community health workers, and introduced to government schemes.
As their mothers-in-law stood by their sides, Arati and Anita, along with 15 other pregnant women, all in their final trimester, waited for the 'Godh Bharai' (baby shower) function to begin which the hospital specially organised for them.
After the traditional revelry of song and dance by a group of women, Chhaya Gupta, the gynaecologist and obstetrician took over, and asked a few questions. "Does healthy food mean expensive food," she began. "No," answered the women, citing seasonal vegetables, jaggery, peanuts and the like.
After a few other questions on vaccination, spacing between children and the importance of iron tablets, and listing precautions like no travelling long distances during the end of the final trimester and avoiding high heels, the women were each gifted a hamper which contained, among other things, iron capsules, dryfruits, fresh fruits and a few items of make-up.
"My husband works in a leather goods shop. We cannot afford going to a private hospital, where a simple test costs Rs.500 or more. This initiative has given us the option to get good services at a reasonable price. We are happy," Anita said. - IANS

Trending Now: