Taking traditional ethnic chic jewellery from rural India to cities and abroad

13-December-2013
Vol 4&nbsp|&nbspIssue 50
They are bright and beautiful, chic and ethnic. The handcrafted terracotta jewellery from 'Color D Earth' could tempt any woman to own some of the exquisitely designed pieces.
When Hema S Subramanyam reveals that her eco-friendly social enterprise helps artisans eke out a sustainable living, you get one more reason to buy them.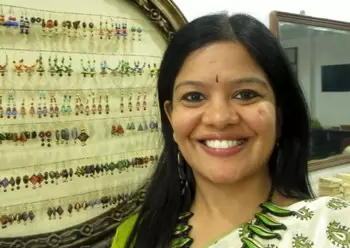 Hema Subramanyam works with artisans from six states
Hema has her studio-cum-store in Hyderabad, where she lives. She has no other store in India, but sells her products online to customers around the world.
"We are presently impacting 120-150 artisans from 11 groups across 6 states," says Hema. She gives regular orders to the artisans, who work from West Bengal, Orissa, Jharkhand, Maharashtra, Karnataka and Andhra Pradesh.
The groups get business of around Rs.15000 to Rs.30000 per month from Color D Earth. "They get other orders as well. The artisans we are working with earn anywhere between Rs.3500-7000 a month," she says.
What has been the market response to terracotta jewellery? Initially the response was nothing to rave about, but being an eco-friendly product and coming from a social enterprise, it became attractive to customers.
Color D Earth's customer base is expanding each year. Marketing has been mostly through word-of-mouth.
The internet has also helped in the business growth. Not only are products sold online, but Hema used the internet to locate the artisans spread out across the country, some of them working with NGOs.
Being a creative person herself, Hema allows the artisans to design what they are best at. She offers suggestions and guidance at times.
Artisans are paid as per current market rates, whether they are located in an urban area or in some remote village.
"We make payment as soon as we receive the products. This way they would have the money to execute the next order we place with them," says the 40-year-old entrepreneur.
The raw material for making the products, clay, comes cheap but it is the process of refining it into an elegant piece of jewellery that defines the price.
Trendy terracotta earrings are available from Rs.180 onwards. Necklaces are priced higher and can cost up to Rs.3000.
Terracotta jewellery is hand painted, but the surface in touch with the skin is left plain.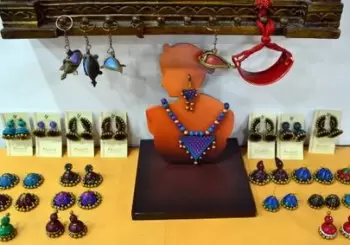 Hema's studio-cum-store in Hyderabad
Back in 2003, as a housewife in Bangalore she had joined a clay hobby class along with her kids not realizing that it would put her on a path of discovering her latent creativity and her innate entrepreneurial skills.
Later, she took up a course in terracotta jewellery. Using her skills, she started making gifts for her friends. Their appreciation boosted her confidence and she began to take small orders.
Thus began her journey as an entrepreneur dealing in handcrafted terracotta. She named her venture 'Alankriti'.

In the initial days, she visited boutiques, handled finances and did the designing, handcrafting and painting of jewellery singlehandedly.
When she moved to Mumbai for four years, she got much wider exposure. She not only retailed in boutiques and stores like 'Tribal Root' and 'Mother Earth' but participated in exhibitions like India International Fashion Jewellery Show and Kala Ghoda.
Hema recalls that the exhibition at Kala Ghoda was a nice experience because of the well-informed crowd that throngs the venue.
The customers understood the worth of handcrafted terracotta jewellery and appreciated the detailing that goes into the work.
"What makes our products unique is we understand customer needs. The colors and designs are in keeping with the trend," says Hema.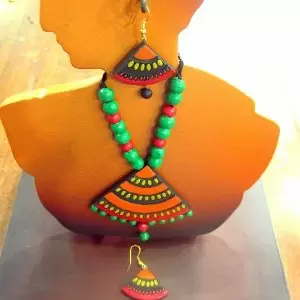 Terracotta jewellery is available from Rs. 180 upwards
But the business was not yet profitable. The retail stores paid only when products were sold and not at the time of delivery.
The turning point came after she was selected for the 10000 Women Certificate Program for Women Entrepreneurs, an initiative of Goldman Sachs. It improved her business acumen and gave her an understanding about finances.
She realized that the best way to grow a handcrafted business was to run it as a social enterprise.
In 2009 she renamed her enterprise 'Color D Earth', and developed a business model that was mutually beneficial to the artisans and her company.
Apart from terracotta, Hema also makes ceramic pendants for men as well as youngsters, though in small numbers.

Trending Now: